Best NFC Business Cards of 2023
When you're trying to make a lasting impression in the business world, every detail matters. That's why the newest trend in networking is all about going digital with NFC business cards.
Imagine being able to exchange contact information with a simple tap of your phone against a card. That's the NFC technology! It's fast, convenient, and makes you look like a tech-savvy professional who's always one step ahead.
But not all business cards with NFC are created equal. The best ones are not only functional but also stylish and memorable. They showcase your brand and personality, while also providing a seamless user experience for your potential clients and partners.
In a separate article, I go through the best digital business card options online. This blog post is about the best NFC business cards to choose from depending on your preferences and budget. Most of these card solutions have more to offer, including CRM integrations and performance analytics for individuals and teams.
Now, let's begin exploring!
Disclaimer: Because the site is reader supported, we may earn a commission if you use our affiliate links.
What Is an NFC Business Card?
An NFC (Near Field Communication) business card is a digital alternative to the traditional paper business card. It uses NFC technology, which allows for two devices to communicate with each other when they are brought close together.
An NFC business card is embedded with a small chip that stores your contact details. This can include your name, company, phone number, email, website, and social media handles.
When someone taps their NFC-enabled device or smartphone against your card, it automatically transfers the information so that they're able to save it. They won't have to go through the hassle of manually inputting your details into their phone.
NFC business cards are a more modern, convenient, and eco-friendly way to exchange contact information. Plus, you'll be able to track who has received your card and follow up with them later.
What Is the Best NFC Business Card?
Here are my top picks for business cards using NFC technology.
1. Popl

First on the list is Popl, one of the top NFC business card apps available online. Popl is a digital business card platform for both teams and individuals that allows you to instantly share your information when networking. Professionals and teams worldwide, including Uber, Salesforce, and Tesla, trust Popl.
What happens is that you need to download the Popl app or visit the site, set up your profile, get your preferred Popl product or device, and activate it on your profile. You can then share your profile through the product.
There's a wide variety of Popl products with NFC technology that you can choose from. I'll list some of them below:
Popl metal cards: Elegant business cards made from black stainless steel. What's more, you can even pick the 24K gold card option!
Popl PhoneCard: This is a tag that you can embed at the back of your phone for quick information sharing.
Popl wristbands: If you need something on your wrist that carries your contact details, Popl wristbands may interest you. They're soft and silicone-based, making them comfortable to wear.
Popl badges: These are polyvinyl badges that contain Popl technology.
Popl keychain: How about sharing your information right from your keys, purse, or backpack?
All these Popl devices are priced separately, but you can also buy them in bundles. For instance, you can get a bundle that comes with a PhoneCard plus a set of metal cards.
If you need to know more, this Popl review covers it all.
Best Features
Wide range of Popl products: You can choose from many different Popl-based devices like cards, phone cards, wristbands, badges, keychains, and more.
Custom product options are available: Popl allows you to add your artwork on one of their custom products including cards, PhoneCards, and badges. You can even pick the color and style.
More sharing options: Besides NFC, you can also share your details using PopCode, an advanced QR code that doesn't expire. You'll be able to update this code through your Popl account.
No extra effort from the recipient: The one you're sharing information with doesn't need the Popl app on their phone. When they tap on your Popl device, their browser opens up to show your profile.
1000+ integrations: Export leads, sync contacts, enable Zapier integrations and do more efficiently on the Popl platform.
Pricing
Each Popl product has its own price and you can use them on the free Popl plan without a subscription. Still, you can enjoy added features like lead management and integrations if you subscribe to the following paid plans:
Popl Pro ($7.99/month)
Popl Pro+ ($14.99/month)
Popl Teams (Custom pricing)
2. Mobilo

If you need another NFC business card solution, Mobilo may interest you. This digital business card app allows you to connect faster and enlarge your network.
Over 25,000 teams, including renowned banks, marketing agencies, and retail companies have used Mobilo. With Mobilo, you get a chance not only to network better in person but also in online events and meetings.
Mobilo is unique in that you can use one card for several purposes. You can have a single card that shares your information, serves as a personal landing page, captures leads, and contains links to specific web pages such as your site, calendar, or file.
Mobilo card options are as follows:
Classic: This is a long-lasting card made using recyclable plastic.
Wood: If you prefer something that's more friendly to the environment, you can go for this wooden option.
Metal: Mobilo also offers stainless steel cards in colors like black, gold, and silver.
Besides cards, you can also get an NFC key fob that you attach to your keys or an NFC smart button to stick at the back of your mobile device.
Best Features
One card with four modes: Switch between using your card as a Business Card, Landing Page, Lead Generation, or Link to any URL.
QR code available: Besides NFC, older phones can still scan your Mobilo card to save your details digitally. You can even pick a square or round-shaped QR depending on your preferences.
Multiple devices: Mobilo cards work with both Android devices and iPhones.
Data insights: Track the performance of your business cards and know what's working.
Pricing
Mobilo Cards are priced separately with personal and team options. The cost starts at $4.99 for the personal Mobilo Branded Card. This is a one-time payment.
3. Linq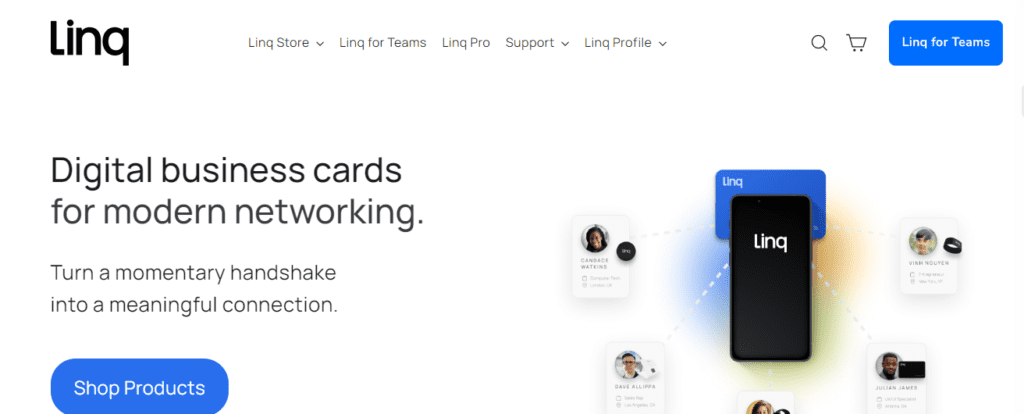 Linq is yet another platform that offers smart business cards with NFC technology. With Linq, you can easily share your fully customized profile that has your contact information, social profiles, links, images, and more.
All you need to do is create a Linq account, choose a product, and link the two together. You can as well share your profile using the Linq app or have someone scan it to get your details.
Linq offers numerous products, including:
Linq Card: Matte black, white, or bamboo card that's scratch-proof and water-resistant. Other Linq card colors like blue, green, and red as well as custom options with your own design are also available.
Link Card Premium: This is a sleek card made using premium stainless steel.
Linq Tap: This is an NFC-powered tag that you can stick to the back of your phone.
Link Hub: This is a Linq product that you can use for sharing menus, showcasing your products, or giving special promos.
Link Paper: These are custom paper smart cards available in a wide range of paper stocks, finishes, and sizes.
Best Features
Multiple profiles: You can set up several profiles for different scenarios on just one Linq account.
Tools for events: Get branded NFC and QR-enabled smart products like Linq Hubs to share important information with attendees.
Tracking: Monitor your business card views and clicks.
Pricing
Linq products have their own prices. Linq also offers a free plan as well as paid ones
Linq Free ($0/month)
Linq Pro ($5.99/month)
Linq for Teams (Custom pricing)
What to Consider in the Best NFC Digital Business Card
When looking for the best NFC business card for your needs, here are some key things to consider:
Customization: You'll likely need an NFC business card provider that allows for customization, such as adding your own branding, logos, and colors.
Design and durability: Choose a card with a design that aligns with your personal or business style and ensure that it can withstand regular use.
User experience: Is the business card easy to tap and read? Is your information displayed in a clear and organized manner? Make sure the card is easy to use to make your networking process seamless.
Security: Security features such as password protection or encryption go a long way toward protecting your sensitive data. The good thing is that most popular NFC card platforms are secure.
Price: The cost of an NFC business card can vary widely depending on the provider and the features it has. While you need to make sure that you're getting good value for your money don't sacrifice quality for a lower price.
Extra features: Additional features in an NFC card can come in handy, such as integrations with other platforms and the ability to track how many times the card has been tapped or to receive notifications when someone taps your card.
Conclusion
NFC technology allows for easy information sharing without the need to physically input data to save it for future reference. The best NFC business card is one that allows you to take your networking game to the next level and enhance your brand image.
So, when choosing an NFC card app, consider things like customization, design, and user experience. Additional features like business card management and tracking can help you know how much you're getting back from your networking efforts.