V1CE Business Card Review 2023 (What You Should Know)
If you're like many other professionals and business owners, you've decided to ditch traditional business cards and go digital. That's one of the best decisions to make in this age of modern networking. And now, you're here to know whether V1CE business cards can help you achieve your networking goals.
V1CE ranks among the most popular digital business cards available today. But what does it have to offer?
In this V1CE business card review, I'll share my findings about the app and its offerings. By the end of this article, you'll have an idea of how the platform works, its available products, the pricing details, and more.
If you need to get started with V1CE immediately, go here.
And now, let's begin!
Disclaimer: Because the site is reader-supported, we may earn a commission if you use our affiliate links.
VICE Overview
V1CE is a digital business card platform that provides a sustainable solution when it comes to networking. Unlike traditional business cards, V1CE offers digital alternatives that are more environmentally friendly. In fact, V1CE plants a tree for each product sold and the number of planted trees tops 90,000 at the moment.
Now, the story of V1CE began when two entrepreneurs came together after the impact of COVID-19 in 2020. Since then, the company has reached over 150 countries and has worked with industrial giants like SpaceX, Google, and Emirates.
V1CE Card Setup
V1CE offers a variety of NFC-enabled products (including cards) on its shop as well as a digital business card profile where people can find your information online. Upon accessing your V1CE product like an NFC business card, you simply need to activate it.
You either scan the QR on it or tap it on your phone and you'll be redirected to create a V1CE profile with your details (the digital business card). You can as well do the activation from your account if you decide to buy a product later. From there, recipients simply need to scan or let you tap the NFC product on their mobile devices to access your profile!
Check the video below on how a V1CE NFC business card works:
V1CE Digital Business Card Features
Now, that you know the story behind V1CE business cards, let's explore the features.
Multiple Digital Business Cards
Who said you're limited to just one profile on V1CE. You can set up a couple of them and use each depending on the occasion or your networking goals. I myself created two profiles.
Check out the V1CE digital business card that I created to serve as a contact card: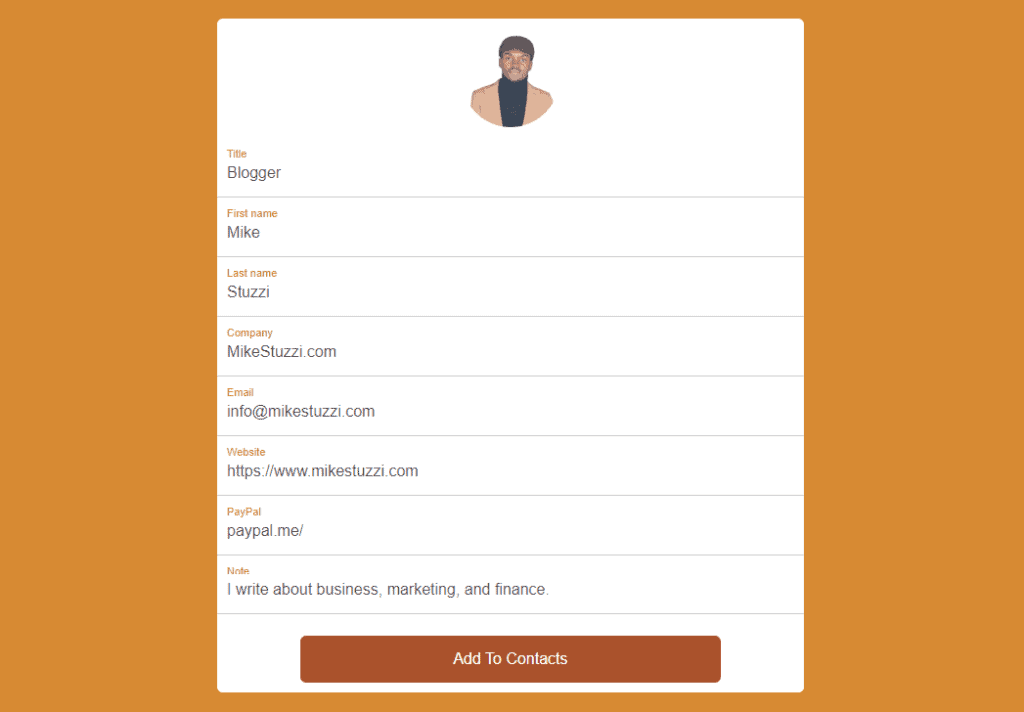 Here's the second profile that I made for socials and contact exchange:
I didn't utilize all the available fields but only included the basic info.
Keep in mind that you only get one shareable profile link. You have to remember to switch from one card profile to another to suit the event you're attending. The first profile you create is the main one by default.
Customizable Profile
I found that V1CE, although not having the most user-friendly dashboard, allows for several customizations of your digital business card. Depending on the V1CE template that you choose (eg. Contact Card or Social Builder) you can add all the basic information to your profile.
These include your title, name, company, email, website, and social profiles. You can as well add a PayPal.me link if you're selling any goods or services so that potential customers can pay directly.
What's more, the V1CE digital business card has a section for writing a description of yourself and frankly, you could put your life story therein if you want to. What I mean is, there's enough space to cover all the important information you need to share with your new connections.
Now, when it comes to branding, V1CE has you covered too. You can select from different themes, including red, green, and blue for the look of your digital card. There's the custom option too where you choose your own preferred colors for the backgrounds and texts.
Direct Link
V1CE doesn't cease at just showing your chosen profile (like the examples I shared) to the recipient. You can also change the action such that users are redirected to a custom URL and not to your digital business card profile online.
This redirection can be set for whatever site you need people with your profile link to visit, such as LinkedIn, TikTok, CashApp, Zoom, or Spotify. You can set it to redirect them to call you on the phone or Skype as well.
QR Code
V1CE automatically generates a QR code for you that you can use to share your digital card profile. You just need to save it o your device. People can scan it with their phones and it will show a link to your profile that they can visit on their browsers to get your details.
What's more interesting is that besides the online QR code, there's an offline one. This is the type of QR code that doesn't require an Internet connection to work.
When someone scans it, they just need to tap on it and it shows your information right away. The recipient will be able to also add your contacts to their device still without data or Wi-Fi access.
The downside of this offline QR code is that it isn't dynamic. This means that you'll need to generate a new one when you change any of your contact details, like phone numbers and email addresses. For the online option, the information will be updated automatically and you won't need a new QR code.
Statistics
You won't have to be in the dark regarding the number of people who have accessed your information via your card. V1CE provides data on things like how many people clicked on your digital business card, among other actions. This way, you'll know how you're performing and adjust your networking strategy if something didn't work out as planned.
Contact Management
You can manage the contacts you got right on your V1CE account. In fact, if you use the "Social Builder" template, you're able to add a form that users can fill out to share their info with you too.
Below is what the user will see when they select the option that says they've chosen to exchange details with you: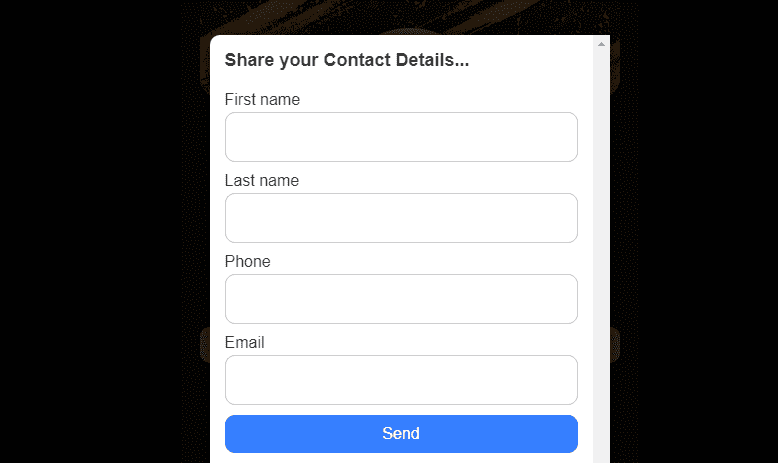 This is an essential feature if your work involves lead generation and not just giving out your info to others. You can then review the contacts that people shared with you later on and save to your device or import them to your other systems.
V1CE Digital Business Card Pricing
So, how much does V1CE cost?
Are V1CE Digital Business Cards Free?
You can get a free V1CE digital business card. All you need to do is set up a profile on the website, choose a suitable template, customize it, and start sharing the card!
However, V1CE's free users are limited in some ways. You don't get all the features without a Pro subscription that the platform offers affordably. The additional features include unlimited card creations where you can set up profiles with more things like eMenus, videos, and photo galleries.
How Much is V1CE Pro?
V1CE Pro costs £5 per month if you pay monthly. Going with the annual pricing option can save you 20 percent of the total costs. In other words, you'll pay £49 per year.
This Pro version unlocks features that you won't get as a free V1CE member. You'll get to create as many actions as you like for your recipients to take, add digital menus, embed footage, or share your pictures. The good thing is that you get a 14-day free trial to test it out yourself!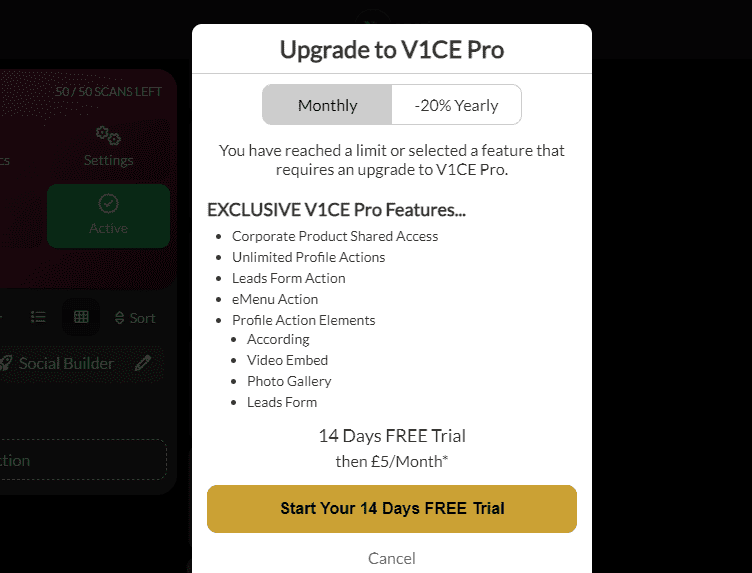 V1CE Products
V1CE has numerous NFC-embedded products, priced differently, that you can shop for. These are the ones that allow you to share your digital business card in person, like during networking events.
All you do is just tap the product onto someone's smartphone and they'll get your information on their device. You can link your digital business card with an NFC product easily on your V1CE account.
Below are the NFC products that V1CE offers:
Business Cards
V1CE offers several types of NFC business cards made from a variety of materials. They're listed below:
V1CE Metal Cards: $125.86
V1CE Bamboo Cards: $50.84
V1CE Original Cards: $50.84
V1CE 24k Gold Card: $380.12
I particularly liked the metal business cards, and they come in a variety of color combinations. Check the black and golden combo below: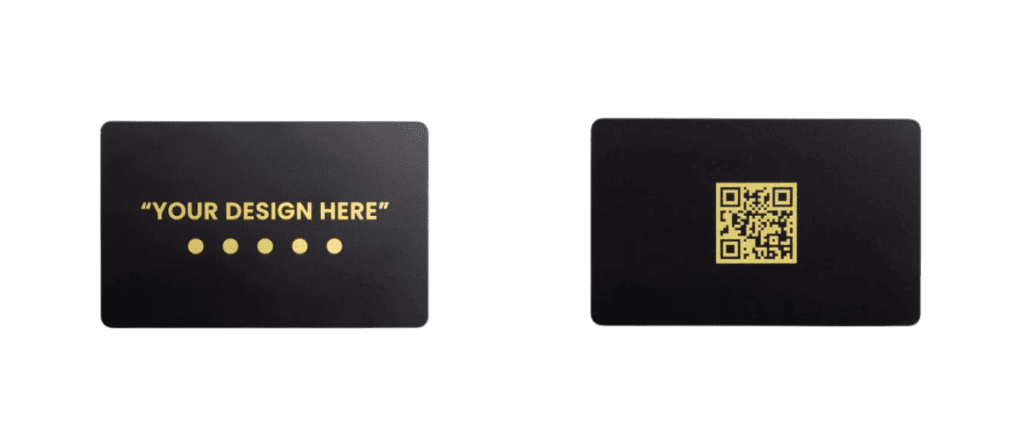 The 24k gold card is the luxurious option that costs the most of all but is definitely worth the price. If you need to explore more, you can choose the bamboo card which offers various shades like plain bamboo, black bamboo, and cherry bamboo. Other than that, you can go with the original V1CE cards that come in colors like red, purple, and white.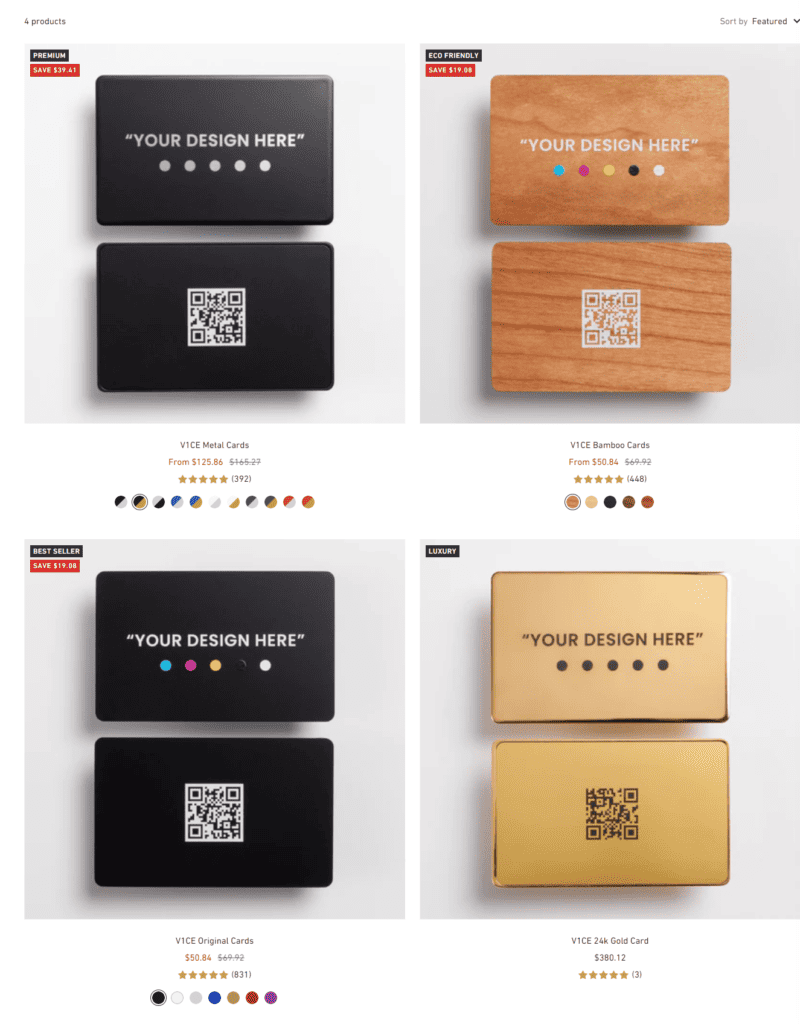 Phone Cases
If you need to use your phone as a business card, V1CE can give you that too. These phone cases come with NFC technology such that they can pass your details when tapped. They're available for the latest iPhone version models, that is, iPhone 14, 14 Plus, 14 Pro, and 14 Pro Max.
Accessories
If you need NFC-enabled accessories; V1CE has some for you.
Phone Cards: Tags that you can attach to the back of your phone, whether Android or iPhone. There's a selection of colors to pick from.
Table Talker: A stand that you place on a flat surface. Available in small and large, they suit events as well as businesses like restaurants.
The good thing about V1CE's products is that they can have your logo and any other design you need them to have. This is useful for maintaining brand consistency and visual appeal as well.
V1CE Pros and Cons
Moving on to the things I like vs. the ones I dislike about V1CE:
What I Like
You get more than one customizable profile and can switch back and forth when sharing, depending on the occasion
A variety of NFC products, including cards, cases, and tags
Offline QR code for instances where the Internet isn't available
What I Don't Like
The dashboard isn't very user-friendly but can be figured out as you explore
Compared to other NFC card platforms, V1CE products can be costly depending on what you need
V1CE Alternatives
V1CE's alternatives may be one's you've heard before:
Popl
Popl is the first V1CE alternative that offers a highly customizable profile and a wide range of products. It's a more suitable option for teams but suits individuals too. You can do the following with Popl:
Scan people's physical business cards to save their info
Create a virtual background containing your digital business card for Zoom meetings
Set up an email signature with your info and unique profile QR code
I wrote a Popl business card review that covers more.
mTap
mTap is another NFC business card app similar to V1CE. It offers things like multiple profiles, offline QR codes, and a networking hub for adding new contacts. You can add people by business card scanning, manually inputting, or exporting from your mobile device's contacts.
Dot Card
Dot Card is another alternative NFC-enabled digital business card. You have to know that it offers business cards and phone tags only. One of the available tags is called the classic and has a dome shape. The other one is thin and can almost lay flat on the back of your phone.
I also have written a Dot business card review and compared it with Popl.
V1CE Business Card: Verdict
As we wrap up this V1CE business card review, I definitely would recommend it to anyone that wants to take their networking game to the next level. You can choose from various types of NFC business cards and even accessories. In case you need to explore more products or features that a digital business card app can offer, you're also free to try the likes of Popl and others!
Check the full list of digital business card apps I've previously reviewed