11 Best Websites to Find Free Stock Photos for Business
If you're an online business owner, then you know that images are important. They can help to convey your message and engage your audience. That's why it's important to use high-quality stock photos in your marketing materials.
But finding good stock photos can be expensive. Or, worse, you may not have the time or skills to take your own photos.
That's where free stock photo websites come in! This blog post uncovers the best websites to find free stock photos for business purposes.
Best Free Stock Photo Sites
1. Unsplash

Unsplash is a popular source for free stock photos that are uploaded by hobbyists and pro photographers from all over the world. The platform holds over 1 million free photos of high resolution.
The photos on the site have been curated, meaning that only the best images make it onto the platform. This allows users to easily find content that is relevant and of a high standard.
2. Pexels

Pexels is another great website for free stock photos, featuring over 3 million quality images as well as footage to choose from. The vast library of videos makes Pexels an excellent resource for businesses who want to incorporate video into their marketing strategy.
3. Pixabay

Pixabay offers plenty of stunning and high-resolution images with no copyright restrictions or attribution required. This gives businesses the freedom to use these photos in any manner they wish without needing to worry about legal issues or infringing on someone else's creative rights.
4. Freepik

Freepik is known for its designs and mockups but also features a large selection of modern pictures perfect for businesses in need of something fresh and contemporary for their content. You can browse through inspiring collections based on popular topics like wellness, food, and business. The platform is updated regularly with new images, so there's always something new available!
5. Stocksnap.io

StockSnap.io is another fantastic resource for free stock photos, offering thousands of stunning images updated daily from some of the world's best photographers.
6. Gratisography

Gratisography has one of the most unique selections of free stock photos available online today, showcasing beautiful imagery from creatives all around the world in both traditional and more unusual subject matters such as animals and abstract artworks.
7. Burst by Shopify

Burst by Shopify provides royalty-free images created by Shopify's creative community and partners, making it an ideal choice for e-commerce stores looking for new photography to use in their online store or marketing campaigns.
8. FreeImages

FreeImages offers thousands of free stock photographs across multiple categories including business, lifestyle, culture, and travel themes, which can help bring any project to life with vibrant visuals and professional appeal. It also offers clipart and icons to use at no cost.
9. Kaboompics

Kaboompics features thousands of unique quality stock photographs from talented independent photographers all over the world – offering vibrant colors perfect for creating eye-catching designs even without additional editing!
10. Life of Pix

Life of Pix has a diverse selection of full HD (1920×1080) resolution images; featuring everything from people and nature shots right down to small details everything needs to get the most out of its visuals whatever market targeting whether professionally editorialized projects personal blogs alike!
11. PicJumbo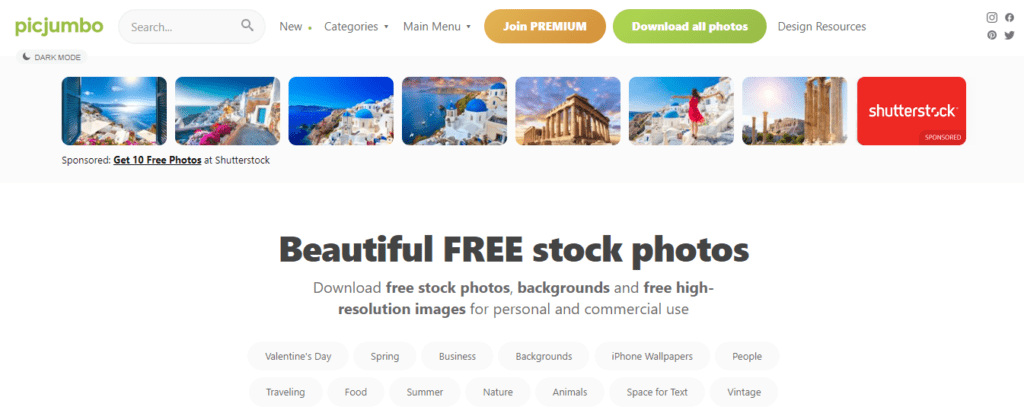 PicJumbo is another great resource for finding high-quality stock photography which offers unique collections from its creator, award-winning photographer Viktor Hanacek. It offers imagery ranging from cityscapes to fashion editorials and everything in between!
Conclusion
Finding quality stock photos can be a difficult and time-consuming task. But it doesn't always have to be since there are numerous free resources available.
With the help of this guide, you should now know some of the best options for sourcing stunning images without needing to worry about copyright issues. So go ahead and get creative with your content today!