Jasper Art Review 2023: Is It Worth It?
You may have heard about the magic of AI art generators and are interested in knowing more about Jasper Art. If you're asking yourself what this tool can do, you've come to the right place for answers!
When I first heard that Jasper, one of the most popular AI writing tools, was releasing an art generation feature, I was intrigued. If you're someone like me who struggles to find the right images for their content, you would be curious too.
I decided to put Jasper Art to the test to determine what it can do and whether it's good at it. In this Jasper Art review, I share my findings without bias.
Read along to discover the features, pricing, benefits, and downsides of Jasper Art.
Jasper Art: Overview
In a nutshell, let's look at what Jasper Art is and how it works.
What Is Jasper Art?
Jasper Art is an AI-based software program from Jasper AI that can create visuals based on your input. It has changed the way people create art by enabling the generation of beautiful pieces of artwork from text.
Jasper Art offers a powerful suite of tools and features that make it easy for both experienced and beginner artists to explore their creativity. This powerful AI image generator can create a wide variety of artwork, from abstract to realistic, depending on your needs.
It's a tool that suits content creators and marketers. We all know how the online world now relies on visuals more than ever before, meaning that there's a need for easy access to any specified image you want.
More resources about Jasper AI:
How Does Jasper Art Work?
As an AI art generator, Jasper Art works by utilizing a number of powerful algorithms that allow it to build complex visuals in response to your commands. For example, you can input simple instructions such as "create a cityscape" and the program will generate a 3D cityscape for you.
The art generation process involves a combination of text-to-image and image-to-image functionalities. When given a description or prompt, Jasper's AI model analyzes the text, visualizes the elements described, and generates an original image that aligns with the given description and settings.
Jasper uses DALL-E 2, the machine learning model for OpenAI that can make realistic images out of natural language. The AI model has been trained on a vast dataset of images, something that allows it to generate diverse and high-quality pictures.
Who Can Use Jasper Art?
Jasper Art suits anyone involved in creating content online. Some examples are:
Bloggers: Jasper Art will provide you with images to add to your website content and articles.
Marketer: You can use AI-generated images in your ad copy, including social media ads and email campaigns.
YouTuber/video creator: If you're an active content creator on YouTube, you can generate images and use them for your thumbnails to increase click-through rates.
Web designer: Add interesting images to client website pages that enhance user experience.
Digital artist: If this is your profession, you can experiment with such an AI tool to create digital art for visual graphic effects and animations in films and video games.
Custom product seller: Design beautiful art designs with AI to put on products like t-shirts, mugs, phone cases, and more through print-on-demand.
Jasper Art: Features
Jasper Art has some interesting functions that we're about to look at.
1. Realistic Images from Text
Jasper Art can generate images that closely resemble real-life objects and scenes, giving them a lifelike quality. When you provide text prompts, Jasper Art's AI model captures given details, colors, textures, and overall composition to create a realistic visual representation.
2. Image-to-Image Generation
Did you know that Jasper Art can also generate art from other images? Well, all you need to do is upload an image and the AI will use it as inspiration for creating more like it in different styles.
Check the example below of AI-generated art from an image (shark):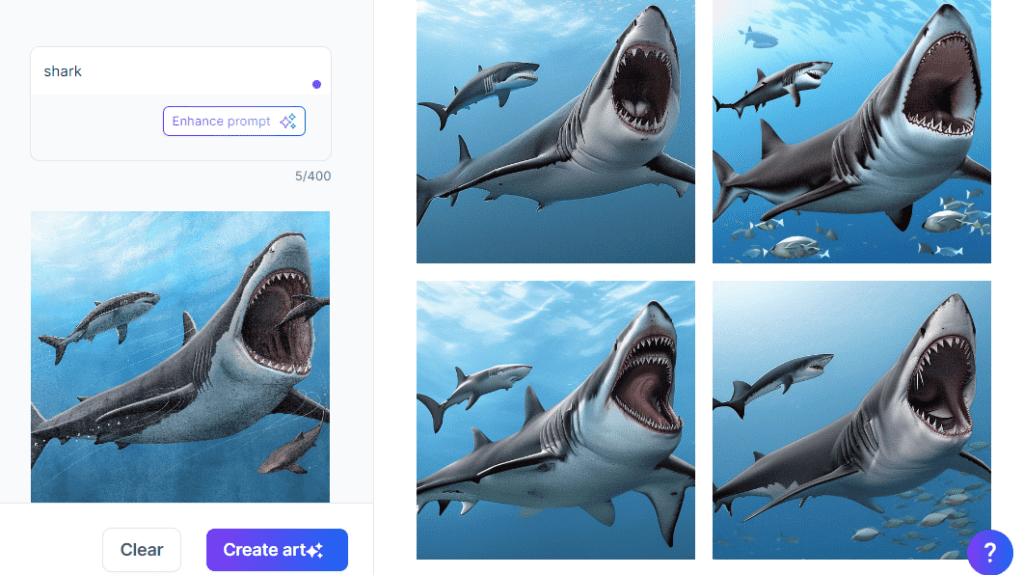 Jasper Art was able to recreate the shark image. This means that what Jasper has created versus the one I uploaded is different but inspired by it. Such a feature can help you get an image that resembles another copyrighted one without copyright infringement.
3. Quick and Hassle-Free AI Image Creation
Long gone are the days when you needed to go from one free stock photography marketplace to another in such of the "perfect image." The process of browsing stock image sites can consume a lot of time.
With Jasper Art, you just enter your description and let it do the magic. The AI image generation takes just a few seconds, not even minutes.
4. Multiple Customization Options
Moreover, Jasper Art offers customization options that allow users to tailor the generated images to their specific needs, vision, or requirements. It's possible to modify various aspects of the image you need, such as the following:
Mood: Emotional or atmospheric qualities conveyed by an image or the vibe that the viewer gets (e.g. calm, exciting, fun)
Medium: The specific artistic or visual style that the AI model is attempting to replicate or create, encompassing the techniques, materials, and visual characteristics (e.g. ink, oil paint, or photography)
Inspiration: Just like human artists who draw inspiration from various sources, Jasper Art can create unique images while guided by a particular creative influence or source of ideas (e.g. Andy Warhol, Claude Monet, or Pablo Picasso)
Keywords: These are descriptive terms or labels you need Jasper to associate an image with, indicating its content, features, or context (e.g. 8k resolution, black and white, or full face portrait)
Language: The language of your input, whether English or any other supported one.
5. AI Image Templates
Jasper enables you to use the art feature in two ways: Free Form and Templates. Free Form simply means describing your picture and creating it from scratch.
With Jasper Art's templates, you can choose a specific use case based on the kind of high-quality images you're looking for. Some of these templates are:
Food photography
Ink art
Realistic animals
Realistic person
Storybook illustration
Once you pick a template, you'll then input a description for something in the category of your chosen template and let the AI do its job.
6. Supports 30+ Languages
Jasper Art works in more than 30 languages. These languages include English as well as the following:
German
Spanish
Dutch
Portuguese
French
So, you don't have to worry if you're not fluent in English because Jasper will allow you to describe the amazing art you want in your language with as many details as possible in your input.
For example, I tried to generate an AI image using Spanish (thanks to Google Translate). I pasted the following text, which means "moon and wolves at night " in English.
As you can see, Jasper Art understood my prompt and produced the results I needed. The image results you get are quite consistent across all the supported languages.
7. Unlimited Image Generation
Besides the ability to generate multiple images at once, you're not restricted by set quotas or limitations on the number of images you can create. You have the freedom to explore different ideas, concepts, and styles restriction-free.
In other words, bulk image generation is possible with the Jasper Art AI image generation tool. So, it doesn't matter whether you need dozens of digital art for your video illustrations, e-book, or something else.
Jasper Art Tutorial: How to Use It for Generating Images
Now, follow me as I share with you details on how to generate images using Jasper Art.
Before we begin, you can check out this quick video of how to use Jasper Art from the company itself:
Step 1: Go to Your Dashboard
I'll assume you've created your account already. If not, you can try Jasper for free, which includes Jasper for writing and Jasper Art.
Once you've set up your profile, log in and your dashboard will appear as shown below: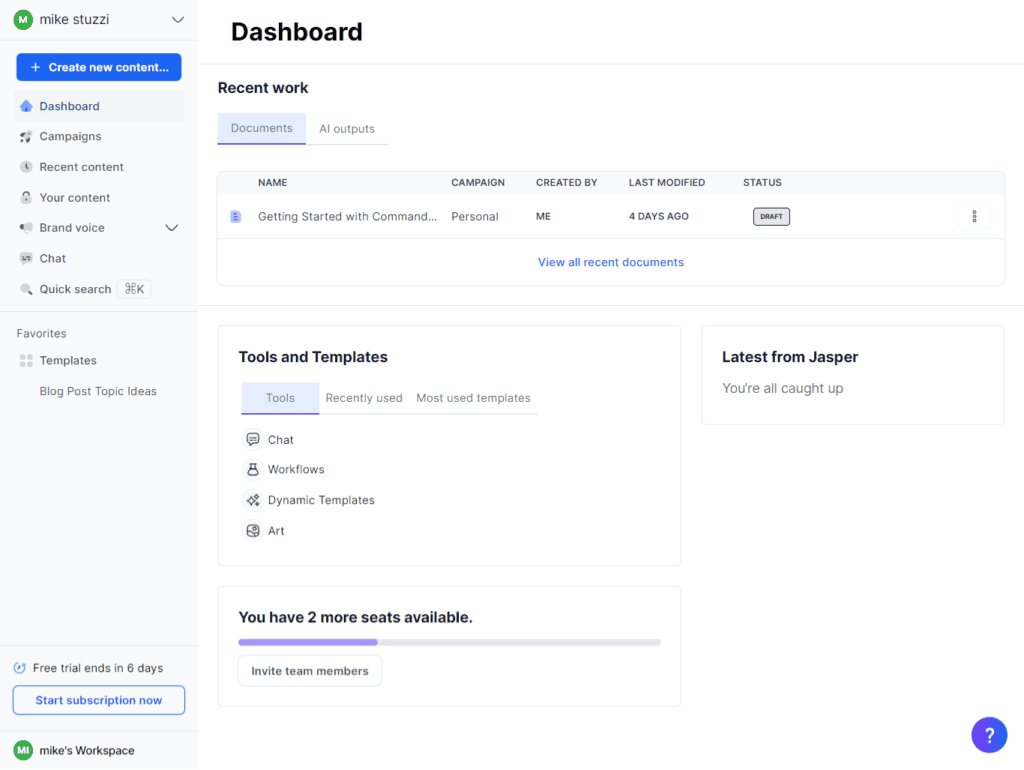 Now, you need to navigate to the section that says "Art" under the "Tools and Templates." Click on it.
Step 2: Describe the Image
The Jasper Art page looks as shown below: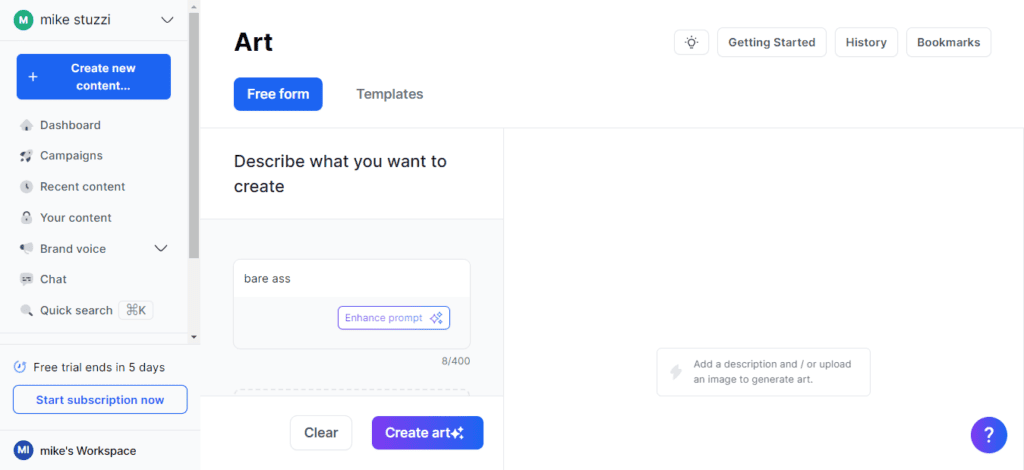 You'll need to describe the image you want Jasper to create. It helps to be as detailed as possible for the best results.
For example, the description "dog" will give you random illustrations of a dog. But if go with something more descriptive, you'll get the exact kind of dog image you need.
If you lack ideas, feel free to use Jasper Art's "Enhance prompt" feature.
This feature automatically improves your input by adding more elements to it for better results.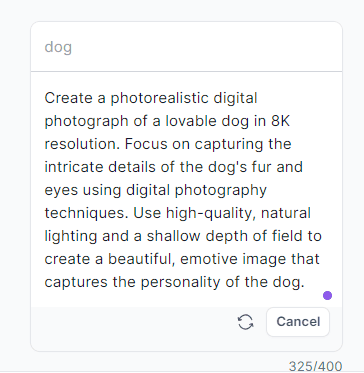 Step 3: Customize the Image Options
You can customize your image in the ways I've mentioned before under Jasper Art's features. These are the mood, medium, inspiration, style, and keywords. You're free to leave it if you're not concerned about such aspects.
Step 4: Generate Images
Just click on the "Create art" button and let the AI process your request. Based on the previous enhanced input I shared, the image results are shown below: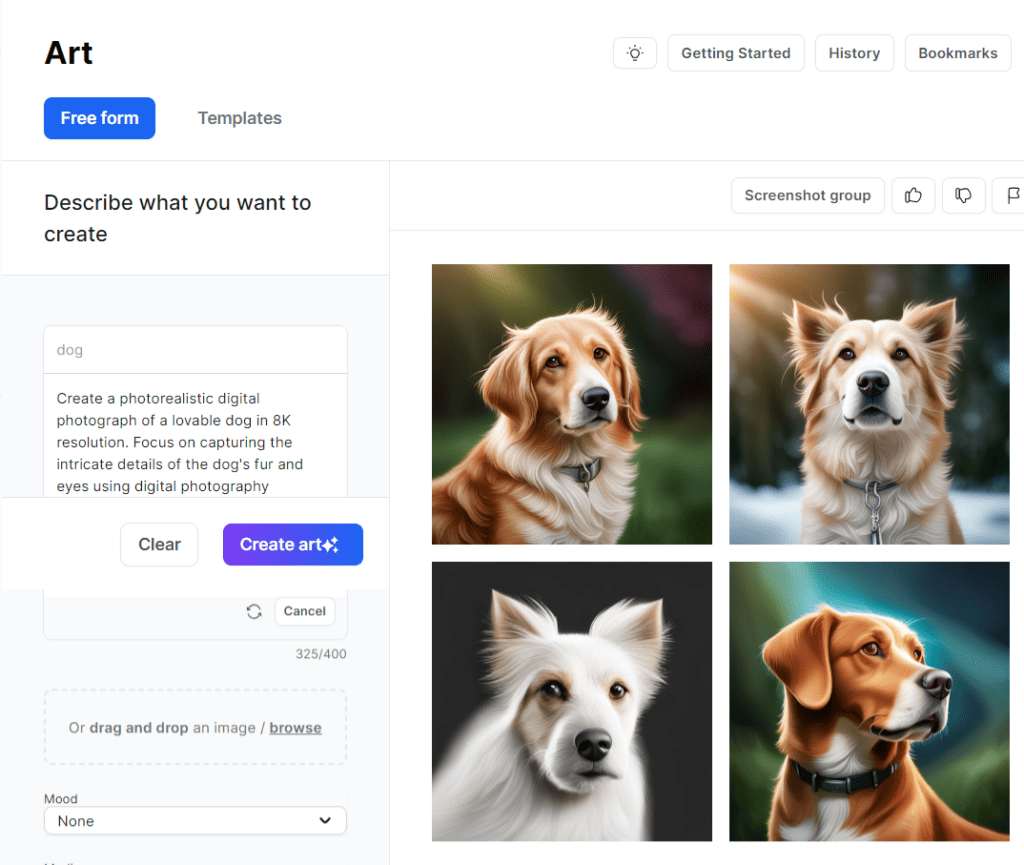 There's no limit to the number of times you can click on the button to generate more different images. If you don't like a specific set of image outputs, you're free to regenerate or twerk your description a little more.
Let's try one more where I actually customize the settings for the image: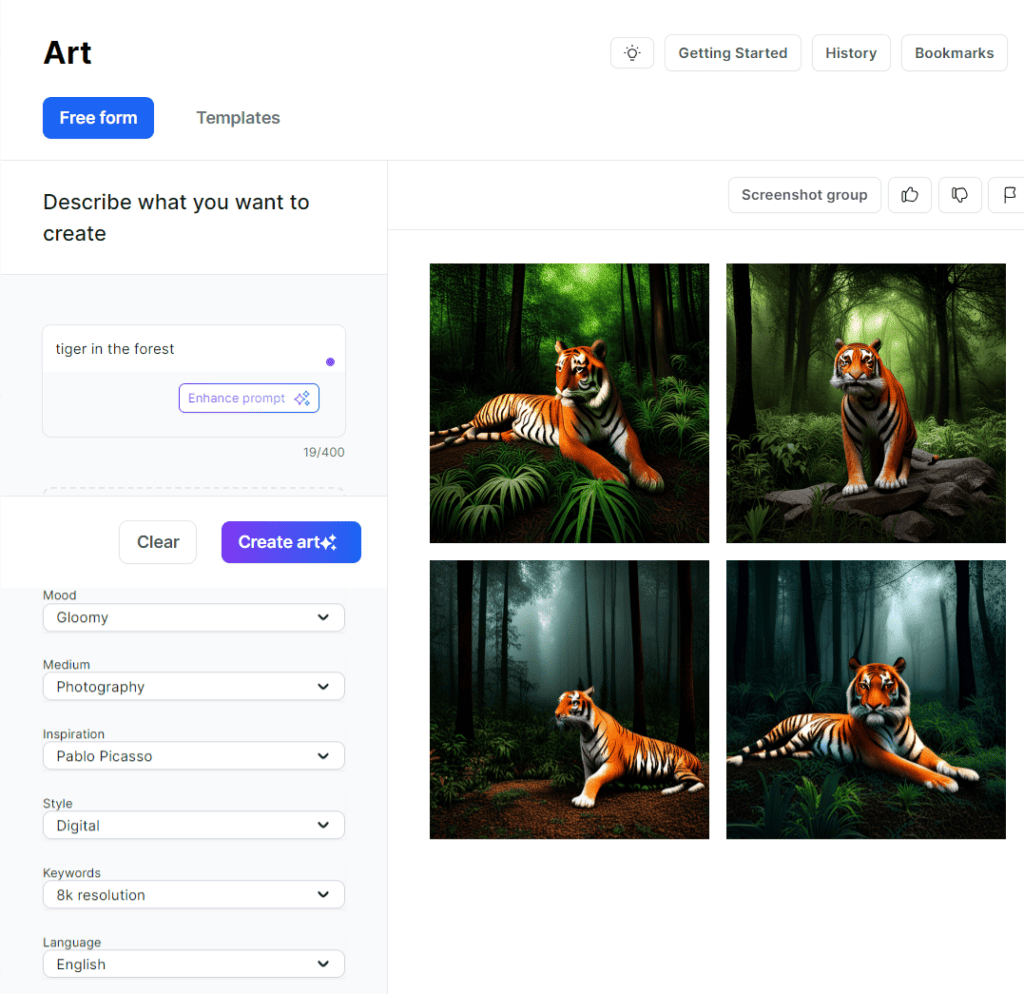 Jasper Art: Examples
I've already shared several images from Jasper Art in this Jasper Art review. But let's see some more Jasper AI art examples to inspire you.
In this case, I used the most realistic customization options offered (medium: photography, style: digital, keywords: 8k resolution).
Jasper Art Example 1: Human Faces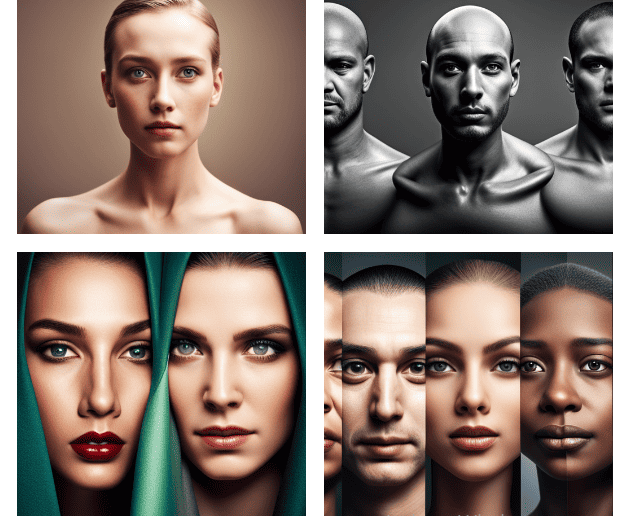 Jasper Art Example 2: Nature
Jasper Art Example 3: Cars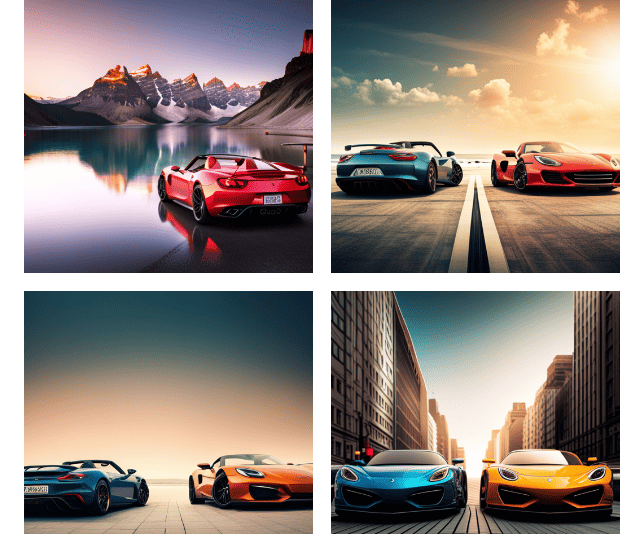 Jasper Art Example 4: Food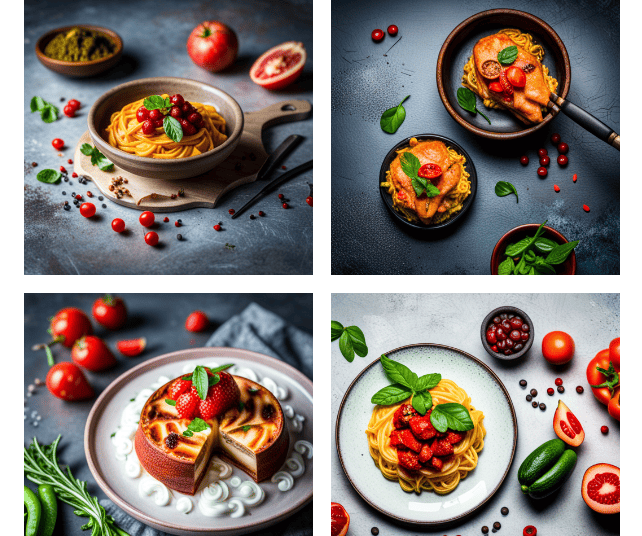 Jasper Art Example 5: Houses
Wow! I would say that someone might confuse these images with actual photography.
Jasper Art Review: Free Form vs Templates
I found that Jasper Art's Free Form mode gives you more control over the image you need the tool to create. If you select a specific template, you have to describe art that falls under the chosen template's category.
Check the comparison below:
| | |
| --- | --- |
| Free Form | Templates |
| ✔ More power to create any image without switching between various templates | ✔ Provides more accurate results based on the template that you select to create the AI images |
| ❌ You may get a wide variety of images generated that aren't specific to your needs | ❌ You have to switch to another template to create an image in a different category |
Safe to say, whatever option can work for you depending on the occasion.
Jasper Art Review: Legalities
You may have questions as to whether it's legal to use AI-generated images from Jasper Art, and what limitations there may be.
The good news is that you can use Jasper Art images without worrying about copyright issues. You have the right to reprint and sell the images as per your imagination and project requirements.
The not-so-good news is that other people can use your images too. The usage of Jasper Art allows the images generated to be publicly viewable and remixable. You grant permission for Jasper Art and others to reproduce, display, or distribute your images.
Also, while the generated images can be used for both personal and commercial purposes, it is essential to ensure that the usage adheres to applicable laws. You shouldn't use Jasper Art for creating images that defame, libel, or violate any legal restrictions under the applicable jurisdiction.
Jasper Art: Pricing
Initially, Jasper Art was priced separately. Now, you can use Jasper Art with any of Jasper's plans. These plans are Creator, Teams, and Business.
Check below for details of each plan:

Creator ($49/month)
50+ AI templates for writing
30+ languages
1 user
1 brand voice
50 knowledge assets
Basic art generation
Teams ($125/month)
Everything in Creator, plus
3 users
3 brand voices
150 knowledge assets
Team collaboration
Business (Custom pricing)
This plan is a custom one that comes with personalized features and no limits.
Jasper AI Art: Pros and Cons
Jasper Art Pros: What I Like About Jasper Art
✔ Unlimited images generated
✔ Included in all of Jasper's subscriptions
✔ Creates realistic images
✔ Understands input in a variety of languages
Jasper Art Cons: What I Don't Like About Jasper Art
❌ May occasionally miscreate when generating images, especially those that include humans doing something (the faces may not display correctly)
❌ Could use more customizations like additional moods and inspirations
Jasper Art: Alternatives
Below are some other AI art generators similar to Jasper.
NightCafe Creator
If you're looking to create stunning images using AI, NightCafe is another great option. It offers more algorithms than most other AI art generators, including DALL-E 2, Stable Diffusion, and CLIP-Guided Diffusion.
The tool works just like Jasper Art. You describe an image and then select a style, such as striking, anime, or vibrant.
What's interesting about this particular platform is that you can interact with other "AI artists." What's more, it has AI art challenges where users compete to see who made the best art (or who has world-class prompts, lol).
Midjourney
Midjourney was among the most popular AI image generators when it became a thing. The tool was created by an independent AI research company that is actively exploring the realm of human imagination.
You need Discord to use Midjourney at the moment. You can use a variety of commands to use Midjourney on any Bot channel or private Discord servers where the tool is permitted to operate.
Hotpot.ai
Another interesting Jasper Art alternative is Hotpot.ai. It lets you create outstanding graphics and pictures.
Hotpot.ai features ready-made templates for creating mockups, social media posts, marketing images, app icons, and more.
On top of it all, it also has AI writing capabilities like Jasper. You can use it to write blog content, marketing copy, or even songs.
Jasper Art: FAQs
Is Jasper Art free to use?
No, Jasper Art isn't free. You need to subscribe to one of Jasper's plans to access the tool. The current plans are Creatr, Teams, and Business.
However, with Creator, you may be limited since it offers basic art generation. Teams is the most popular and recommended plan on Jasper.
Does Jasper Art offer a free trial?
Yes, you can try Jasper Art (and other tools Jasper offers) freely for 7 days. This allows you to test the AI art generator and understand how best it can help you before committing to a paid plan.
Remember that there's no specific Jasper Art subscription as it's included in all Jasper plans. So, you can access it if you choose the free trial for either the Creator or Teams plan.
What are the rules of Jasper Art?
Some of the rules to keep in mind when using Jasper Art are:
You can use the AI-generated royalty-free images as you want but others can too
Don't create images to defame or violate others
Profanity or vulgar words aren't allowed (Jasper Art won't process your request)
Can I use Jasper Art commercially?
You can use Jasper Art to generate images for both personal and commercial purposes. It doesn't matter if you're using the pictures for marketing campaigns, in an e-book you're writing, or even selling your amazing images to people.
What are the benefits of Jasper Art?
Jasper Art enables you to:
Quickly create images for whatever (legal) purpose without any experience
Save time you would spend navigating different platforms for free or ideal stock photos for your commercial projects
Save money you would spend on premium image licenses for unique and quality visuals
Jasper Art Review 2023: Conclusion
I hope that you loved reading my Jasper Art review. In my opinion, Jasper Art is worth it. You can try out the tool for yourself and explore the magic it can do.
It's easy to use and can create art about anything, except for any explicit topics. The better your prompt, the more specific the image you get.
Given that it's a part of Jasper's 3 packages, you'll be able to enjoy other features like Jasper for writing and Jasper Chat, an AI text-based assistant. Simply put, your entire content creation needs will be taken care of!