Email Warm-Up Tools: 5 Best Services to Use
Are you looking for an email warm-up tool to help increase your email open rates? Email spam filters are getting more and more sophisticated.
In fact, over 15 percent of emails get caught by popular spam filters. Many times, the reason for this is not following email marketing best practices, such as bulk sending. So, it's important to make sure your emails aren't flagged as spam.
That's why I wrote this blog post on the best email warm-up services available online. These services can help you improve your email marketing results by warming up your email list before sending out your next campaign. All of them work according to email service provider rules.
What Is Email Warm-up?
Email warm-up is the process of slowly sending more emails to a newly created email address, so it is not marked as spam by email service providers.
It involves increasing the number of emails sent over time with various content types and varying frequencies. Doing this builds up your reputation as a sender and helps ensure that your emails are delivered to the inbox.
How Do You Warm Up an Email?
Warming up your email is relatively simple. All you need to do is:
Start with a low number of emails sent each day to your email list, such as 5 to 10.
Increase the frequency gradually over time and add in content types such as promotional emails, transactional emails, newsletters, etc.
Monitor your deliverability rate to see how email service providers are responding to your emails.
Adjust your warm-up process as needed until you reach the desired results.
If you don't want to do it manually, an email warm-up tool can help you speed up your progress. However, you need to be careful and only work with a tool that doesn't go against the guidelines of email service providers.
What Is the Best Email Warm-up Tool?
Below is a list of the top services to warm up your emails automatically.
1. Snov.io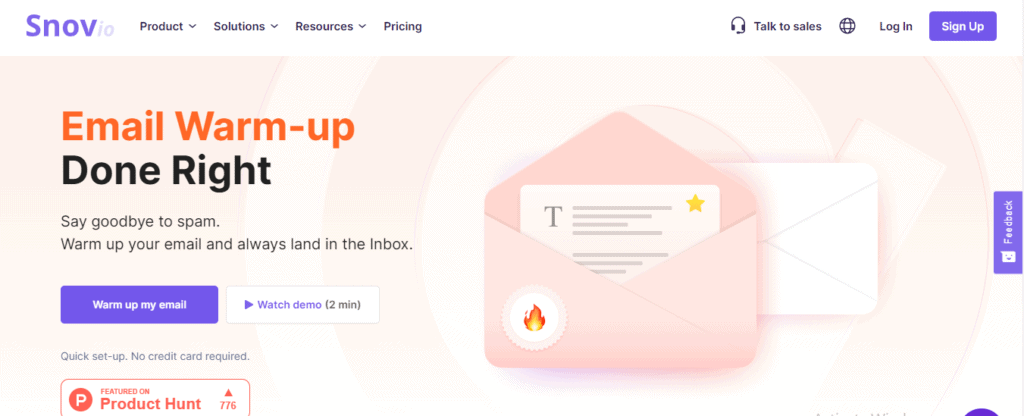 Snov.io is a powerful email automation platform that helps you warm up your list automatically. It enables you to ensure that your emails arrive to recipients and thus increase the delivery and opening rates. The tool uses authentic conversations to give you the best email warm-up outcome.
The good thing about Snov.io email warm-up service is that you're able to set it up in a couple of minutes. You just choose a mailbox, pick a strategy, and add an email. The strategy you choose depends on your goal, whether it is to prepare your new email account for email campaigns, fix the reputation of your domain, or just enhance inbox placement and reach more people.
What's more, Snov.io has an email finder as well as an email verifier for checking whether you have accurate email addresses. It comes with even more features, such as automatic follow-ups and drip campaigns.
Key Features
Easy set-up: It takes a few minutes to start warming up your email.
Multiple use cases: Build, repair, or maintain a good sender reputation.
Realistic conversations: Snov.io tool sends actual messages and not robot-sounding or random ones.
Pricing
Snov.io plans feature all its other tools, besides warm-up.

Trial ($0/month): 1 mailbox warm-up, 150 credits, and 100 email recipients
Starter ($39/month): 1 mailbox warm-up, 1,000 credits, 1,500 email recipients
Pro ($99/month): 3 mailbox warm-ups, 5,000 credits, 10,000 email recipients
Custom ($999/month): Custom warm-up strategy, prospecting, and outreach
2. Mailwarm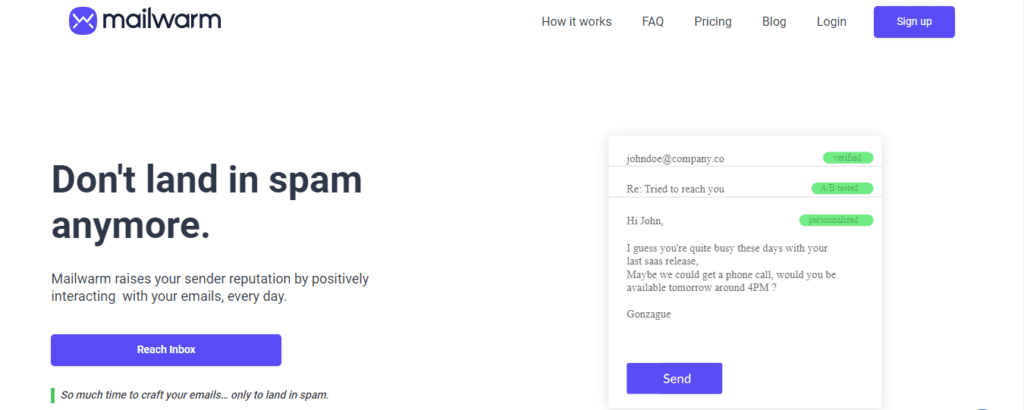 Mailwarm is an email warm-up tool for small businesses. It helps you increase the chances of your emails getting delivered, develop trust with ISPs, and improve your sender's reputation. All you do is register, connect your email account, and begin warming up.
The idea behind Mailwarm is that it sends out a sequence of automated emails over time to build up your reputation as a legitimate sender. What happens is that Mailwarm will send emails from your account to its accounts in batches. Your emails will be opened, marked as important, and responded to.
Once that happens, your email account will be more trustworthy. You have full control and can adjust the sending or pause when needed. Plus, with Mailwarm, you can track the progress of your warm-up campaigns.
Key Features
Automated warm-up: Send emails automatically over time to build up a good reputation as a legitimate sender.
Full control: Schedule how you want your email account to interact with Mailwarm accounts each day.
Tracking: Know how you're performing at any given time.
Pricing
Mailwarm's plans are listed below.

Starter ($69/month): 1 account, up to 50 Mailwarm emails a day
Growth ($159/month): 3 accounts, up to 200 Mailwarm emails a day
Scale ($479/month): 10 accounts, up to 500 Mailwarm emails a day
Keep in mind that the above prices are billed annually. A monthly option is also available ($79, $189, and $549, respectively).
3. Reply

Reply is an all-in-one sales engagement platform that also offers an email warm-up service. It's trusted by established brands like ZipRecruiter, OneTrust, and Jungle Scout. The tool can assist you in building a good sender reputation if you have a new account or repair your account if it's an existing one.
Reply's warm-up tool takes a minute to set up. You can connect your accounts in a few clicks and let the tool enhance your email deliverability while you focus on other things, like crafting the perfect messages for your emails.
Other than that, Reply is helpful for email searching, has an email verification service, and allows you to engage with prospects through automated email sequences.
Key Features
Real inboxes: Reply uses actual email inboxes for warm-up rather than new or temporary ones for more effectiveness.
Supports Gmail and Outlook: You don't have to switch between your email accounts.
Multiple warm-up settings: Grow a new account, remove yourself from spam, or get reputation protection.
Easy tracking: The tool offers simple and clear analytics that show the delivery rates of your emails in real-time.
Pricing
Reply's email-warm-up service costs $29 a month per email account. Its other tools (email search and sales engagement) are priced separately.
4. Lemwarm by Lemlist

Lemwarm is a warm-up tool from Lemlist, a platform that specializes in outreach campaigns. Lemwarm enables you to boost the rate at which your emails reach their destination and get good results from your campaigns.
With Lemwarm, you can monitor your domain reputation and build it up to create more opportunities for your brand. You get a chance to keep all your important emails out of spam folders. It doesn't matter whether you're sending cold emails, promotional emails, or newsletters to an audience.
Besides Lemwarm, Lemlist can do more for you. It allows you to personalize emails even when you're scaling up your outreach process, send email sequences to close deals, and follow up automatically.
Key Features
Conversation threads: Automatically send and reply to messages to appear trustable as a sender.
Multiple parameters: Lemwarm uses a wide variety of parameters for high impact.
Domain reputation monitoring: Keep an eye on your domain's reputation to make sure that it stays good so that more people can receive your emails.
Pricing
Lemwarm is priced the following way.

Essential ($29/month): Comes with primary features
Smart ($49/month): Offers more features
Lemlist: Subscribing to Lemlist (as a whole) gives you -$29 on Lemwarm per Lemlist seat each month
5. Warmup Inbox
If you need another email warm-up service that helps you make sure that your emails are delivered safely, Warmup Inbox may interest you. It allows you to reach out to new contacts and customers with verified details.
The tool can help keep your reputation good so that people don't end up marking you as spam or you being blacklisted. You can even avoid being in the promotions folder because frankly, many new accounts end up there even though they aren't necessarily promoting something. With Warmup Inbox, you can also monitor how reputable your email account is.
Key Features
Reputation score: Discover what's your reputation as a sender by checking your score.
Monitoring: Get stats on your email results so that you know when things are improving or need work.
Alerts: You'll receive a notification in case something goes amiss.
Pricing
Warmup Inbox offers pay-as-you-go options without committing long-term.

Basic Warmup ($12/inbox/month): 50 warm-up emails a day
Pro Warmup ($39/inbox/month): 150 warm-up emails a day
Max Warmup ($199/inbox/month): 500 warm-up emails a day
The above plans are billed yearly. Monthly billing is $15, $49, and $249 respectively.
How Does an Email Warm-up Tool Work?
Email warm-up tools are services that help you get your emails to reach the recipient's inbox without getting caught by spam filters. These tools usually do this by sending out a sequence of emails to different people in your list, starting off with small numbers and increasing over time.
The idea behind this is that these warm-up emails will build up a good email reputation for your account, and make it more likely for subsequent emails to reach their intended destinations.
Conclusion
Email warm-up tools can be useful to any serious email marketer, whether they're starting out or experienced. They can help you build up your reputation and ensure that your emails get to where they need to go.
The listed services are tried and tested and offer various features at different price points. You can select one of them according to your needs and budget.