9 Best AI Logo Generators in 2023 (Text to Logo)
Are you looking to create a unique and eye-catching logo for your business? Maybe you want to become a freelance logo designer and make money. If so, you may want to consider the use of an AI logo generator.
There are many benefits of using an AI-based logo creator. These tools allow you to create professional logos in minutes, which is ideal if you're on a tight deadline.
Design experience isn't necessary. You just use simple drag-and-drop tools and pre-made templates to make stunning designs.
In this blog post, we're going to explore some of the best AI logo generators available on the Internet. I'll also provide links to these logo makers so that you can get started creating your logo as soon as possible!
Disclaimer: Because the site is reader-supported, we may earn a commission if you use our affiliate links.
Read also:
What Is the Best AI Logo Generator?
Below are the top AI logo makers, both free and paid, to use for your business.
1. Designs.ai

This is one of the best AI logo creators available online and also the top recommendation. Designs.ai's logo maker lets you design modern brand logos in a few minutes.
These are the steps:
Enter your company name
Choose your domain or industry
Select a category i.e. name, icon, or initials
Fill out your slogan if you have one
Pick a style from the pre-made designs
Choose the color tone
From there, you'll see the generated designs and can select from them. Create your account and you'll be able to edit or buy the design you chose. This brand builder can also help you in making videos, banners, and mockups.
Designs.ai Features
10,000+ icons
15 million images and video clips
JPEG, PNG, SVG, and PDF logo file formats
Style guidelines
Export full brand identity kit
Designs.ai Pricing
Designs.ai allows you to either get a logo only for $49 or subscribe to a plan.

Basic ($29/month)
Unlimited projects
Unlimited usage of images and video clips
1 team member
10 premium images per month
Standard license usage
Pro ($69/month)
Unlimited projects and usage of images and videos
5 team members
20 premium images per month
Standard license usage
Enterprise (Custom)
Unlimited projects and usage of images and videos
15 team members
200 premium images per month
Enterprise license usage
2. LOGO.com

It could be that you want to create a professional logo in minutes without paying a hefty cost. LOGO.com allows you to do exactly that.
This free AI logo maker just needs to finish the following 6 quick steps to get a logo for free:
Enter your business name
Input an optional slogan
Select your industry
Pick color themes based on your ideal brand identity
Choose the font styles, such as Modern, Handwritten, and Bold
Fill out some keywords so the AI locates the best icons
And that's it, you'll see a list of generated logos ready for download. Below is one of the AI-generated logos from LOGO.com for this site: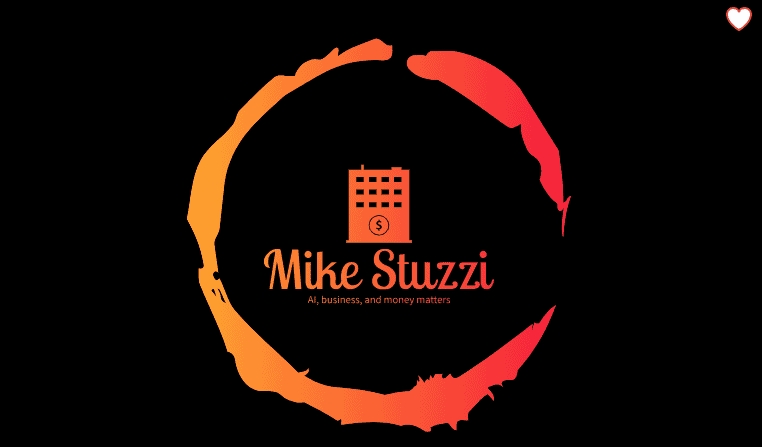 You can select one for further editing where you tweak the fonts, colors, and layouts. To get your logo, all you have to do is create an account.
Besides logos, this platform comes with a full brand-building package. You can claim a domain name, build a one-page site, set up a business email, make email signatures, create business cards, and more.
LOGO.com Features
Multiple AI logo templates
Dozens of AI-generated logo ideas
Text, color, and layout customization and editing
LOGO.com Pricing
LOGO.com's logo maker is free. But with LOGO Pro, you can enjoy more special features for building your brand, such as free domain registration and website builder.
LOGO.com's costs are as follows: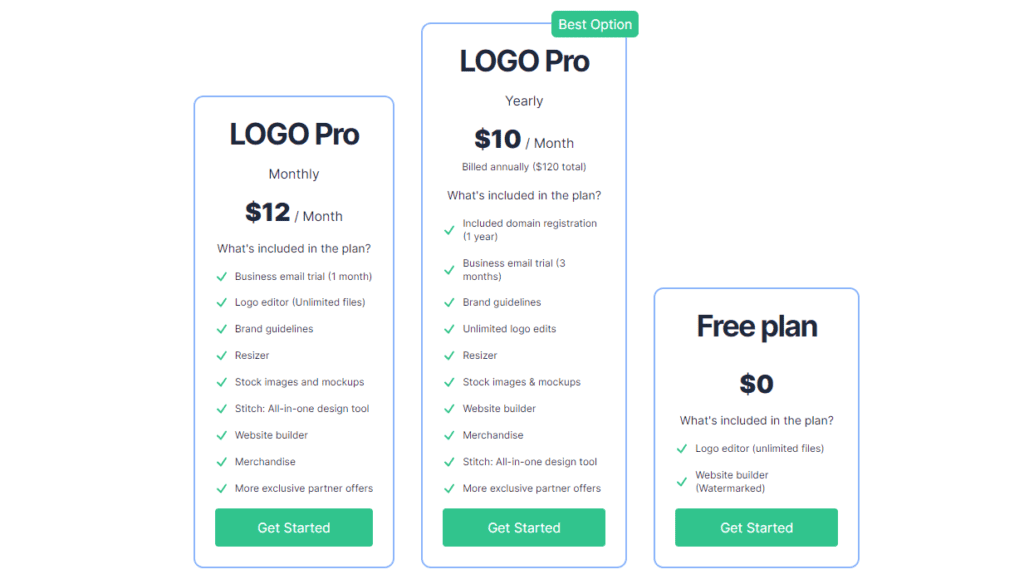 Free plan: $0/month
LOGO Pro Monthly: $12/month
LOGO Pro Yearly: $10/month billed annually
3. Tailor Brands
Tailor Brands' logo maker offers a simple way to create a logo that's unique to your brand. In just a few simple clicks, you can leverage the tool's AI abilities to generate a custom design to use anywhere. It doesn't matter if it's for a website, paper or contactless business card, billboard, or something else.
To get started with this free AI-based logo maker, here's what you do:
Share your brand information such as company name, type of business, and other descriptions
Select the type of logo, whether icon-based, name-based, or initial-based
Pick a font, either something formal or more script-based and stylish
The Tailor Brands logo maker will then process the design according to your selections. You can customize it however needed by switching to different fonts and colors. You'll then be able to save it to your device in a format of your choice.
Besides the logo maker, Tailor Brands also has all the tools you need to start a business. If you haven't launched yet, you can use the platform to get your LLC, set up your site, and put your brand out there.
Tailor Brands Features
Hundreds of designs to choose from
High-resolution logos in Vector EPS, transparent SVG, or PNG formats
Social media formats where you get resized versions to use on all popular social networks
Tailor Brands Pricing
While its logo maker is free to use, Tailor Brands' other features, such as starting an LLC, are priced. The cost will depend on the features you pick.
4. Brandmark Logo Maker

Brandmark is an AI-powered logo creator that can help you create professional business logos. The good thing is that it's easy to use.
You just need to:
Type in a business name
Enter an optional slogan
Choose a few descriptive words
Pick the brand color style
The logo maker will create unique logos for you to choose from. You can get a custom logo by choosing from its wide range of fonts, colors, and icons. There's the option to edit and even preview a design.
Once you find the perfect logo for your needs, you simply need to purchase it. There are options to save a specific logo for later or share it with others. As if that's not enough, Brandmark can generate business cards, social media graphics, and more designs for you.
Brandmark Features
Logo generator with customization capabilities
Supports all major formats, including PNG, SVG, PDF, and EPS
Adjust text and image sizes
Create more designs such as business cards and social profiles
Brandmark Pricing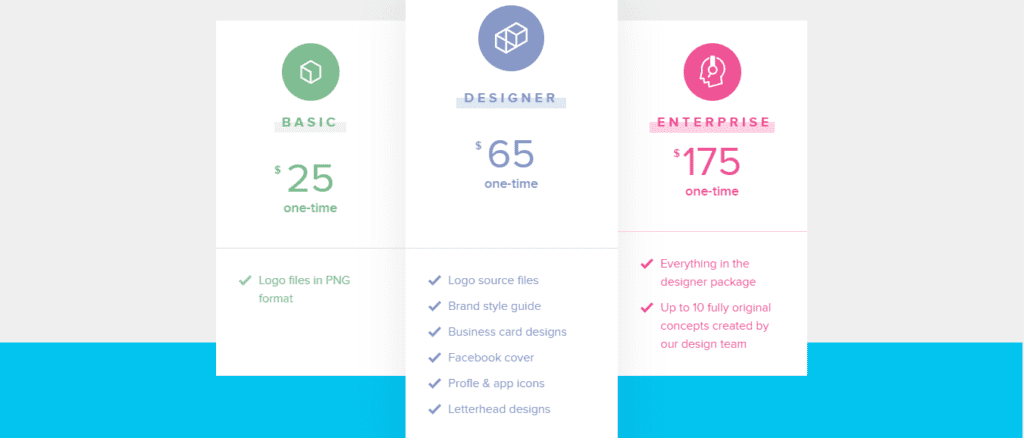 Basic ($25 one-time)
Get logos in PNG format.
Designer ($65 one-time)
Logo source files
Brand style guide
Business card designs
Facebook covers
Profile & app icons
Letterhead designs
Enterprise ($175 one-time)
Everything in Designer
Up to 10 fully original concepts created by our design team
5. Logomaster.ai

Logomaster.ai is among the best AI logo generators to get logo ideas for free within minutes. It suits professionals, startups, and small businesses. And, you don't need any graphic design skills to get started with it.
Here's what to do:
Enter your company name
Pick a logo category
Choose a logo reference (3 of them) from a variety of options
Select the color
Input a slogan (optional)
Add an icon you like
The tool will generate designs for you and you'll be able to see the results. You can buy the logo design that suits you best.
Logomaker.ai Features
Instant logo-making tool
100+ beautiful templates
Various file formats
Royalty-free logos
Logomaster.ai Pricing
Basic ($15 one-time)
Normal-resolution logo files
White and transparent backgrounds only
Transparent PNG
Instant file access
Changes not allowed after purchase
Premium ($35 one-time)
High-resolution logo files
Custom background color
Transparent PNG
Instant file access
Resizable vector SVG files
Print-ready
Make changes and re-download
Enterprise ($55 one time)
Everything in Premium
Dark logo, white logo, and colored background logo are provided as logo variations
Create and keep up to 5 logo variations
Social media assets
Professional watermark
Real-world mockup images
Font names and color palette
6. LogoAI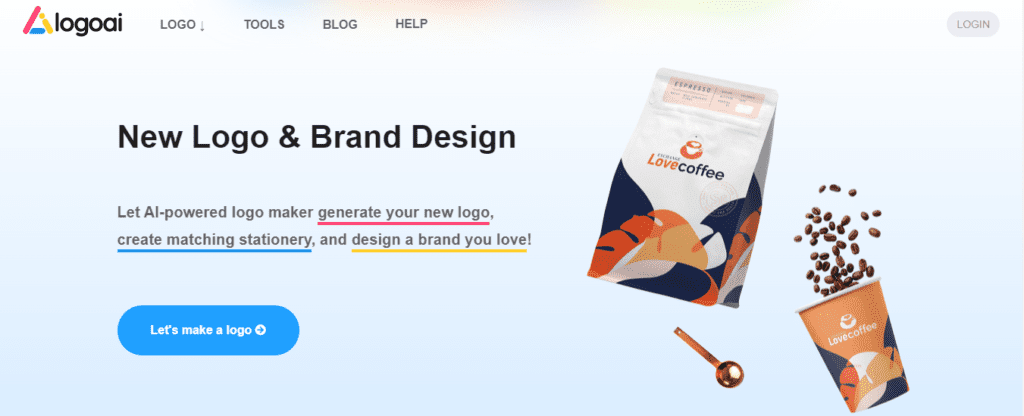 LogoAI is another AI-powered logo maker that can make professional-looking logo designs. The tool has helped over 30,000 businesses in creating logos. Similar to the other tools, no special skill is required to use LogoAI.
Below are the easy steps:
Fill in your logo name and a slogan if applicable
Select your industry
Pick color schemes for your logo
Choose the fonts
When you hit the generate button, you'll be able to view designs generated from the info you gave. You just need to select one of them, edit it if you want, and make a purchase. Besides logos, LogoAI can generate business cards, social media graphics like Facebook covers, and posters.
Logo AI Features
An AI tool that understands and turns logo data into beautiful designs
All design sizes and formats
Auto-generated logo animations as GIF and video files
LogoAI Pricing

Basic ($29)
3-day unlimited change
800*600 px logo download
Transparent PNG
Professional ($59)
3-day unlimited change
High-resolution logo download
Transparent PNG
Vector files
Word and PPT templates
Brand identity
Brand ($99)
Everything in Professional
Logo animation
Brand center
7. DesignEvo
DesignEvo is a powerful advanced logo generator that lets you create stunning logos without any design skills. It has a variety of AI logo templates to choose from that allow you to turn your thought into a creative logo design for free. This means that it doesn't matter whether you need a service logo, application logo, learning logo, or something else.
Below is how you can use DesignEvo quickly and easily:
Select a suitable template from the thousands of available ones
Add text and icon
Save your new design as JPG or PNG
As you can see, it's nothing hard and only takes minutes. Everything is 100 percent customizable. You can add text, shapes, and symbols for more customization.
The user interface of DesignEvo is simple and intuitive. All the features are straightforward to use, making it perfect for beginners.
DesignEvo Features
10,000+ templates
Millions of icons
Hundreds of fonts
DesignEvo Pricing

Free ($0)
Low-resolution files
High-resolution files up to 300 px
Limited edit and redownload
Basic ($24.99 One-Time)
High-resolution files up to 5,000 px
Transparent PNG
Unlimited edits and redownloading
Lifetime support
Print ready
Plus ($49.99 One-Time)
Everything in Basic
Vector files (PDF and SVG)
Download font files
Copyright ownership
8. Wepik
Wepik's Logo Maker offers the exceptional ability to generate unique logos through templates with a variety of styles, icons, and fonts. For businesses seeking to stand out from their competitors, this tool is an ideal choice. It simplifies the design process and makes it easy for anyone to craft a logo that perfectly encapsulates their brand's essence.
Start your journey on Wepik's website, home to a plethora of high-quality logos ready to be customized to your liking. Take your pick and open it using your favorite image editor. Here's where the magic happens – every element of the logo, from colors and fonts to shapes and other design components, can be tailored to create a symbol that best represents your company or product.
This customization process is crucial in crafting a logo that not only grabs attention but also effectively communicates your brand identity. Once you're satisfied with your design, download the logo in PNG format to ensure a transparent background. Now you're all set to reveal your new design!
And, if you feel like exploring artificial intelligence, creating a unique logo has never been easier with the right prompt in Wepik's online AI image generator.
Wepik Features
A vast library of high-quality images from Freepik to add visual flair to your logo
A collection of icons and symbols to incorporate into your design.
Tools for adding and manipulating text and shapes, providing endless customization options
Enhance your logo with a variety of filter options
Brand kit to consolidate your brand elements in one place for easy access and consistency across designs
Wepik Pricing
It's free to use Wepik. The benefit? This gives you unfettered access to some amazing tools without the need for a substantial financial investment.
9. Zyro by Hostinger
Zyro AI logo maker is a free tool from Hostinger, a leading web hosting platform. This AI logo generator for YouTube, websites, and other products enables you to complete your brand's identity creation. It takes seconds to use it!
What you do is enter the brand name, slogan, and industry and click on the button that says to start creating. The tool will analyze the information you provided and generate some logo ideas for you so you can pick one. From there, you can change the colors, fonts, icons, size, and layout.
Zyro is not just a tool for making logos but also a website builder used by over 250,000 small businesses. And so, you can also use it to build a site by just applying any of its templates without the need for coding skills.
Zyro Features
Fast logo creation whereby you just fill out your brand details and let it process your request
Thousands of templates
Numerous customization options for fonts, text, colors, and more
Zyro Pricing
This is a 100 percent free AI logo generator without a watermark. But if you want to use other Zyro or Hostinger features, you'll pay a fee depending on what solution you need.
Free vs Paid AI Logo Generators
Both free and paid options for AI logo generators are available online. But you have to know that they're not equal.
Free AI logo generators are limited when it comes to features and are best suited for simple logos. You'll find that they don't offer the same design options, customization, file formats, and even quality as their paid counterparts.
The reason for such differences is that paid AI logo generators focus on giving you the best tool on the market and not just basic features. And so, if you need a high-quality and professional logo design and have the budget for it, it's wise to go with a paid tool.
When investing in an AI-powered logo generator, remember to compare features and pricing to ensure you get the best design for a good price. You don't want to pay a high price for something just average or above average.
Conclusion
Now that you have the best AI logo generators in mind, why not get started with one of them? All of these tools are easy to use and don't require any design experience.
Whether you need a free tool for a simple logo or a paid one for a more professional logo, you now have some great options. The good thing is that they all provide you with an affordable way to get a brand logo for all your online or physical assets and marketing materials.
Read also: Best AI Interior Design Tools