7 Best AI SEO Writing Tools (Write and Rank)
If you're a website owner or writer, you know that search engine optimization is crucial for ranking on search engines like Google. It's only wise to publish well-written and optimized content that appeals to both search engines and human readers. But SEO can be a tiring task, and that's where AI SEO writing tools come to your aid.
These tools employ the recent advancements in artificial intelligence to analyze data and provide suggestions for keyword optimization and improving content quality. You may have seen how AI writing tools also use the latest AI technology to generate ideas and content from scratch.
And now, in this listicle, you'll learn about the top AI SEO writers available. I'll include the benefits each of them offers when it comes to boosting your blog posts' rankings and traffic.
Disclaimer: Because the site is reader-supported, we may earn a commission if you use our affiliate links.
What Is AI SEO Writing?
AI SEO writing simply refers to the use of artificial intelligence (AI) to optimize written content for search engines. AI SEO writing tools use natural language processing (NLP) and machine learning algorithms to analyze and suggest proper ways to enhance the quality and relevance of content.
These tools assist writers in creating content that incorporates specific keywords and topics. The result is better search engine ranking and higher website traffic. AI SEO writing not only saves time but also enhances the general quality of content to ensure that it meets both search engine requirements and readers' expectations.
What Is the Best AI SEO Writer?
I'll list the top AI SEO writing software available today below that can help you rank better.
1. Surfer SEO
(#1 Recommendation)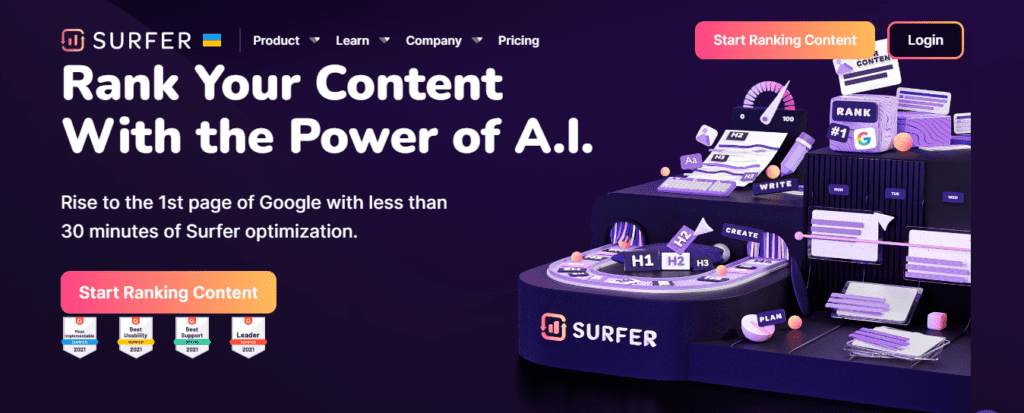 Surfer SEO is an advanced tool that can do more than just write and optimize content for you. It takes care of your entire SEO strategy, making it one of the top AI SEO writers to use. The top 3 results on Google searches (as per a Backlinko research study) get around 54 percent of all clicks and this is a tool that can help you reach there.
With Surfer, you can easily write articles that both your audience, as well as search engines, will love. Surfer can assist you in structuring the article and finding the most applicable keywords to use. In other words, you're able to write with confidence and precision.
The good thing is that Surfer supports any language you would like to write in. And so, if you aren't a native English speaker, you can still use Surfer for your SEO writing needs. Also, this feature can assist anyone looking to write for a global audience and not just English-speaking countries.
Top Features
Content Editor that allows you to access and input relevant keywords in your document
Surfer's Content Score gives you a rating of your on-page optimization in real time
A keyword research tool that takes into account your primary keyword to discover topic clusters for establishing your topical authority
The in-built Outline Builder is useful for generating briefs that incorporate relevant headings and frequently asked questions
Support of multiple languages, including French, Italian, and Korean, allows you to rank anywhere in the globe
Plagiarism detector to ensure that your content doesn't appear anywhere else
Integrations with Google Docs, WordPress, Jasper, and more enable you to work without switching from one platform to another
Pricing

Essential: $89/month
Advanced: $179/month
Max: $299/month
Enterprise: Custom pricing
Read more on this Surfer SEO review.
2. GrowthBar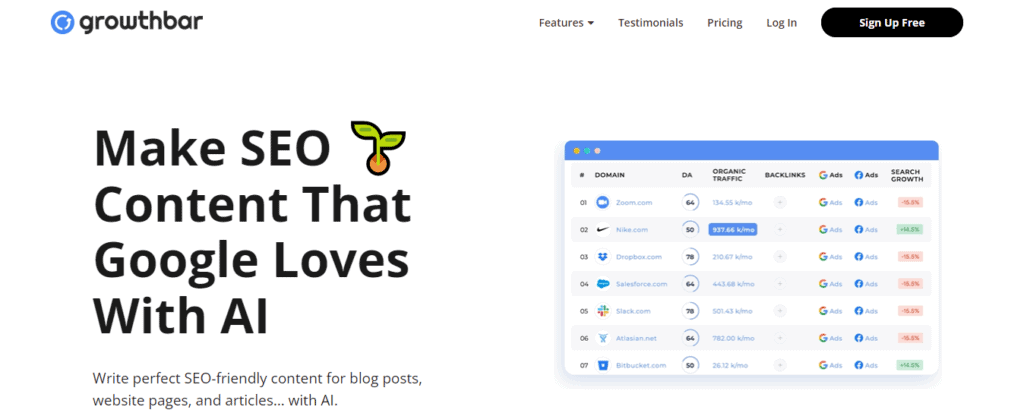 GrowthBar is an AI SEO writer best suited for blogging. Its focus is to help you create content that Google likes just by using AI. If you're someone who frequently publishes blog posts or is hired to write them, this is the tool to look for.
What this AI writing tool for SEO does is help you plan, write, and optimize any long-form blog content as required for niche domination. And it just takes a fraction of the time!
In fact, you can go from a blank page to an optimized piece of writing in just minutes. All you do is drag and drop some headlines and GrowthBar handles the rest. Besides optimizing your content, this tool can also find new title ideas and write meta descriptions for you.
In case you have a team, GrowthBar can accommodate you all. You can invite other users like writers and editors for collaboration.
Top Features
Access to over 7 billion keyword suggestions along with their difficulty scores and estimated revenue metrics
Blog Builder that enables you to get a 1,500-word article in just 2 minutes, with the search optimizations in place
Article import feature to optimize your previously written blog posts
AI paragraph rewriter allows you to reword your content and make it more SEO-friendly
Rank tracker to monitor how your written content is performing
Pricing

Standard: $48/month
Pro: $99/month
Agency: $199/month
3. Outranking

Another SEO content writing tool to help you rank with the help of AI is Outranking. The tool is unlike a few other AI SEO writers in that it leverages data and research to give you predictable success.
Outranking can do several things to assist you in acing your SEO. You can use it to create optimized blog outlines and briefs that are based on search engine result pages (SERP) analysis by the tool. If you're working with writers, these briefs will make their work much easier.
Now, Outranking also can generate accurate content. The tool looks at the top pages and is thus able to add facts to your writing without any guesses. You can confidently write your how-tos, product reviews, or listicles without worries.
Top Features
Content planner to organize keywords into groups, create quality content around the keywords, and reach the desired audience
Outline generator that you can use to guide your writing and ensure there's value in everything you publish
AI writer that can provide you with a draft that revolves around factual information
On-page optimization that allows for adding more relevant keywords to new or existing content and nailing your search intent game
Pricing

Starter: $7/month
Solo: $79/month
Pro: $149/month
Company: $219/month
4. Frase

Frase is a tool that comes in handy in researching, writing, and optimizing content for SEO. You may know that going from just a keyword idea to having a well-researched post ready for publishing can be quite the task.
And so, instead of spending hours doing SEO writing manually, Frase reduces the time to minutes so that you're able to do other productive things. The tool considers some of the best pieces on the Internet in your blog niche. You're able to access and make use of all the fetched and refined data in one place.
Top Features
Content brief generator that removes the need to research the contents of your upcoming articles, including keywords, headers, and main concepts
Content writing platform that uses AI to generate quality blog content or well-converting marketing copy for your landing pages
Content optimization tool that compares your content against the top publishers on the Web to suggest new additions or removals
Pricing

Solo: $14.99/month
Basic: $44.99/month
Team: $114.99/month
5. RankIQ

RankIQ is an AI writing tool for SEO bloggers that enables you to write posts that can rank on page 1 of Google. This tool will analyze search engine results pages to find low-competition keywords that you can write about or incorporate into your content to enjoy good rankings. It doesn't matter what niche you're in.
RankIQ can provide SEO briefs based on what Google wants a piece of content to cover. You'll find the best headings and questions that need to appear in your article for you to appear at a nice position on searches.
Even if you have an old non-performing blog post, RankIQ will help you optimize it for better ranking. You can do this in 30 minutes or less and give the post a chance to start bringing you more organic website traffic.
Top Features
Writes SEO titles and outlines in less than 2 minutes
A keyword research tool that hunts for high-potential and niche-specific keywords that few web publishers are covering
Content optimizer that recommends what you need to add to your post for a chance to rank well
Pricing

Rank IQ costs 99/month. Currently, it's 50% off ($49/month).
6. Content Harmony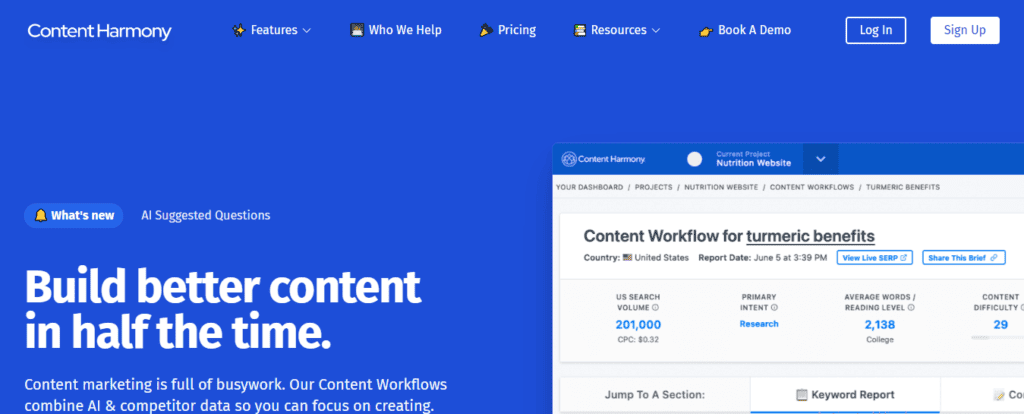 If you need an AI SEO writing tool that provides keywords and outlines to guide your writing process, Content Harmony may interest you. With this tool, you can enter any random keyword and discover insights into its search volume, intent, and difficulty.
Content Harmony fetches data from the top pages ranking for a keyword to provide you with AI-powered suggestions. It recommends the most SEO-focused titles, headings, questions, and content briefs.
The tool also has a grading system that shows how SEO-friendly and readable any piece of content is. You just need to enter a website URL and let it analyze the content to grade it.
Top Features
Keyword analysis
Competition data whereby you can compare content from different sites with yours
Outline generator
Content grader with grades like great, fair, and poor
Pricing
The pricing of Content Harmony starts at $50/month.
7. SEO.ai

Next up is SEO.ai. This AI writing tool for SEO works by analyzing SERPs to write optimized content for you.
It all begins with your target keyword. The tool shows you semantic keywords and questions to include in your content.
You can even describe your ideal audience before you start writing, such as adults looking for a specified solution. There's the option to input a tone of voice, like formal or conversational.
You then need to instruct the AI to write an outline with a specific number of items, the intro, and even the body of the content. All you do is enter a command such as "write an outline of 5 headlines."
If you want to create an entire draft, just select blog post as the content type, and click on the button for auto-generating an article. You can also generate meta descriptions to help your content get more clicks.
Top Features
AI SEO writing tool with options to describe the target audience and tone of voice
SEO Score audit that shows the optimization progress of your content as you add elements to it
Title Competitive Score that compares your title with those on SERPs
50+ supported languages
Pricing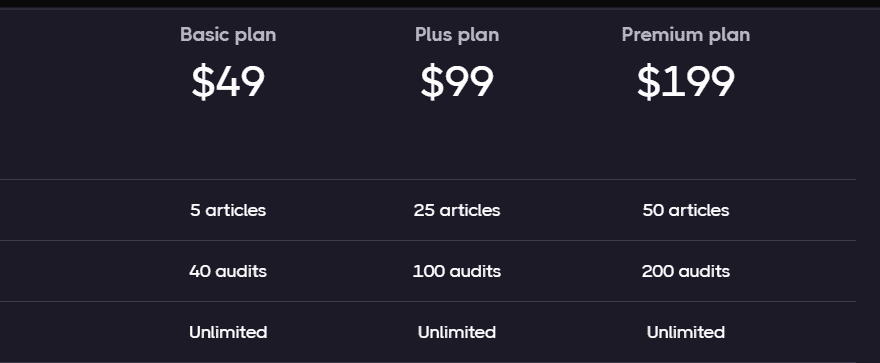 Basic: $49/month
Plus: $99/month
Premium: $199/month
AI SEO Writing FAQs
Can AI Write SEO Content?
Yes, AI can write SEO content. And it's all thanks to AI-powered natural language generation (NLG) technology that has advanced significantly in recent years. AI SEO writers exist and can assist you as a business or content creator to generate SEO-friendly articles, blog posts, product descriptions, and more.
But how can AI help you write SEO content?
AI can analyze the target keyword you provide and suggest alternative or secondary keywords along with metrical data based on SERP analysis. You can see details like search volumes. It can naturally add the suggested keywords to your content upon you instructing it to generate content for you.
Are AI Writers Good for SEO?
AI writers work pretty well to provide you with optimized content. The latest GPT-3 and GPT-4 models of generative AI produce content that sounds human-written.
But you may be still in doubt about whether Google will like your AI-written content and rank it. There are some things you can do to ensure you rank:
Use a quality AI SEO writer (like the ones I've listed)
Edit your content and add uniqueness through a personal touch
Or just use AI to find keywords, generate topics, produce comprehensive outlines, and then write the content yourself
How Do I Create SEO Content Using AI?
To create SEO content with the help of AI, you generally have to do the following:
Find an appropriate AI writer for SEO
Enter any keyword to access its metrics
Generate titles and outlines using the AI tool
Write optimized content with the tool as your assistant (some offer full-text generation while others don't)
Conclusion
AI SEO writing tools can greatly improve the effectiveness and efficiency of your content creation process. It doesn't matter whether you're a freelance writer, SEO specialist, or blogger. After all, you want to make sure that any content you write or publish is optimized for search engines and can perform well in terms of visibility.
As I've listed, the best AI SEO writers on the market include SurferSEO, GrowthBar, and Frase. The most suitable tool for you will depend on your specific requirements and business budget. But if you invest in one of these top AI SEO writers, rest assured that you'll work less and still position your website or business for better results.