The Best Copysmith Review: Honest and Comprehensive
If you are looking for a comprehensive Copysmith review, you have come to the right place. There are numerous AI copywriting tools online and CopySmith.ai is one of them.
You no longer have to wonder how the AI copy generator tool works. In this blog post, we'll take an in-depth look at what Copysmith is, what it does, and how it can help your business.
We'll also discuss the pros and cons of using Copysmith so that you can make an informed decision about whether or not this tool is right for you. So, read on to discover the details.
Disclaimer: Because the site is reader supported, we may earn a commission if you use our affiliate links.
Copysmith.ai Overview
Let's give you a view of Copysmith in general.
What Is Copysmith?
Copysmith.ai, or simply Copysmith, is an AI-powered copywriting tool that helps businesses create better, more engaging content. The company was founded in 2020 by Anna and Jasmine Wang, sisters who saw the potential of using artificial intelligence to improve content creation.
The AI writing tool is known for its copywriting capabilities as it can produce original copy within a shorter time. Copysmith's mission is to help businesses save time and money on content creation while also increasing their online visibility and engagement.
How Does Copysmith Work?
Copysmith works by taking your inputted data and then using it to generate a human-sounding copy. The tool uses a natural language processing algorithm to understand the context of your data and then writes copy that is both relevant and engaging. You can use Copysmith to create content for your website, blog, social media, or even for your email marketing campaigns.
The tool can help you write:
Website content
Product descriptions
Social media content like posts and ads
Blog outlines, headlines, and meta tags
Blog posts
Emails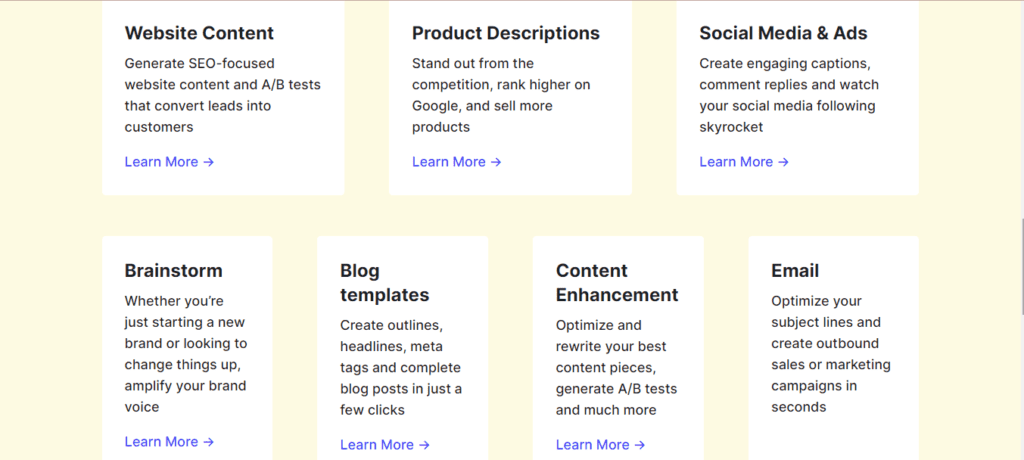 Who Is CopySmith Best for?
Copysmith may interest you if you're a person that writes ad copy and other content from time to time. It can suit individuals as well as teams of all sizes. Copysmith is best for:
Copywriters
Freelancers
Agencies
Marketing teams
Online sellers
eCommerce businesses
Enterprises
Copysmith.ai Features
Below are the top features of Copysmith.
1. Content Generation
Copysmith lets you generate content with ease. All you have to do is input your data, select the type of content you want, and hit the "Generate" button. The tool will then create an original copy based on your data.
You don't even have to create files one by one as the tool has bulk content generation capabilities. You can simply add a spreadsheet of all you want and let Copysmith generate copy for you.
The AI copywriter comes with the following templates:
Facebook ads: Create ad headlines and text.
Google ads: Craft ads for Google that can convert.
Product descriptions: Write content for what you're selling on Instagram or in your e-commerce business.
Meta tags: Take your SEO game to the next level and get a chance to rank better.
Blog outline: Produce a list of items to include in your blog post.
Content enhancer: Make your copy of better quality through easy and effective tweaks.
Content rewriter: Let Copysmith write texts for you in improved forms.
2. Plagiarism Checking
Copysmith is a tool that focuses on originality. Still, it has a plagiarism-checking feature that's built into the tool. This means that you can confirm how original the content you generate is before you go to publish it anywhere online.
The plagiarism checker provides the plagiarism status of text in the Copysmith editor. You can easily spot any unoriginal sentences and paragraphs.
You simply highlight the text and click on the plagiarism-checking icon in your account. You'll be able to see results right away. If the text passes a check, you'll see a pop-up that says no matches found.
Read also: Best Plagiarism Removers
3. Integrations
Copysmith integrates with several platforms to make your content creation process easier. This means that you can enjoy seamless access to your data without switching from one software to another.
The Copysmith AI tool integrates with:
Frase: Instantly access SEO data from search engines, generate keywords, and get the score results of your long-form content.
Google Ads: Create a Google ad campaign and launch it in minutes using Copysmith's Google Ads integration.
Woocommerce: Generate SEO-focused product descriptions in a short time no matter how many SKUs you manage.
Zapier: This allows you to connect the AI copywriting tool to other web apps and automate workflows.
Hootsuite: Get autogenerated content that works with your social media calendar.
4. Team Collaboration
The Copysmith team understands that content creation is often a collaborative effort. This is why they've made it possible for users to share and edit their work with others.
You can invite team members to work on a project with you and give them access to the Copysmith AI tool. Once they're done, you can review their work and make changes before publishing.
This collaboration feature is perfect for agencies and marketing teams who need to produce high-quality content quickly. There's no more need to spend a lot of time in meetings to exchange feedback on content creation and revisions.
5. Copysmith Browser Extension

If you're a content creator, the Copysmith browser extension for Chrome can be a valuable tool. It allows you to generate copy directly from your web browser without having to leave the page you're currently on.
This means that you can quickly create content for your website or blog without having to open up another application or tab. You can also use the Copysmith browser extension to create copy for your social media accounts.
CopySmith.ai Plans and Pricing
How Much Does Copysmith Cost?
Copysmith has 3 plans for its users depending on their content needs and budget. You can either pay monthly or choose the annual options.
Paying annually gives you a chance to save more money when using Copysmith. For instance, the lowest plan goes for $19 per month, meaning you'll pay $228 in a year. However, you can pay just $192 at once for the entire year.

Starter
This plan costs $19/month. It comes with the following:
5 users
20,000 words
20 monthly plagiarism checks
Integrations
In-app support
Copysmith's Starter plan suits beginners.
Professional
This plan costs $59/month and comes with:
10 users
80,000 words
100 monthly plagiarism checks
Integrations
In-app support
Copysmith's Professional plan suits professionals and teams that want more.
Start Up
The plan costs $299 a month. You can get the following benefits:
20 users
Unlimited words
Unlimited plagiarism checks
Bulk import and export
Custom templates
Account manager
Copysmith's Start Up plan suits larger businesses that require unlimited content generation.
Copysmith.ai Pros and Cons
What I like about Copysmith
A variety of use cases and templates for different types of sales copy
Supports writing in 100+ languages
Integrations with other popular tools like Frase, Zapier, and Hootsuite
API offer
Quite affordable
What I don't like about Copysmith
Works great for copywriting but not as well in blog post writing
One needs to review any generated text before publishing
Limited plagiarism checks, especially in the Starter plan
Copysmith.ai FAQs
What are the benefits of using Copysmith?
There are several benefits of using Copysmith, which include:
Time-saving: One of the main benefits of using Copysmith is that it can save you a lot of time. If you're someone who struggles to come up with ideas for your content or finds the writing process to be time-consuming, then using an AI copywriting tool like Copysmith can be useful in speeding up the process.
Cost-effective: Another benefit of using Copysmith is that it is a cost-effective solution for your business. If you outsource your copywriting, you can expect to pay 10 cents to $1 per word for quality. However, with Copysmith, you only have to pay a monthly subscription fee of $59/month to unlock all important features.
Increased engagement: By using Copysmith to create your content, you can also expect to see an increase in engagement. The tool's artificial intelligence algorithm ensures that your copy is relevant and engaging, which can lead to more people reading and interacting with your content.
What are the limitations of using Copysmith?
Despite the many benefits of using Copysmith, there are also some limitations to consider. These include:
Limited customization options: One of the limitations of using Copysmith is that you are limited in terms of how much you can customize your content. The tool does allow you to choose from a variety of templates but if you want to have full control over the style and tone of your copy, then you may be better off working with a human copywriter.
Limited plagiarism checks: If you use the lowest plan, you only get 10 plagiarism checks on a monthly basis.
It's not perfect: Another limitation of using Copysmith is that the tool is not perfect. While the artificial intelligence algorithm is very good at understanding context and producing relevant copy, there will still be times when the tool makes mistakes or produces subpar content.
What are some Copysmith alternatives?
There are several other AI-based copywriting software tools that you can use. Here are some of the best ones:
Copy generators can really help you spend less money and time on copywriting. Still, you always have the option to hire a skilled writer instead if you have the budget. You can find them on freelance sites, social media platforms, and LinkedIn, among other places.
Copysmith Review: Should You Use Copysmith?
The bottom line is that Copysmith is an AI-powered copywriting tool that can help you to create better quality content in a fraction of the time. While there are some limitations to consider, such as the fact that the tool is not perfect, I believe that Copysmith is a valuable tool for anyone who struggles with writing content or who wants to write better-quality content.
So, if you're wondering whether you should use Copysmith, I would suggest this copywriter software to you. In case you're looking for a tool to help you write copy faster for their social media, blog, or other online platforms, then I believe that Copysmith is worth considering.
Feel free to check other AI writing software to help you deal with writer's block or improve your content creation process!