8 Email Finder Tools to Find Anyone's Email Address
Do you need to find someone's email address but don't know where to start? That's where email finders come in!
This blog post is about the best email-finding tools on the market. These tools are designed to help you find anyone's email address, and they are all easy to use.
So whether you are looking for an online professional's email address or the contact information of a potential customer, these tools will get the job done!
What is an Email Finder?
An email finder is a tool that helps you locate and verify the email addresses of people you're looking for. It's mainly used to uncover the contact information for someone whose name, job title, or other identifying information you know or can guess.
What Is the Best Email Finder Tool?
Below is a list of the top email search services online.
1. Hunter.io

Hunter.io is an email finder that allows you to search and verify any email address. It allows you to find email addresses using just a name.
What happens is that you fill out a particular name as well as the domain that the person is associated with and Hunter.io will locate their contact details in seconds.
You can even search for email addresses in bulk and save time on the task. As if that's not enough, the tool can help you find the writer of a particular published post by just pasting the article URL.
Hunter.io also offers an email validation service to ensure that the found addresses are real or likely to be. If you need to set up email campaigns and automatically send cold emails and follow-ups, Hunter.io is the go-to tool too.
Top Features
Domain search: Find email addresses of people associated with a particular website, like executives, editors, or writers.
Author finding tool: Find the contact information of whoever wrote a specific article online.
Bulk lookup: Find more than one email address at a time by adding a file with a list of full names and domains.
Integrations: Connect Hunterio with other CRM or automation tools like Salesforce and Zapier to enhance workflows.
Pricing

Free ($0/month): 25 monthly searches, 50 monthly verifications, and 1 email account
Starter ($49/month): 500 monthly searches, 1,000 monthly verifications, and 5 email accounts
Growth ($99/month): 2,500 monthly searches, 5,000 monthly verifications, and 10 email accounts
Pro ($199/month): 10,000 monthly searches, 20,000 monthly verifications, and 20 email accounts
Business ($399/month): 30,000 monthly searches, 60,000 monthly verifications, and 40 email accounts
2. Snov.io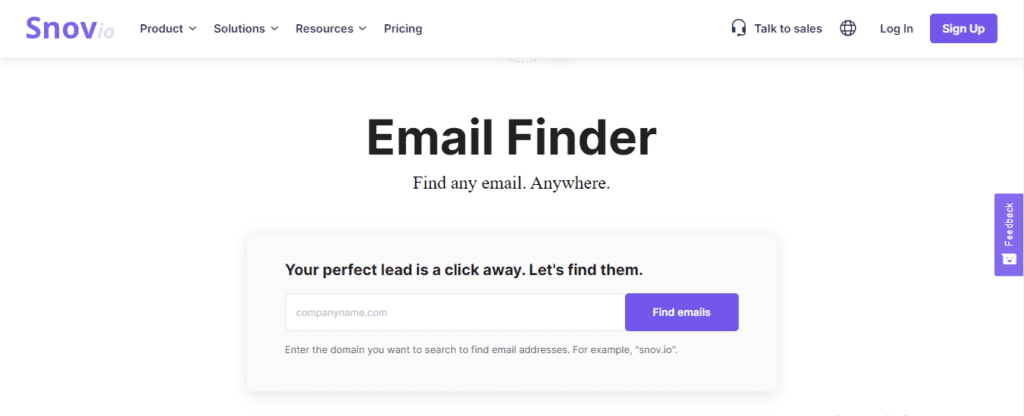 Snov.io is a multifunctional platform for lead generation that helps you find and verify emails from different sources. Hundreds of thousands of companies in over 180 countries, including big ones like Canva, Payoneer, and Zendesk, trust this platform.
To use Snov.io's email-finding tool, you simply need to enter a company name and select an option from the list to find the email addresses of people working with that brand. Snov.io shows you which emails are valid and which ones have a chance of not being inaccurate.
It integrates with other popular services like LinkedIn and Salesforce to find contact information quickly and accurately. You can also use it to collect emails in bulk through domain searches.
Top Features
Bulk email search: Upload a CSV file with names and the respective companies to get multiple email addresses.
LI Prospect Finder for Linkedin: Chrome extension for collecting the names and email addresses of multiple prospective professionals right on the LinkedIn platform.
Lead generation and sales platform: Generate leads, close deals, and manage sales.
Over 5,000 integrations: Link your Snov.io account to CRMs, forms, customer support platforms, social networks, and more.
Pricing
Snov.io offers several plans with different credit amounts. Credits are used for finding and verifying email addresses (1 credit per prospect and 0.5 credit per verification).

Trial ($0/month): 150 credits
Starter ($39/month): 1,000 credits
Pro (Starts at $99/month): 5,000 credits
Custom: $999/month: Custom credits
3. Uplead

Uplead is one of the best email finders that offer more than just email addresses. With Uplead, you can find email addresses as well as phone numbers and social media profiles of your prospects.
To use Uplead's contact search engine, you enter a company name or its website address and the tool does the rest. It brings together leads from millions of sources to help you find contacts quickly and accurately.
Uplead stands out in that it offers real-time email verification, meaning that you'll always be provided with someone's current email address and other information. It also has a browser extension that works with Chrome to find contacts right from business websites or LinkedIn in no time.
Top Features
Contact search: Find contact information (both phone numbers and emails) by entering a name or domain.
50+ search criteria: Create a more targeted search by adding criteria such as job position, department, and location.
Verified emails: Uplead verifies emails the moment you click to access them, even in bulk. This means that you only pay when an email is valid.
Integrations: Connect Uplead with Zapier or your favorite CRM or sales tool, like Salesforce or HubSpot to enrich existing contacts.
Pricing
Uplead offers various plans with a specified number of credits (1 credit equals 1 contact).
Free ($0/month): 5 credits
Essentials ($99/month): 170 credits monthly
Plus ($199/month): 400 credits monthly
Professional ($399/month): 1,000 credits monthly
4. Reply

Reply is a sales acceleration platform that also offers an email searching service. It helps users find emails of potential partners or clients via LinkedIn. What you do is install the Chrome extension and you'll be able to discover the addresses of other LinkedIn users while on the platform.
Besides finding emails, you can also use Reply to validate an email list or warm up your email to ensure you have a good reputation as a sender. If that's not enough, Reply offers other features like tracking emails and an AI email assistant. In other words, you can boost various aspects of your outreach process using the Reply platform.
Top Features
LinkedIn email finder: Find emails associated with specific LinkedIn accounts.
Multi-channel sequences: Engage with prospects through automated and personalized emails, LinkedIn messages, and more.
Reports and analytics: Find out how you're performing in outreach and know where to improve.
Pricing
Reply's email search tool is priced in the following way.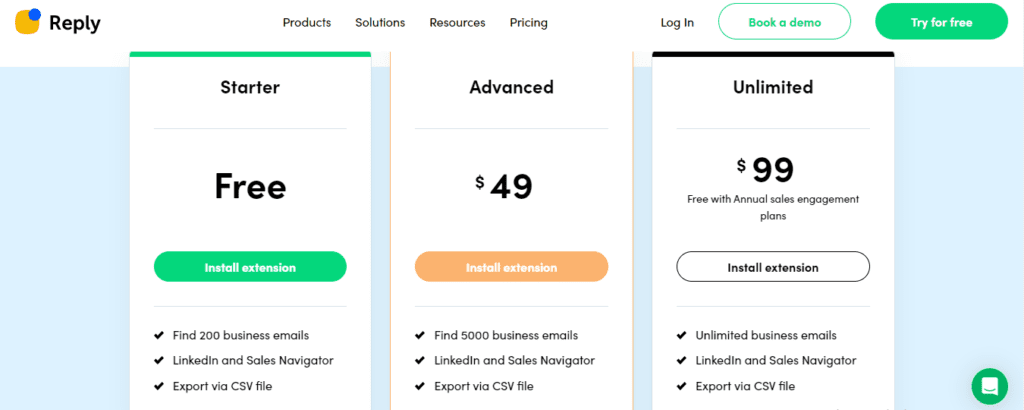 Starter (free): Find 200 emails
Advanced ($49/month): Find 5,000 emails
Unlimited ($99/month): Find unlimited emails
5. Voila Norbert
Voila Norbert is another popular email-finding tool for finding leads, recruiting talent, and connecting with other professionals online. Its advanced algorithms use publicly available information to locate any email address in the world. It also has an API that can be used with other apps and web services to get real-time data from its database.
Finding email addresses with Voila Nobert is straightforward. Simply type in a name and domain, click search, and you'll have the email address you were looking for. What makes Voila Nobert outstanding is how it regularly runs searches to keep emails updated.
Voila Nobert not only provides verified addresses, but you can also verify your own email list to make sure there aren't any inaccurate or outdated addresses and increase the delivery rate.
Top Features
One-click email search: Easily find any email within seconds in the majority of countries worldwide.
High success rate: Voila Nobert has a certainty score and up to 98 percent success rate.
Real-time API access: Access real-time data from Voila Norbert's database through its API.
Pricing
Voila Nobert offers the following plans for prospect search.
Valet ($49/month): Up to 1,000 leads a month
Butler ($99/month): Up to 5,000 leads a month
Advisor ($249/month): Up to 15,000 leads a month
Counselor ($499/month): Up to 50,000 leads a month
6. ContactOut
If you need another tool for finding emails based on accurate data, ContactOut may interest you. It's a web-based platform that helps users locate emails, phone numbers, and LinkedIn profiles from over 250 million professionals.
ContactOut is an efficient email search engine for recruiters and sales professionals who need to quickly build contact lists. All you have to do is type in someone's name or job title, and it'll generate a list of potential candidates along with their contact information.
What makes ContactOut interesting is that it pulls information from LinkedIn and you'll be able to see a professional's entire profile, including their photo. ContactOut not only shows you work emails but also personal emails from popular services like Gmail and Yahoo.
Top Features
Contact finding tool: Find primary or work email addresses as well as phone numbers and LinkedIn profile data of people, such as their companies and work experience.
Multiple search options: Find the right people you need to reach out to based on their names, job titles, locations, education, company, and more.
Automated resume scanning: Find resumes relevant to your search and extract all contact information from those resumes.
Real-time data enrichment: Get all the latest details surrounding any profile in real time.
Pricing

Free ($0): 50 emails monthly
Personal ($29/month): 150 emails monthly
Sales ($99/month): 500 emails monthly
Recruiter ($199/month): 1,000 emails monthly
Team: Custom
7. FindThatLead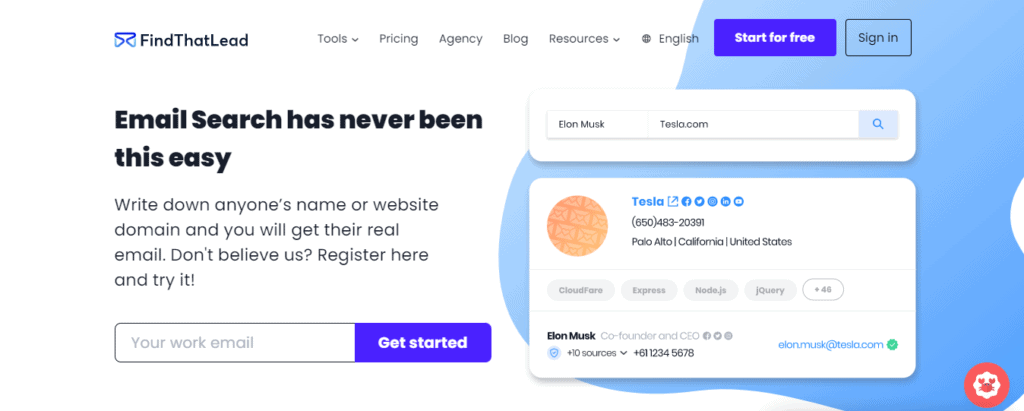 FindThatLead is a powerful email lookup and lead-generation tool designed for businesses and sales teams. It provides users with a wide range of features that help them find and verify the contact details of their potential customers.
With FindThatLead, users can easily search for leads using a variety of options, such as full name, domain, and technology. The tool can even find emails based on the social media URL you provide, like LinkedIn, Facebook, or Instagram profiles. FindThatLead also offers a Chrome extension that provides users with quick access to lead information while they browse the Web.
The tool also enables you to automate targeted email marketing campaigns in just minutes. You're able to access sales funnels and analytics to gauge campaign performances and tweak them accordingly.
Top Features
Multiple search options to find emails by name, domain, or social media profiles
Prospect building tool
Email sender for campaigns
Pricing
Growth ($49/month): 5,000 monthly credits
Startup ($150/month): 18,000 monthly credits
Suite ($399/month): 30,000 monthly credits
8. Scrapp.io

Skrapp.io is a web-based tool that provides businesses with a solution for lead generation and email outreach. It allows users to extract email addresses from LinkedIn and integrate them into their email marketing campaigns. With Skrapp.io, businesses can easily build and maintain their email lists, improving the chances of reaching their target audience and generating more leads.
This email research tool provides users with features such as email finding and verification and a Chrome extension for quick and easy access to the information they need. You can also use it to discover company information such as key employees and other useful data.
Top Features
LinkedIn contact finder
Company search
Email validator for lists
Pricing
Starter Plan (49/month): 1,000 emails a month
Seeker Plan ($99/month): 5,000 emails a month
Enterprise Plan ($199/month): 20,000 emails a month
Global Plan ($299/month): 50,000 emails a month
How Do Email Finders Work?
Email finders work by aggregating publicly available information from sites like LinkedIn, social media networks, and other sources. They then use this data to compile lists of email addresses that fit the criteria you've provided (names and domains).
In most cases, a good email finder will locate any email address that appears somewhere on the Internet. If there aren't any, the tool uses advanced algorithms and a variety of combinations to generate an email address that could potentially be the right one, e.g. first name and last name, initials, names plus initials, and more.
What to Consider When Choosing an Email Finder
When choosing an email finder, there are a few things that you should take into consideration.
Accuracy: You want to make sure the email addresses you get are accurate and up-to-date. That's why it's important to check if a tool has "certainty scores," email verification capabilities, or good reviews in general.
The number of email searches: This varies depending on your business. But the higher the amount, the better. It's best to go with a plan with unlimited searches.
Bulk searching: You'll likely need a tool that can find lots of emails at once rather than singularly in order to save time.
Integrations: You don't want to switch from one platform to another by copying, pasting, and uploading contact details. You can connect accounts with the right tool and automate the process.
Conclusion
Email finder tools can help you quickly discover and validate email addresses with ease, saving time and energy. Just make sure to check the features, pricing plans, accuracy rate, and integrations of all the tools before making a decision. With the right email search service in your hand, you'll be able to accurately reach out to potential partners or customers for your business.