5 Best LinkedIn Carousel Generators
Did you know the best LinkedIn carousel generators can help you increase your post reach and engagement rates on LinkedIn?
There are many types of LinkedIn posts, including short text-based posts, long-form content, and visuals like photos and videos. But a carousel post can perform exceptionally well if you do it right.
And you don't have to struggle to create such content. There are no special design skills or expensive tools needed either.
With the right LinkedIn carousel maker, the whole process will just steal a few of your seconds. Because a good number of these tools are AI-powered, you can create carousels even if you lack content ideas.
What Is the Best LinkedIn Carousel Generator?
Below are my top picks for LinkedIn carousel makers that you should check out.
1. Taplio

Taplio is an AI tool that features a LinkedIn carousel generator. This tool can help you create a carousel from scratch and is one of the easiest to use.
What I mean is that Taplio has GPT-4 capabilities. And so, it can generate content for your carousel.
What happens is that you simply input a topic and the AI-powered LinkedIn carousel generator does the rest. You can customize the content as per your needs by playing with different themes and adding or removing various elements.
Taplio allows you to add your headshot and LinkedIn name on the carousel; something that can elevate your personal brand. All you need to do is connect your LinkedIn account so it can extract the info.
Below is a section of an example of a carousel I generated using Taplio: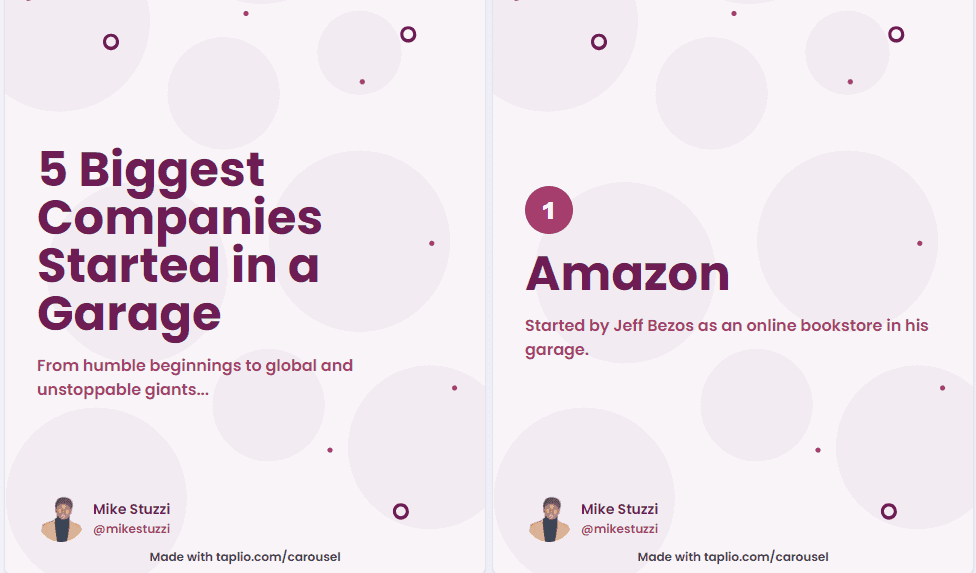 Taplio Features
AI content and carousel generator
Background designs like circles, triangles, blobs, and dots
Over 20 themes that combine different colors, like blue, gray, and white
Ability to set custom primary, secondary, and accent colors (for headings, main text, and backgrounds)
Additional tools, including an AI LinkedIn post generator and LinkedIn video downloader
Pricing
You can use Taplio for free, although your carousel will contain the company's watermark. If you want to remove the mark, you'll require a subscription.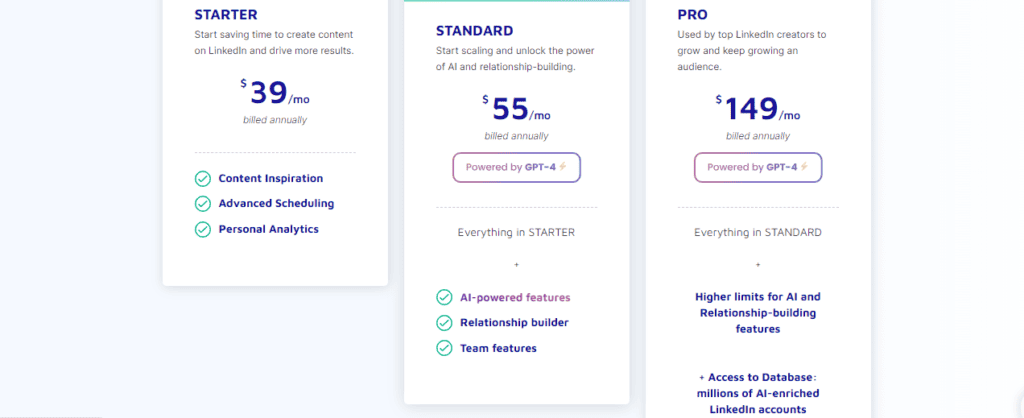 Starter: $39/month
Standard: $55/month
Pro: $149/month
2. Contentdrips

Another great tool for generating LinkedIn carousels is Contentdrips. This carousel maker for LinkedIn has various features that make it convenient.
With Contentdrips, you can add numerous branding elements to a carousel. These include your name, handle, bio, website URL, and avatar.
Unlike the other tools, I've listed, this one gives you more control over how you need your carousel to look. You can apply various design elements, resize, drag and drop.
Contentdrips also has an AI assistant to make carousel-style posts. You can use it to also create quotes, unpopular opinions, and list-style posts.
Contentdrips has a Chrome extension that allows you to repurpose content from other sources. For instance, you can turn tweets or text-based LinkedIn posts into social media images and carousels.
Here's a carousel sample from Contentdrips: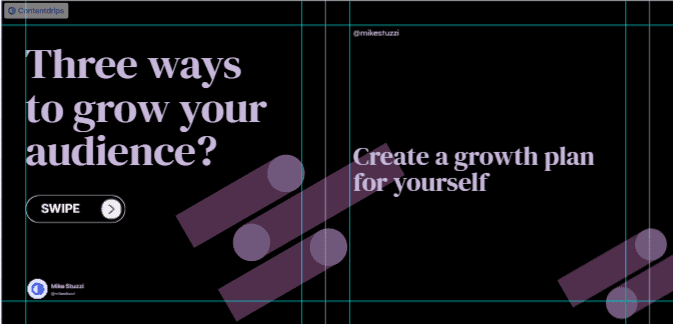 Contentdrips Features
Text to carousel
Thread to carousel
100+ templates to choose from for your carousel
20+ font combinations, such as Orbitron, Sources Sans Pro, and Cabin
Slide settings such as format, margin, grids, and numbering
Elements like patterns, numbers, and "swipe" icons
Contentdrips AI assistant to generate text
Contentdrips Pricing
While you can use Contentdrips for free, it comes with a watermark. But you can get one of its subscription plans to remove the watermark and access extras like unlimited templates.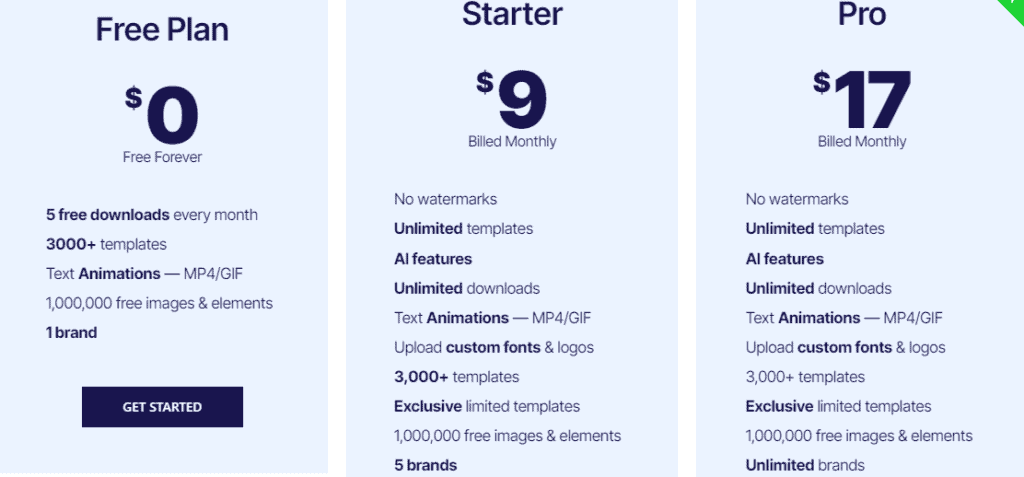 Free plan: $0/month
Starter: $9/month
Pro: $15/month
3. Supergrow.ai

Supergrow is a LinkedIn content creation tool with a carousel maker. With its ready-to-use templates, you can create visually appealing carousel pages for LinkedIn in minutes.
It allows you to experiment with different backgrounds, change text, and duplicate slides. You also won't have to worry about the content because the AI fills out everything for you.
On top of that, you can never run out of post ideas for LinkedIn with Supergrow in hand. All you need to do is enter the topic you have in mind and let it find ideas for you.
If you like a specific idea, you can use the same tool to craft the content for the post. As much as it uses AI, Supergrow can make posts that look human-written and not lengthy or robotic in nature.
As an example, check out the Supergrow-generated carousel below: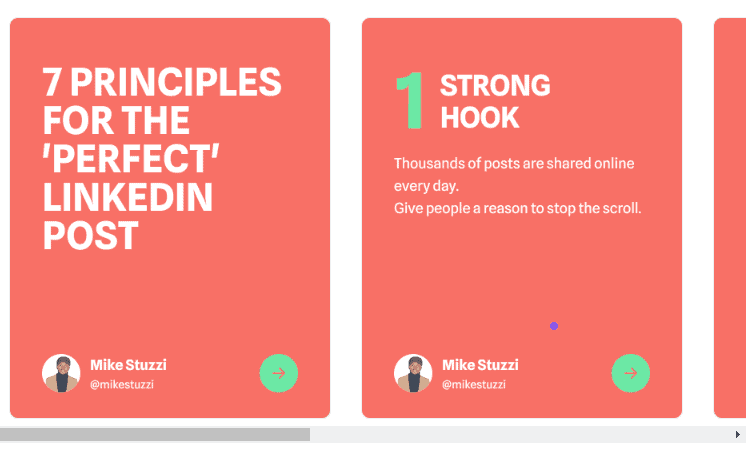 Supergrow.ai Features
7+ readily available carousel templates
Ideas generator
Content inspiration
LinkedIn post generator
Post formatting
LinkedIn post scheduling
Supergrow.ai Pricing
Supergrow offers 2 plans. You can access the carousel maker on the second plan.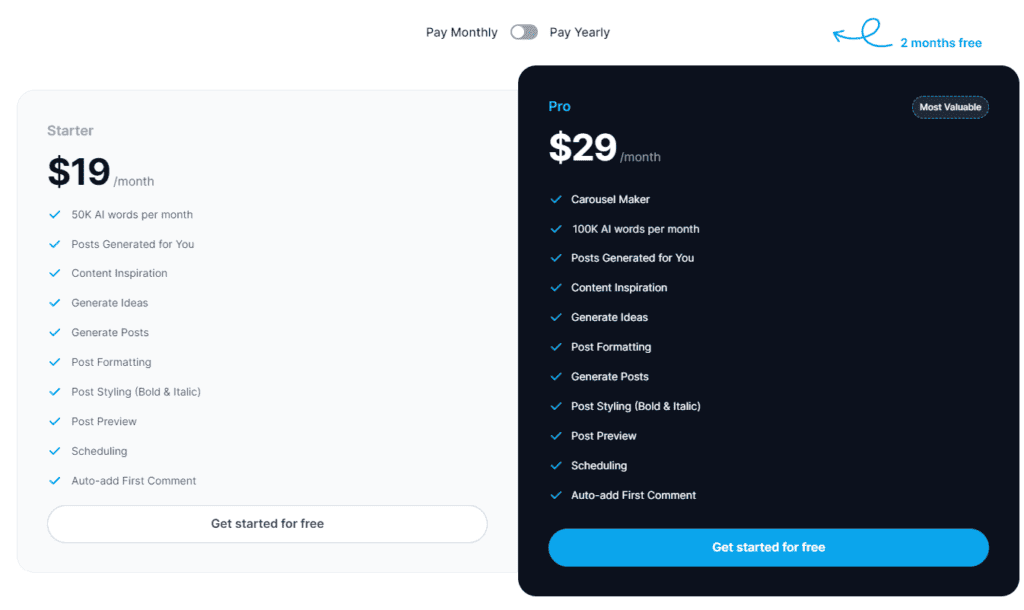 Starter: $19/month
Pro: $29/month
4. aiCarousels
This is yet another carousel creator for social media that suits LinkedIn, Instagram, and TikTok. aiCarousels doesn't require you to be an expert graphic designer to get started.
It's user-friendly and comes with templates that you can quickly apply to your carousel text. The handpicked color palettes and font pairings are a nice touch to this tool.
This tool also features an AI assistant for creating content out of nothing. You can even turn blog or YouTube content URLs into carousels using it.
Below is an example of a carousel creation from aiCarousels: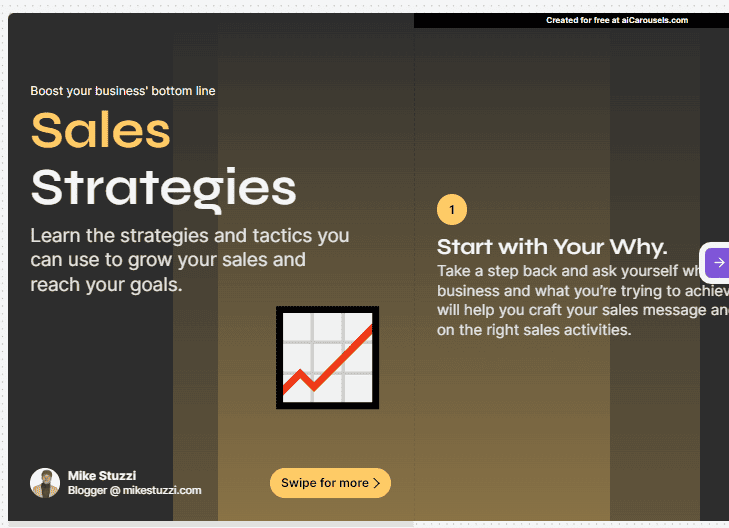 aiCarousels Features
25+ templates with varying color and font combos
Blog post or YouTube video to carousel
Background design elements like Poly Grid, Pulse Radar, Pointy Arrows, and more
aiCarousels Pricing
You can use the tool is free but with design limitations and the appearance of a watermark in the slides. There's a paid version to experience the full features that costs $14.95/month.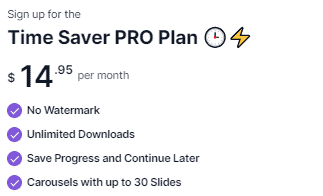 5. Inlytics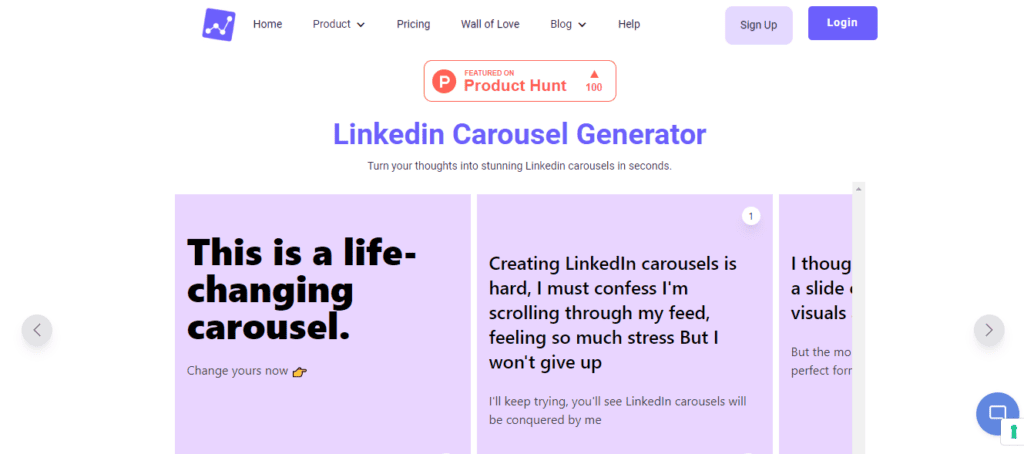 Inlytics is a LinkedIn analytics tool that offers a LinkedIn carousel generator too. Using it to turn your thoughts into a carousel is quite straightforward.
Simply enter your content, pick a font, input your name and headline, and you're good to go. You're also allowed to upload a real or AI-generated profile picture to establish and protect your personal brand.
Unlike the likes of Taplio, Inlytics lacks AI text generation abilities. You'll have to provide all the content yourself.
Still, it features beautifully designed themes. If you're someone who prefers writing their own content from the beginning to the end, the tool may suit you.
Check the Inlytics LinkedIn carousel that I created below: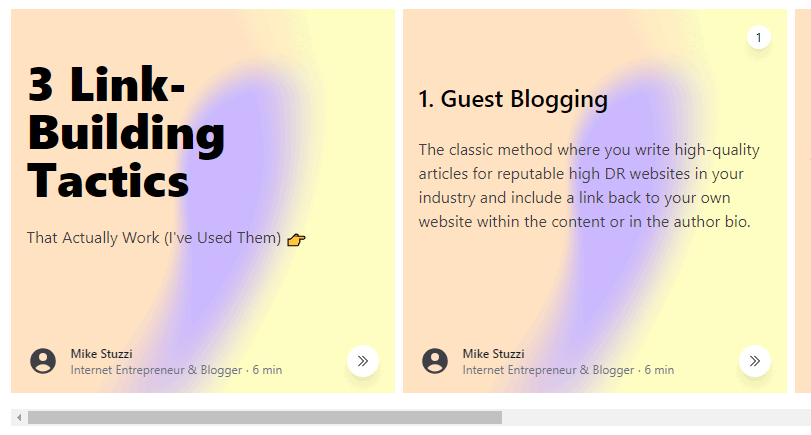 Inlytics Features
7+ stylish carousel backgrounds
Multiple fonts, including Kanit and Lato
Author, author headline, and display photo section
Additional tools such as a LinkedIn analytics tool and LinkedIn scheduling tool
Inlytics Pricing
You can use Inlytics' LinkedIn carousel maker for free. But to access LinkedIn analytics, you need a paid plan.
What Is a LinkedIn Carousel Generator?
A LinkedIn carousel generator is a tool or software that helps users create and customize carousel posts for LinkedIn. A carousel post is a type of content format on LinkedIn that allows for including multiple slides in a single post.
In most cases, carousels are in PDF format. Viewers can swipe through it when engaging with it.
Using an AI-powered carousel generator like Taplio gives you access to its text-generation abilities. In other words, you can describe what you need and the tool will design a carousel for you based on the description.
Why Use a LinkedIn Carousel Generator?
There are several reasons why one might choose to use a LinkedIn Carousel Generator:
Enhanced engagement: Carousel posts on LinkedIn tend to generate higher engagement compared to regular single-image or plain text posts. The interactive content captures the attention of your audience and encourages them to swipe through.
Showcasing multiple products or Services: If you have multiple products or services to showcase, a carousel post allows you to display them all in a single post. This can be particularly useful for businesses that offer a range of products or services and want to highlight each one individually.
Storytelling: A carousel post can be used to tell a story or share a step-by-step process. By using a carousel generator, you can arrange images or videos in a specific order to guide viewers through a narrative or demonstrate a process.
Visual appeal: Carousels allow you to showcase multiple visuals in one LinkedIn post. A carousel generator provides customization options such as adding elements and changing background colors to create a more visually cohesive and attractive post.
Time-saving: Using a LinkedIn carousel generator can save you time and effort in creating carousel posts. It provides a user-friendly interface where you can easily add content and arrange the order of it without the need for manual formatting.
Conclusion
In conclusion, utilizing a LinkedIn carousel generator can greatly enhance your content strategy on LinkedIn. By creating visually appealing and interactive carousel posts, you can capture the attention of your audience and drive higher engagement.
Whether you want to showcase multiple products or services, tell a compelling story, or simply increase the visual appeal of your posts, a carousel generator provides the necessary tools and features to make it happen.
When selecting the best LinkedIn carousel generator for your needs, consider factors such as ease of use, customization options, and any additional features that may enhance your content creation process. With the right generator at hand, you can optimize your LinkedIn presence and stand out from the competition.
Read also: