10 Best Email Verification Tools (2023 List)
Email marketing is one of the most profitable marketing channels with an ROI (return on investment) of $36 for every $1 spent. However, when sending emails, it's essential to have the right email addresses, or else you'll get little to no benefits. You can easily use an email verifier for this purpose.
An email verification tool checks if the email address exists and if so, whether it's valid and active. This helps you to avoid sending emails to invalid addresses or non-existent users.
This article covers the best email verification and validation tools that can help you with this task. You'll be provided with a brief overview of each tool and reasons why it is one of the best options available!
Disclaimer: Because the site is reader-supported, we may earn a commission if you use our affiliate links.
What Is the Best Email Verifier?
Below is a list of the best tools to use to verify emails.
1. ZeroBounce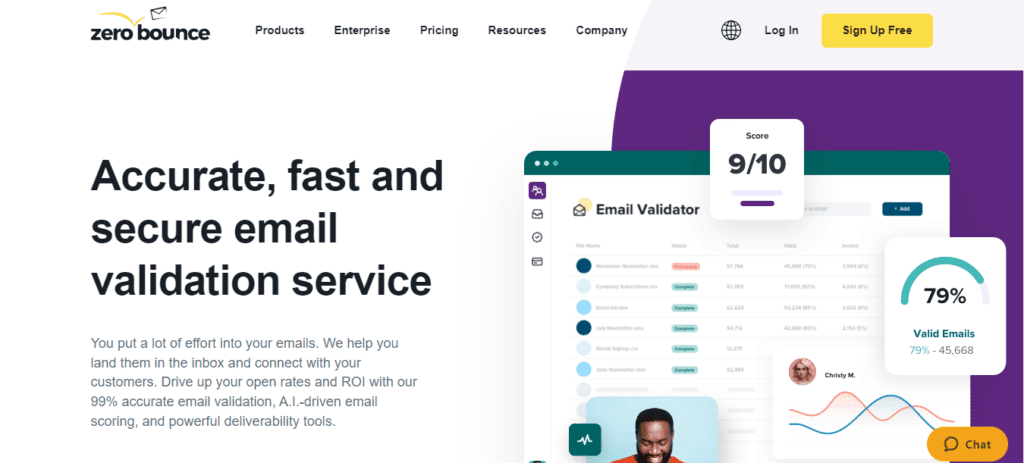 ZeroBounce is a great email verification tool that is trusted by thousands of brands, such as Netflix, Airbnb, and Hubspot. It uses an AI email scoring system to verify email addresses against several criteria. It checks for syntax, and domain name validity and even confirms the existence of an inbox for each address.
ZeroBounce has the ability to test email deliverability, detect any misconfigurations, and help you fix them before you launch your new campaign. You can as well check if you're on any blacklists or have your domain or IP banned.
Top Features
Email validation with a quality score: Discover the chances of your email reaching an actual person on your list. ZeroBounce Score runs from 0 to 10, with 10 being the best rating.
Email deliverability test: Ensure your emails reach your target subscriber inboxes.
Blacklist monitoring: Find out, from a list of over 200 blacklists, which blacklisting company has delisted you (if any) and inquire about it. You also get notified when your domain or IP is put on such lists.
Pricing
ZeroBounce gives you 100 free monthly email validation checks. From there, you can either pay as you go or subscribe.
Pay-as-you-go rates range from $0.00225 to $0.008 per email, depending on the number of emails you select (more emails mean paying less).
As for subscriptions, here are the packages: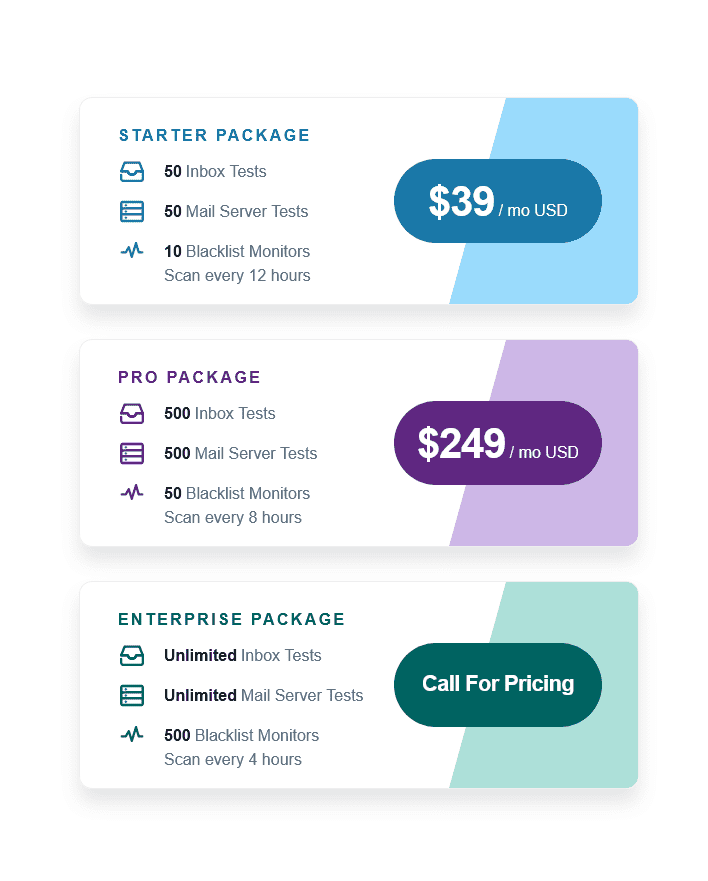 Starter ($39/month)
50 inbox tests
50 mail server tests
10 blacklist monitoring scans (every 12 hours)
Pro ($249/month)
500 inbox tests
500 mail server tests
50 blacklist monitoring scans (every 8 hours)
Enterprise (custom pricing)
Unlimited inbox tests
Unlimited mail server tests
500 blacklist monitoring scans (every 4 hours)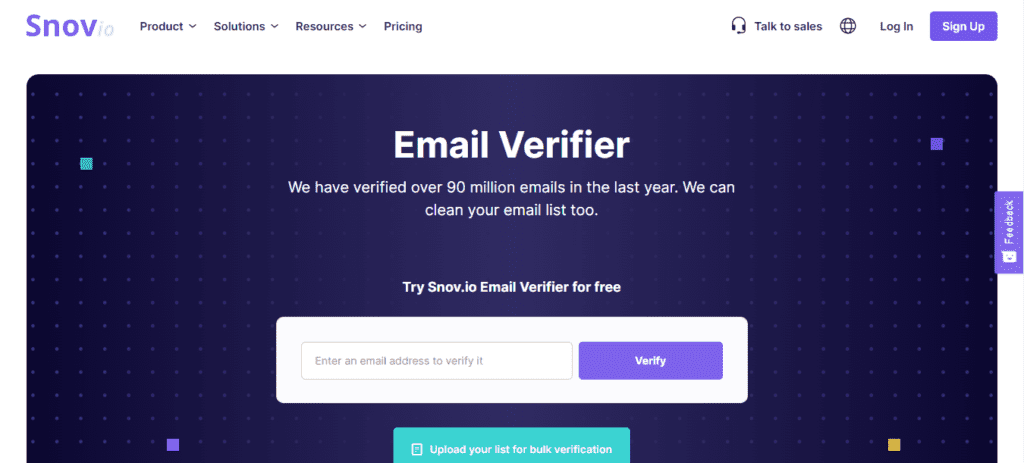 Snov.io is an all-in-one platform for email outreach automation. This email marketing platform is used by companies in over 180 countries, including Zendesk, Payoneer, and Canva.
Snov.io offers a suite of tools to help you manage your campaigns. These include an email finder, an email verifier, and the ability to create personalized campaigns.
Snov.io's email finder also shows you the probability of an email address found being an accurate one. The email verifier tool helps you identify which addresses on your mailing list are deliverable and avoid sending emails to those that are not.
It also offers a bulk email verification service. In other words, you're able to verify the entire list in one go instead of a single email address at a time.
Top Features
Batch email verification: Verify up to 1 million emails by uploading a single file (or through copy and paste) and save time.
Email finding tool: Find the email addresses of people by entering their names and websites.
Email campaigns: Start tailored campaigns and automate the process with onboarding emails, follow-up emails, and more.
Email warm-up service: Build trust for your email account to ensure your emails don't go to spam, even if you have a fresh account or a bad domain reputation.
Pricing
Snov.io offers a trial period along with paid plans.

Trial ($0/month)
150 free credits
100 email recipients
1 mailbox warm-up
Starter ($39/month)
1,000 credits
5,000 email recipients
1 mailbox warm-up
Pro (Starts at $99/month)
5,000 credits
10,000 email recipients
3 mailbox warm-ups
Custom ($999/month)
This is a custom plan to get personalized prospecting and outreach services.
3. Mailfloss

Mailfloss is an email validation and verification tool that helps you keep your mailing list clean. It can automatically get rid of invalid email addresses you have.
Mailfloss works with well-known email marketing platforms like Convertkit, Aweber, and Constant Contact. What makes Mailfloss more interesting is that it can fix typos associated with popular email services like Gmail, Hotmail, and Yahoo.
Also, given the easy setup process, it just takes minutes to get started with Mailfloss. You don't need advanced web skills to begin.
Top Features
Supports popular email services: Over 35 of the most used email service providers and marketing platforms work with Mailfloss.
Email list cleaning tool: Automatically remove invalid and duplicate email addresses.
Email list hygiene: Identify typos, syntax errors, and formatting mistakes in your emails.
Automatically modify tags and custom fields: Delete, unsubscribe, or update tags and fields when necessary.
Pricing
Mailfloss offers a free trial for 7 days to new users. There are 3 plans you can choose from.
Lite ($25/month): 10,000 scanned emails a month
Business ($57/month): 25,000 scanned emails a month
Pro ($200/month): 125,000 scanned emails a month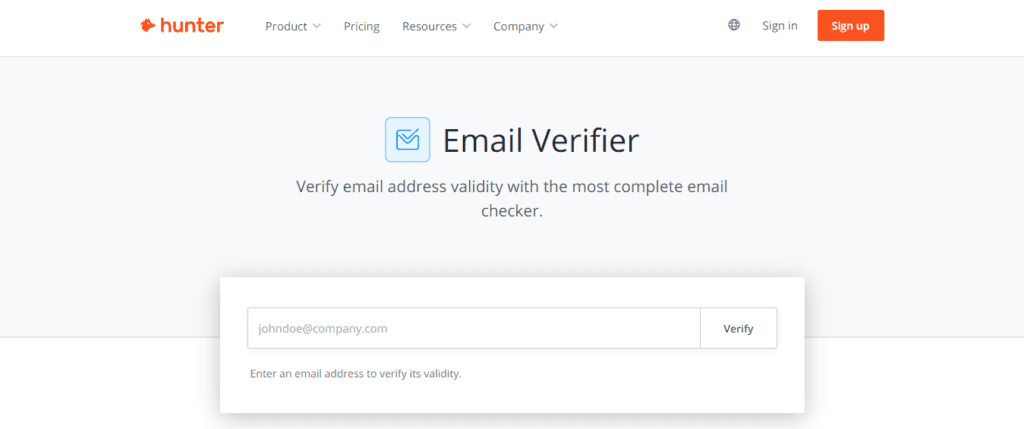 Hunter.io is similar to Snov.io. It's an email marketing tool that also features an email verifier. The platform is also known for its email finder, whereby you enter a domain or company name and get the email addresses of the individual you're looking for.
Hunter's email verifier and marketing tools are quite popular, having over 3 million users, including top companies such as Google. Something that makes this particular email verification service stand out is that it can give results even in cases where standard tools fail.
Top Features
Unique email verifier: Hunter.io has an advanced data set to verify emails more accurately.
Email finder by domain search: Get the email addresses of people associated with a specific online brand or site.
Author finder: Find the writer of a specific post published online.
Bulk search: Get email addresses from a list of brands, websites, URLs, or professionals. You can also do bulk email verification for your lists.
Integrations with CRM, emailing, and automation platforms: Take advantage of native Hunter.io integrations like Google Sheets, Gmail, and Microsoft Outlook or more apps such as Salesforce, Zoho CRM, and Zapier.
Pricing
Hunter.io offers a free plan and premium subscriptions as well.

Free ($0/month)
50 monthly verifications
25 monthly searches
1 email account
Starter ($49/month)
1,000 monthly verifications
500 monthly searches
5 email accounts
Growth ($99/month)
5,000 monthly verifications
2,500 monthly searches
10 email accounts
Pro ($199/month)
20,000 monthly verifications
10,000 monthly searches
20 email accounts
Business ($399/month)
60,000 monthly verifications
30,000 monthly searches
40 email accounts
5. NeverBounce

NeverBounce is another email verification service that cleans billions of emails. This platform offers real-time email validation, meaning you won't ever have to send emails blindly again.
All you do is set up an account, upload the list with potentially inaccurate email addresses, and download a new list where the delivery rate goes up to 99 percent.
This tool integrates with others like Zapier to allow you to automatically clean contact details from lead generation and registration forms, newsletter subscriptions, and more.
Top Features
Automated cleaning: Sync your account with an email service provider and have list cleaning done on auto-pilot.
Bulk verification: Upload a file with email addresses and remove all bounced emails.
Over 85 integrations: Link accounts and enable verification of addresses from platforms like ClickFunnels, Drip, and Google Forms, among others.
Custom API: Connect NeverBounce's email verification API with your websites and applications.
Pricing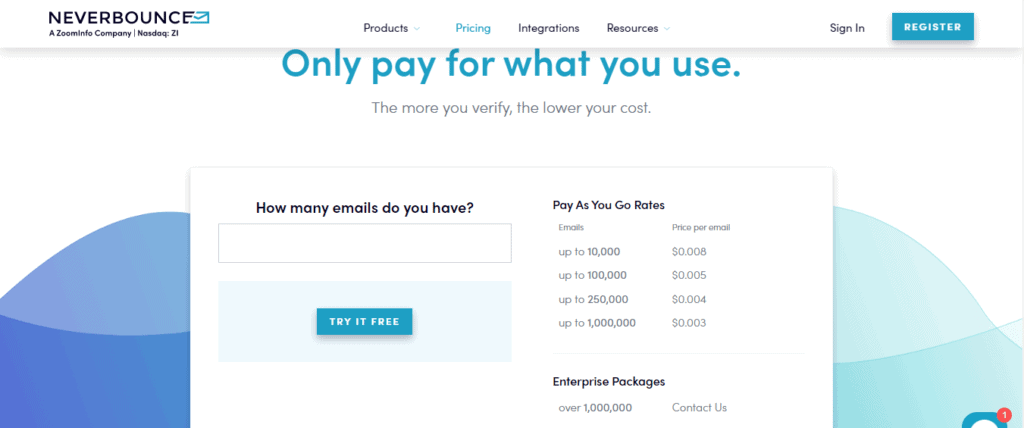 NeverBounce has a pay-as-you-go pricing model whereby the prices per email range from $0.003 to $0.008. The more emails you want to be cleaned, the less you pay. It's available to try for free first.
6. EmailListVerify

EmailListVerify is an online service that offers email list cleaning and verification to ensure that email lists are accurate and up-to-date. This tool has checked billions of email addresses and shown 99 percent accuracy in removing bad emails.
The service works by using advanced algorithms to scan email lists and detect invalid, inactive, and fake email addresses. It also can detect spam traps and risky email addresses that can hurt your trustworthiness.
With EmailListVerify.com, users can upload their email lists in various formats, including CSV, XLS, or as a TXT file. Upon uploading, the service will clean and verify the email list in just a few minutes.
The platform also offers other free tools. Some of them are email health checker, blacklist checker, and email extractor from a text file.
Top Features
Domain and SMTP (Simple Mail Transfer Protocol) validation: EmailListVerify checks Internet service providers and enables you to remove invalid email addresses, including parked domains.
Spam trap checker: This feature cleans spam traps that identify spammers in emails.
Disposable addresses cleaner: Get rid of temporary email addresses from your list.
Duplicate email remover: The tool finds and removes duplicate emails to prevent your recipients from receiving multiple emails (a way to avoid spam complaints).
Pricing
EmailListVerify offers a pay-as-you-go payment option as well as monthly subscriptions. Pay-as-you-go starts at $4 for 1,000 emails. Below are the plans:

$139: 5,000 emails a day
$289: 15,000 emails a day
$389: 35,000 emails a day
$589: 50,000 emails a day
$689: 75,000 emails a day
$989: 100,000 emails a day
7. Debounce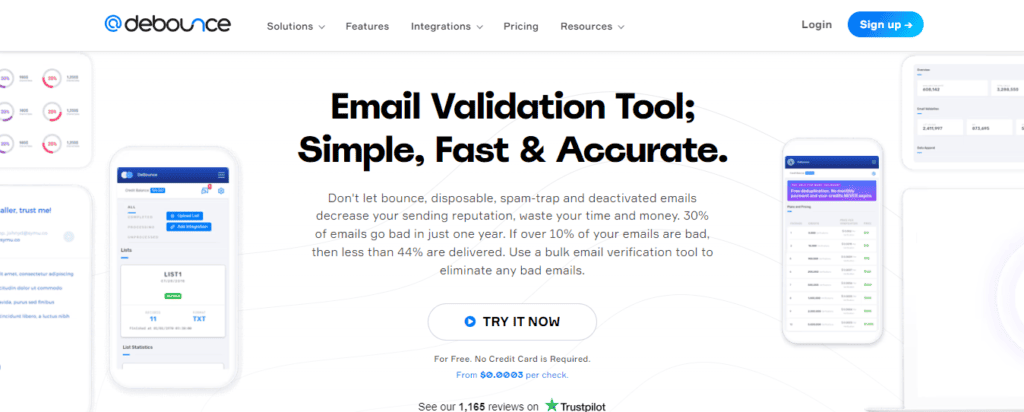 Debounce is an email list verifier not to be left out. The tool can instantly protect your list in a few clicks.
You just need to upload your lists and allow the tool to process the results. This email checker tool can filter out invalid, spammy, or non-functioning mailboxes.
It can also figure out catch-all email domains. Using such addresses can make your email may not reach an actual person through them.
What's even more interesting about Debounce is that it can retrieve the photo associated with an email address. So, you'll know if it's a real person.
Top Features
Disposable email checker: The tool can identify email addresses from a disposable email service provider.
Email deduplication: Automatically delete repeated or duplicate email addresses in your lists.
MTA validation: DeBounce can interact with the Mail Transfer Agent (MTA) of the recipient's email server to validate the existence of an email address.
Debounce Email Validation WordPress plugin: Validate emails on WordPress forms before submission.
Pricing
DeBounce has no monthly plans at the moment. The lowest credit option is $10 for 5,000 verifications.

8. Emailable
If you need a highly secure email verifier for teams, Emailable may interest you. In one central place, you're able to clean all your old lists and remove any bad email addresses.
What I like about this bulk email list checker is that it shows you a percentage of deliverability. You'll see categories like deliverable, undeliverable, risky, unknown, and duplicate (for email addresses that appear more than once).
For each of the categories, Emailable shows you the subcategory, aka the reason behind the classification. For example, you'll know which emails in the "undeliverable" category are a result of "invalid email," "invalid domain," "invalid SMTP," and more.
Top Features
Email list monitoring: Emailable's Monitor enables you to automate list cleaning by letting the tool monitor your email lists from popular email marketing and CRM tools.
Deliverability: Emailable's Deliverability allows you to get inbox reports and check for blacklists.
50+ integrations: Emailbale integrates with email marketing platforms like AWeber, ConvertKit, Mailchimp, and more. You can link it with Zapier as well.
Real-time verification: You're able to copy and paste a code to add to contact forms on your site.
Email verification API: Access a JSON-based API to verify emails on your apps.
Pricing
You can either purchase a number of credits or get a subscription on Emailable starting at $25.50/month.

Note that Emailable's Monitor and Deliverability tools are priced separately. Monitor starts at $9/month and Deliverability is $149/month for the Standard plan.
9. Verifalia

Verifalia is an email validation service that offers reliable and affordable solutions for businesses and organizations looking to improve their email deliverability rates. With Verifalia, you can easily upload your email list and get detailed reports on the validity of each email address. This can help you improve the quality of your email list and avoid sending messages to non-existent or invalid email addresses, which can harm your sender reputation and decrease your email deliverability rates.
One of the things that makes the Verifalia email checker a great tool is its accuracy. The service uses a multi-layered email validation process, including syntax checking, domain and DNS validation, mailbox verification, and catch-all validation. This ensures that the results are highly accurate and reliable, with a low false-positive rate. In addition, Verifalia offers real-time email verification, meaning that you can quickly and easily validate email addresses as soon as they are submitted.
Top Features
List cleaning tool: Import an email list and download a clean one.
Integrations with 4,000+ tools: Connect Veriflaia with your favorite CRMs, email marketing platforms, cloud storage apps, and more.
Verifalia API: Input some codes and verify addresses from your own application and platforms.
Pricing
Verifalia has a wide variety of plans to select from.

Free ($0/month): 25 daily credits
Starter ($9.90/month): 250 daily credits
Professional ($53.90/month): 1,250 daily credits
Enterprise ($218.90/month): 6,250 daily credits
Ultimate ($548.90/month): 25,000 daily credits
10. MailerCheck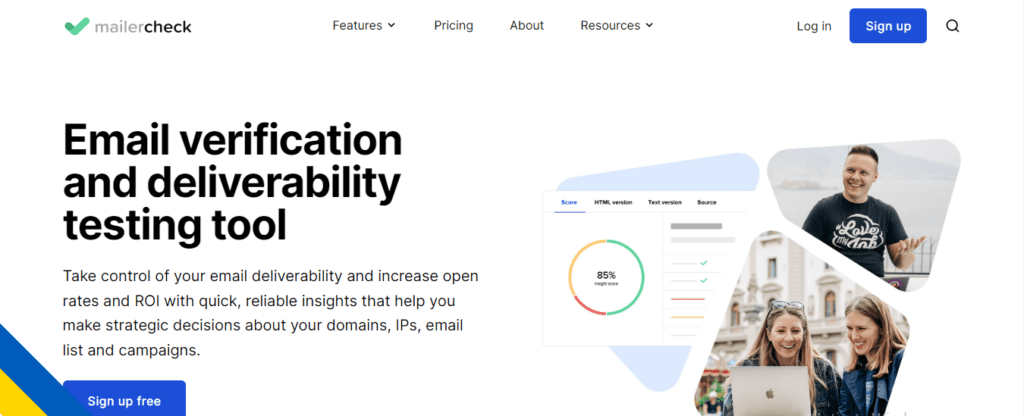 MailerCheck is an online deliverability testing tool and email verification service that helps businesses verify and validate email addresses in their mailing lists. The service uses a multi-layered verification process that includes email syntax checks, domain and MX records checks, and mailbox availability checks to identify and remove inactive, risky, and invalid emails from the list.
MailerCheck also offers catch-all identification that verifies any email that may not exist but appears as a valid address due to the domain settings. The service checks for full inboxes too and helps reduce the number of emails that will bounce because of this.
On top of it all, MailerCheck has email insights that analyze your email content. This enables you to fix any errors that would otherwise affect deliverability rates.
Top Features
Email content checking: Remove any red flags in your email before sending them.
Inbox placement: Find out whether your emails appear in the primary folder, promotions, social, or any other.
MailerLite integration: MailerCheck works with MailerLite to help you validate lists before launching email marketing campaigns.
Real-time API verification: Keep your list clean at any specified time.
Reports: Find out how your credits were spent, the status of verified emails, and more.
Pricing
Mailercheck offers pay-as-you-go beginning at $10 for 1,000 credits and the following monthly paid plans.

Free ($0/month)
Basic ($125/month)
Premium ($275/month)
Enterprise ($975/month)
Email List Verification Tools Pricing Comparison Table
| | | |
| --- | --- | --- |
| Email Verifier | Pay as You Go? | Lowest Monthly Plan |
| 1. ZeroBounce | Available | $39 |
| 2. Snov.io | Not available | $39 |
| 3. Mailfloss | Not available | $25 |
| 4. Hunter.io | Not available | $49 |
| 5. NeverBounce | Available | Not available |
| 6. EmailListVerify | Available | $139 |
| 7. Debounce | Available | Not available |
| 8. Emailable | Available | $25.50 |
| 9. Verifalia | Not available | $9.90 |
| 10. MailerCheck | Available | $125 |
Why Do You Need an Email Verification Tool?
Email verification tools are vital if you want to maintain a healthy email list. With them, you can keep track of your contacts and ensure that all the emails in your database are accurate and deliverable.
Email verification services help you in the following ways:
Avoid high bounce rates
Protect your sender reputation
Maximize delivery rate
Quickly generate leads because of higher email opening and conversion rates
Save time by automating the list cleaning and email verification process
What to Consider in an Email Verification Tool
When choosing an email verification service for your business, there are several factors to consider. Here are some of them:
Accuracy: The effectiveness of an email verifier largely depends on the accuracy of its results. Make sure you look into how reliable the tool is in verifying emails and protecting you from bad addresses and false positives.
Ease of use: It's important to find a tool that is simple to use and navigate. You should be able to simply upload lists or copy and paste them effortlessly. This will help ensure a smooth onboarding process for you and your team.
Integrations: You should also look for a tool that has integrations with your existing systems. This will make it easier for you to sync the email verifier with other services like CRMs, marketing automation tools, or email service providers.
Pricing: Different verification tools have different pricing models so you should evaluate each one to find the best fit for your business. Make sure you find one with a free plan or trial period to test how well it works.
Extras: Although not a must, you may want a tool that offers other email marketing services besides the verification of addresses. These include email finding and automating email campaigns.
Conclusion
Now that you know all about email verification tools, it's time to find one that's the best fit for your business. Email verification is an essential step to take if you want to remain reputable as an email marketer and ensure that all emails in your database go through.
You especially need to use email verifier software if you run an online business, especially if it involves email marketing campaigns to convert subscribers into buyers. With the proper tool in place, you can get your promotions off to a good start and build better relationships with customers and other professionals in your industry through effective communication.
The right email verification tool doesn't just help you clean lists quickly. It reduces the number of bounced emails, maximizes delivery rates, and saves time.
Remember, email verification tools can significantly improve the quality of your email list but might not catch all problematic addresses. Over time, some email addresses may also become invalid due to changes in domain configurations, meaning that regular list maintenance is recommended.