Wave Connect Business Card Review (2023)
We live in a fast-paced digital era where traditional paper business cards are quickly becoming outdated. That's where an app like Wave Connect steps in.
You no longer have to worry about your business card being lost or misplaced. There's no need to fumble through pockets or wallets, searching for that elusive piece of paper.
Wave Connect is a cutting-edge digital business card app that revolutionizes the way you network and connect. You can create a customized digital business card that allows you to effortlessly capture new leads, follow up, and organize your contacts.
Whether you're an entrepreneur, freelancer, or business professional, an app such as Wave Connect can help you stand out from the crowd when networking. Follow me as I share my review of Wave Connect.
Disclaimer: Because the site is reader-supported, we may earn a commission if you use our affiliate links.
Wave Connect Overview
Wave Connect is a digital business card app that allows you to create a custom profile and put all your essential contact details at your fingertips. It allows you to connect better with new people in any business or professional setting. Customers at more than 500 companies trust Wave Connect.
Wave Connect offers a suite of products that you can easily connect to your digital business card. These NFC-enabled products will allow you to quickly share your contact information during events in a contactless way. All you need to do is link a particular product to the profile you create by scanning or tapping it on your phone.
Wave Connect Digital Business Card Features
Below, I'll go through the features of Wave Connect that I liked the most.
1. Customizable Profile
I created my Wave Connect digital business card and it looks as shown below: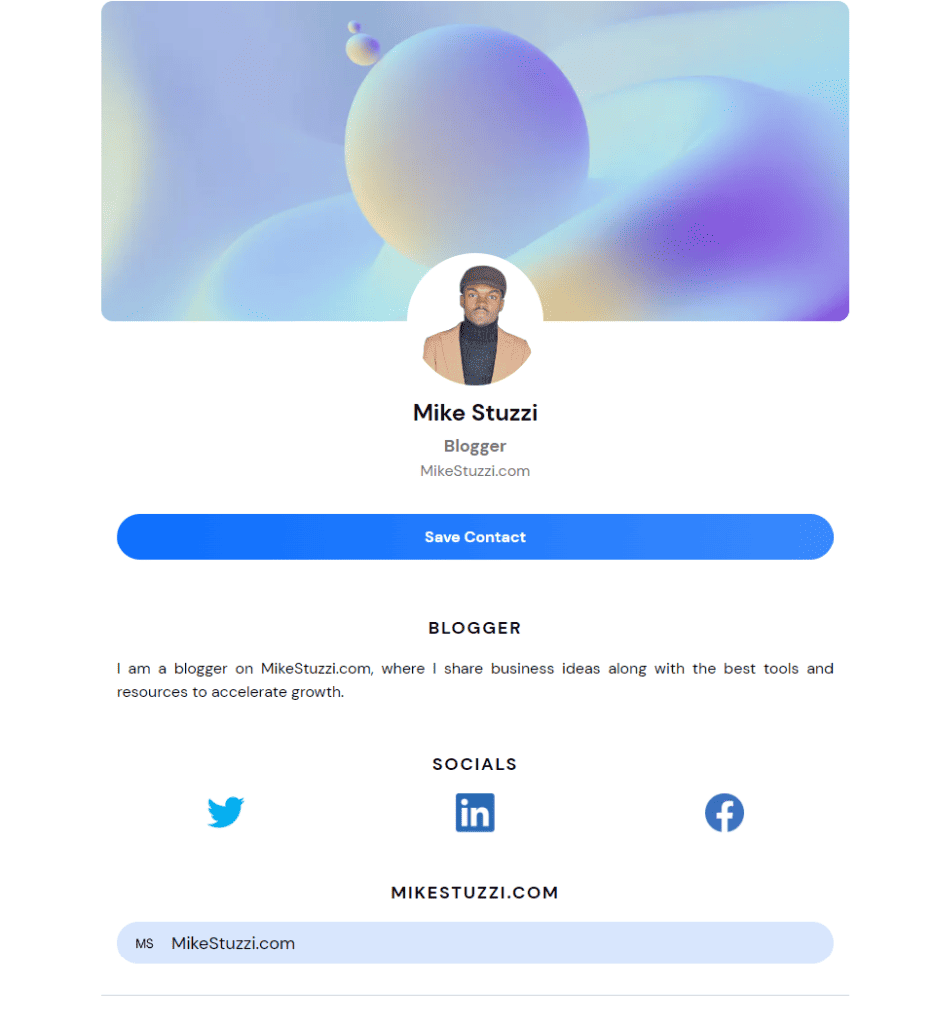 As you can see, you can add all the basic info to your card. Just like a paper card, it has your name, title, company, and profile photo. Your bio is where you can write up to 1,500 characters about yourself.
On top of that, there's a place for your socials. I only did this for Twitter, LinkedIn, and Facebook but there's more. You can have your Instagram, YouTube, TikTok, or any other social profile added.
You also get to include links such as your website's URL. When added, Wave Connect automatically extracts the site's icon, which will also appear on your card.
I also have to mention that the Pro version allows you to insert even more sections into your profile. These include your location via Google Maps, files, videos, forms, and Calendly to allow for direct bookings.
2. A Variety of Wave Connect Products
Wave Connect offers several products that you can purchase and use during networking events. They're listed below:
Wave Smart Cards: These are smart NFC business cards available in the colors white, matte grey, and black. Custom options are there too.
Metal Wave Smart Cards: Made of stainless steel, these matte black cards can help you look modern and stylish.
Wave Smart Bands: White, blue, or black wristbands with QR code and NFC chips embedded for tapping to share info right from your wrist.
Wave Connect also offers bundles whereby you can get both smart cards and wristbands at affordable prices. Currently, there's the White Bundle, Black Bundle, and Mixed Bundle.
3. Unlimited Ways to Share
There are numerous digital business card apps that only provide a couple of sharing options. With Wave Connect, you can share your profile in various ways.
First, you can simply send your link online via email, text, or messaging. A QR code option is also available to users where you just let someone scan it using their Android or iPhone smartphone.
What I like is the NFC way of sharing. This option uses NFC technology that allows two devices to exchange data when placed close to each other.
For it to work, both devices need to be NFC-enabled. Most modern smartphones nowadays have this technology. So, you just need to get yourself an NFC-embedded product, connect it to your profile, and tap it on the recipient's phone when networking.
They'll be able to access your digital business card profile online from their browser and be prompted to save your contact (no app needed). Your contact will automatically be downloaded to their phone in VCF format, and they'll see a form like the one below to also provide you with their information.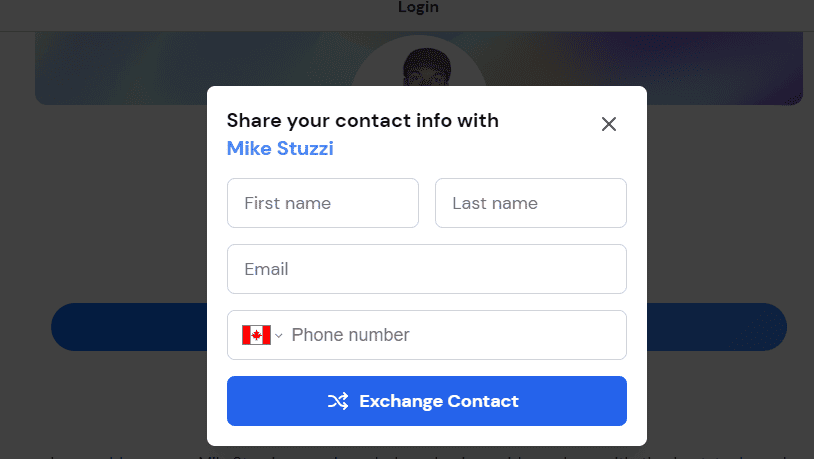 4. Contact Management
When you capture any new contacts, Wave Connect allows you to manage them seamlessly. In the "Contacts" section of the app, you'll be able to view all your new connections in one place.
The information includes their full names and whatever other contact details they shared with you, whether their phone number, email address, or both. From the app, you can directly follow up with them by calling or emailing. Your default phone or email app will pop up when you select either option.
What's interesting is that you can also access the date on which you interacted with someone. So, anytime you're searching for a specific contact, you can sort by particular dates, weeks, or months.
5. Analytics
Who doesn't want to know how they're performing in networking? Wave Connect has a feature that allows you to monitor your performance.
The "Analytics" section contains data on how many people viewed your card. You'll be able to gauge whether you're progressing well or need to change your approach when networking.
6. CRM Integrations
You can integrate Wave Connect with other apps and platforms to enhance your workflow. They include Zapier, a platform that has over 5,000 other app integrations. Other CRM tools you can connect on Wave Connect are Zoho, Hubspot, and Salesforce.
Also, not to forget the Calendly integration that I've previously touched on in this review. So, you also give your connections an opportunity to book meetings and appointments with you directly from your page.
7. Wave Connect for Teams
Wave Connect works not only for individuals but also for teams. The Wave for Teams dashboard makes it possible to connect, collect, and manage all your contacts from one centralized place. As an account admin, you can also check how your team is progressing in terms of lead collection and know the top-performing members.
Read also: Best Digital Business Cards for Teams
Wave Connect App Pricing
How much does Wave Connect digital business card app cost to use? Let's answer that!
Free: This is the free plan that gives you basic access to Wave Connect. You can include all the necessary information on your card and manage contacts.
Pro: The paid version costs $6.99/month or $66.99/year (CAD). This plan unlocks more information sections for your card, analytics, and integrations.
Wave Connect Pros and Cons
Let me share the things I like and the ones I don't about Wave Connect.
What I Like
A well-customized digital business card with all the important details you may need to share
Availability of NFC products like business cards and wristbands
All known ways of sharing a digital business card (QRs, NFC, and simply sending online)
What I Don't Like
No selection of themes yet to change the look of your digital business card
Limited color options for products
Wave Connect doesn't offer NFC phone tags which you can embed at the back of your phone and use as your business card
Wave Connect Alternatives
Let's find out some top alternative digital business card apps that you can use too.
Popl
Popl is an app for digital business cards that I have personally used and like. Popl has some interesting features that other similar platforms don't offer.
One of the top ones is that you can use your Popl digital business card in two ways. The first idea is to set the card as a lead capture tool to collect other people's information by filling out a form. The second method is to just redirect the recipient to a specified link, like your website or portfolio.
Popl also offers a variety of NFC products, including metal cards, phone tags, badges, stickers, and keychains. You can check out my Popl card review for additional information.
V1CE
Another Wave Connect alternative is V1CE. This app features numerous customizations that allow you to give your digital business card a nice look.
V1CE also has several themes to choose from. You can also include all the details about yourself or your brand without making your card look cluttered.
V1CE stands out from other digital business card services offering NFC products with its bamboo cards. It also offers a 24k gold card! Read this V1CE card review if you need more details.
Dot Card
Dot Card is another platform that people search for a lot when looking for the best modern networking solutions. It allows you to add all your basic details along with extras like productivity links, such as Calendly for scheduling appointments.
Dot card, like the other two apps similar to Wave Connect that I've listed here, has a shop for NFC products. It offers NFC cards as well as tags for the back of your mobile device. Go to my Dot Card review article in case you want to learn more.
Wave Connect Business Card: Verdict
Wave Connect is an app that can take your networking game to a new level. You get a chance to make new connections and share your information in a digital way. It's high time you throw away those paper business cards and start enjoying what digital business cards have to offer!
More Resources: