5 Best AI Video Upscalers of 2023
Are you a fan of visual clarity and detail? AI in video upscaling is a game-changer that can enhance the quality and resolution of your videos to great lengths.
We all know how low-resolution visual content can offer a poor viewing experience, especially on devices with bigger screens. The reason for this is that the content has fewer pixels.
The good news is that you can easily enhance your video-based content without paying an arm and a leg to hire a professional video editor. All you need is one of the best AI video upscaling software, as I've put together in this list.
Whether you're a content creator, film enthusiast, or simply someone who appreciates high-quality visuals, this article will equip you with the knowledge to make informed decisions when it comes to enhancing your video content.
What Is the Best AI Video Upscaler?
Here are the top AI video upscaling tools with their unique features and pricing.
1. Topaz Labs (Video AI v3.0)

Topaz Labs is a visual quality enhancement platform for videos and images that uses AI. The Topaz Video AI for upscaling, available as an app for Windows and Mac OS, is among the top ones you can get right now.
This tool, which has been trained using a vast amount of video clips, focuses on improving 3 aspects of video enhancements, namely:
Deinterlacing: Convert interlaced video with alternating lines of odd and even fields into progressive video consisting of a single frame with all lines displayed sequentially
Upscaling: Increase the resolution of a video or image to a higher resolution than its original source
Motion interpolation: Enhance the frame rate of a video by generating intermediate frames between the original frames to reduce motion blur and create smoother motion in fast-paced scenes
You can use the upscaler to enhance videos to 4K or 8K, restore old footage, or recover poor-quality or noisy videos. What's more, the tool can smoothen difficult footage in slow motion.
What I like about Topaz Video AI is that it works hand in hand with hardware manufacturers (Windows, Apple, and more). And so, you only need your existing workstation setup because the software will wholly utilize it.
As a side note, Topaz Photo AI, Topaz Labs' photo upscaling tool, can also do magic for your images. It can maximize the visual quality, fix low lighting, and even remove distractions.
Topaz Video AI Features
24 to 60 frames per second (FPS) conversion
AI-powered shaking stabilizer so it looks like you used a tripod and not your hands
Unlimited number of AI models and parameters
Topaz Video AI Pricing
You only need to buy the Topaz Video AI upscaling software once. It costs $299.
Your purchase will include 2 seats for Mac and Windows and you can always redownload for installation at any point. A 30-day money-back guarantee is available.
2. AVCLabs Video Enhancement AI

Need another AI video upscaling and enhancement tool that uses neural networks? In that case, AVCLabs may interest you.
AVCLabs Video Enhancement AI has the ability to upscale videos from standard definition (SD) to high definition (HD), HD to 4K, or 4K to 8K. It uses TensorRT, a high-performance deep learning inference optimizer and runtime library developed by NVIDIA.
This upscaling AI tool works well for vintage videos, TV shows, and anime. Besides improving video quality, you're able to bring back older footage to life or colorize black-and-white videos.
All you need to do is upload a video in any format, choose the AI model and resolution, and then let the AI process it. Besides the upscaler, AVCLabs also features a photo enhancer and object remover.
AVCLabs Video Enhancement AI Features
Single and multi-frame enhancement, depending on the specific requirements of the video and the desired level of enhancement
Face detection, refinement, and recovery to make faces more visible
AI video colorizer to add vibrant colors to your monochrome videos
AI frame interpolation to get rid of motions
AVCLabs Video Enhancement AI Pricing
You can buy  AVCLabs for either Windows or Mac. The price is as follows:
1-Month Plan ($39.95)
1-Year Plan ($119.95)
Perpetual Plan ($299.90)
3. Pixop

First on the list of the best AI video upscaling software is Pixop. This tool utilizes machine learning (ML) to enhance the quality, resolution, and overall visual appeal of media content.
With a focus on delivering exceptional results, Pixop offers a range of powerful features and tools for optimizing your videos. You do this without requiring any expensive hardware.
This fast and intuitive web app is able to remaster your content from standard definition (SD) to 8K ultra-high definition (UHD) resolution. In other words, you can get four times as many pixels as 4K, which is usually a high quality itself.
It doesn't matter whether you're looking to improve your presentation, social media content, webinar, or short film. Pixop's automated AI filters can sharpen and adjust your footage's frame rate online.
Pixop Features
9 AI filters, including Deep Restoration, Super Resolution, and Denoiser for video enhancement automation
10+ input formats for uploads, such as MP4, AVI, MKV, MOV, and VOB
Video quality analysis
Asset management and storage
Pixop REST API, which is customizable for individuals or businesses with huge video upscaling demands
Pixop Pricing
Pixop offers no subscription fees. Instead, you can pay as you use depending on how much video content you need to process at a given time.
The cost is based on the number of gigapixels. You need to select the duration and the only AI filters you need.
Check below: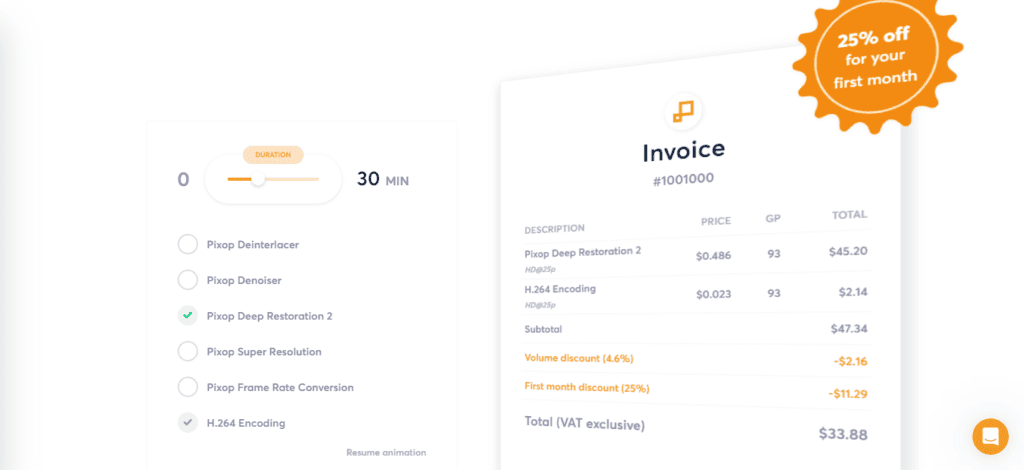 Its utilities (storage and downloads) are priced separately.
4. HitPaw Video Enhancer

Here comes one of the best AI video upscalers online without a watermark that has both a desktop app and a web version. HitPaw is easy to use and can boost the quality of any video to a higher resolution in a single click.
The HitPaw Video Enhancer, besides low-quality videos, can upscale compressed video files. It uses deep learning to achieve this.
It has several AI models. For instance, you can use the General Denoise model to remove noise or the Animation model to restore clarity in anime.
The Face model is great for repairing face problems and the Colorize model adds natural-looking colors to videos that were shot in black and white. Simply add your video file, select the model you need, preview the effect, and then export the upscaled version.
Besides video upscaling, HitPaw also works as an AI video editor, photo editor, and audio tool. You can access converters, object removers, a voice changer, and more.
HitPaw Video Enhancer Features
4 AI models (General Denoise, Animation, Face, and Colorize models)
Automatic AI upscaling to 4K or 8K
Background noise removal
Video unblurring
HitPaw Video Enhancer Pricing
HitPaw's AI upscaler has different pricing for Windows and Mac. You can try the tool for free on Windows.
Windows pricing: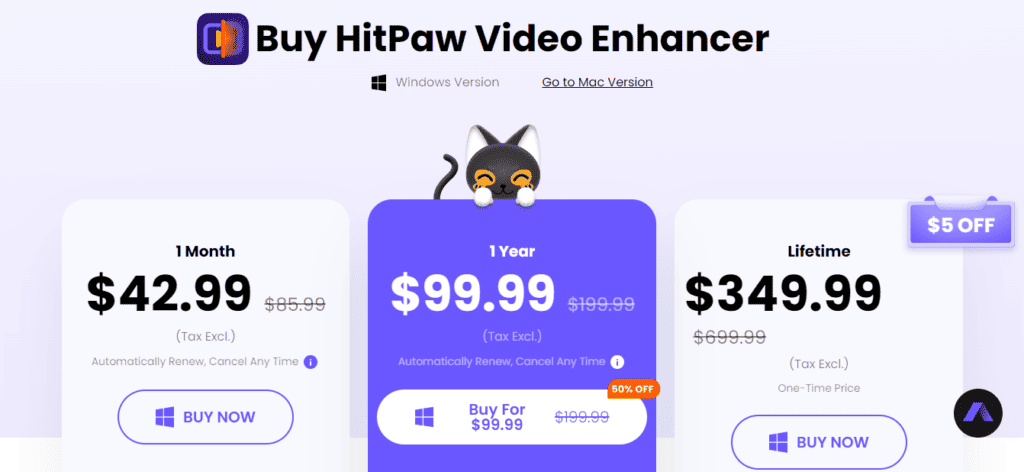 1 Month ($42.99)
1 Year ($99.99)
Perpetual ($349.99)
Mac pricing: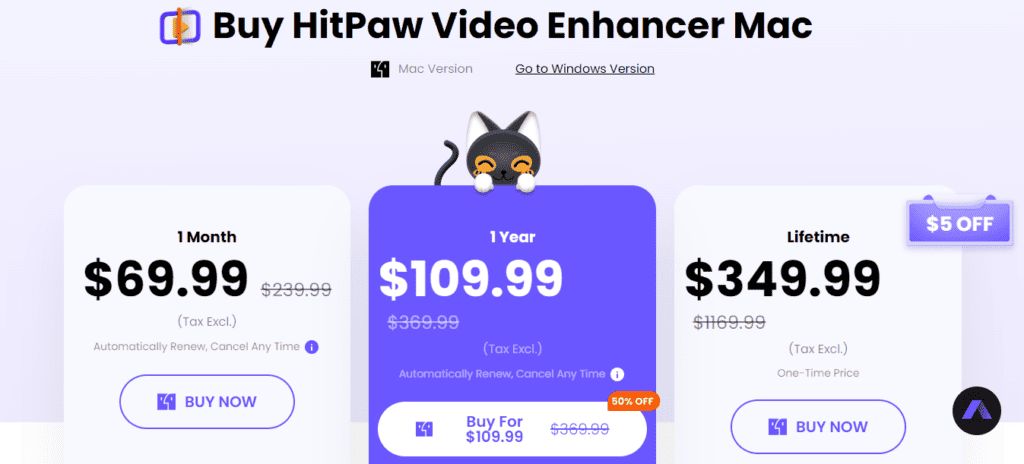 1 Month ($69.99)
1 Year ($109.99)
Perpetual ($349.99)
Remember that you can only install the software application on one Windows or Mac PC.
5. DVDFab Enlarger AI

The last AI video upscaling solution on our list is DVDFab. DVDFab Enlarge AI uses Super-Resolution technology to upscale a video from SD to HD or HD to 4K.
The software is capable of upscaling videos from various low-resolution sources. These include DVDs, Blu-rays, online streaming platforms, and even smartphone recordings.
DVDFab Enlarger AI doesn't just improve the resolution but also the overall visual quality of your video. It can enhance details, increase sharpness, and reduce noise and artifacts.
You can use DVDFab Enlarger AI as standalone software or as a part of the DVDFab suite. The suite includes other video processing tools such as video converters, DVD and Blu-ray rippers, and video editors.
DVDFab Enlarger AI Features
300% video image enlargement
4 output quality options; Premium Quality, Ultra Quality, Deblock, and Ultra+Deblock
Available in DVDFab's products, including DVD Ripper, Blu-ray Ripper, Video Converter, and DVD to Blu-ray Converter
DVDFab Enlarger AI Pricing
You can download DVDFab Enlarger AI for free on Windows or get a paid subscription.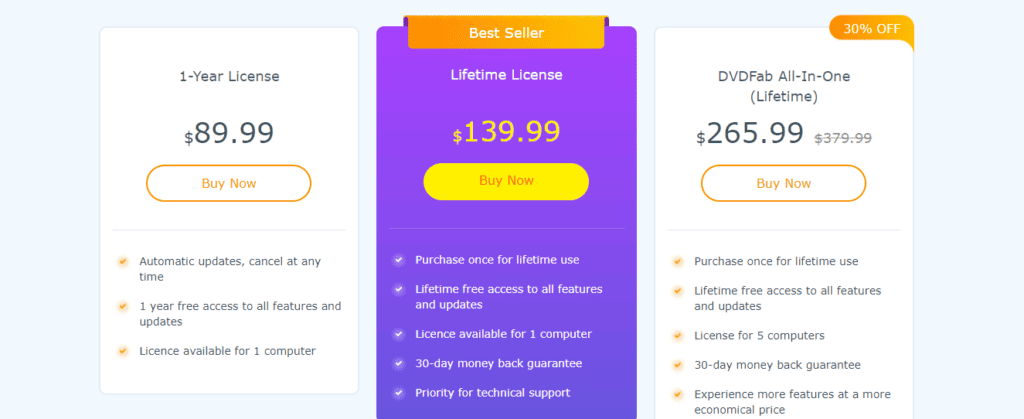 1-Year License ($89.99)
Lifetime License ($139.99)
DVDFab All-In-One Lifetime License ($265.99)
What Is AI Video Upscaling?
AI video upscaling is the use of artificial intelligence algorithms (particularly deep learning and neural networks) to boost the resolution and quality of videos. These AI models are trained on large datasets that enable them to recognize and reconstruct complex details, textures, and colors that might have been lost in the original low-resolution video.
So, AI video upscalers work by analyzing existing content to learn patterns and then generating new pixels based on this knowledge. The result is significantly improved visual clarity, detail, and sharpness of videos.
This is unlike traditional upscaling techniques which interpolate pixels to increase the size of a video frame. Such methods usually lead to blurry and pixelated images.
Applications of AI Video Upscaling
AI video upscaling has a wide range of applications for personal or commercial use, as listed below:
Enhancing old or low-resolution videos
Upscaling content for large displays or high-definition screens
Improving the visual quality of video game graphics
Optimizing video streaming services to boost user experience
Conclusion
With the ability to upscale low-resolution content, reduce noise, and improve overall image fidelity, AI video upscalers have changed the way we perceive and consume video content.
While there are several AI video upscaling software tools available, the best ones stand out for their exceptional results, user-friendly interfaces, and ease of operation. You'll find that they offer a range of features, such as denoising, sharpening, and super-resolution,
Using such tools enables you to transform your videos into visually stunning and high-quality content. And since artificial intelligence continues to surprise us, we can expect more impressive video upscaling abilities from these apps.
Read about other AI video tools: