7 Best AI Voice Generators Online (Text to Speech)
Do you want to create a voice for your project but don't know where to start? If so, you need to check out some of the best AI voice generators online!
These advanced and automatic text-to-speech tools will help you create a realistic and natural-sounding voice for your videos. Making quality voiceovers becomes much easier and possible to do without special skills. With just a few clicks, you can have a voice that sounds like it's coming from inside your head!
Disclaimer: Because the site is reader-supported, we may earn a commission if you use our affiliate links.
Best AI Voice Generator for Text-to-Speech
1. Murf.ai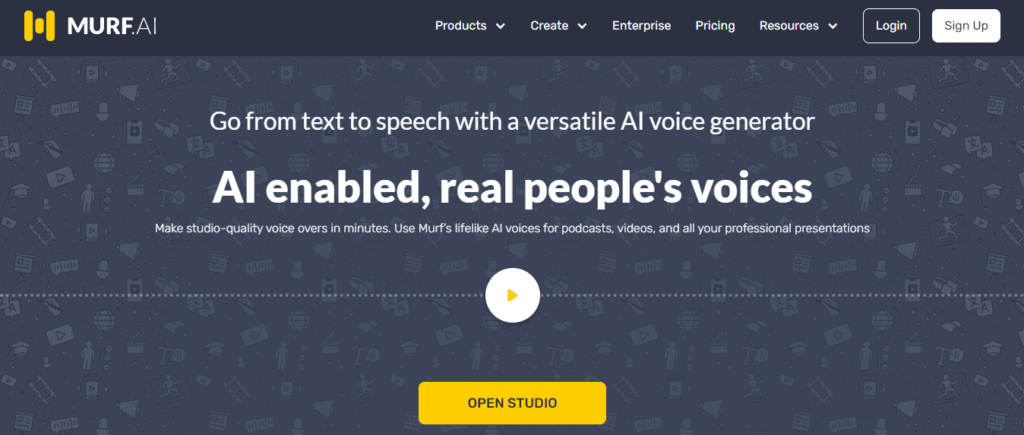 Murf.ai is one of the best AI voice generators on the internet. It offers a wide range of options to create a voice for your video project, podcast, or presentation.
It doesn't matter if you need voiceovers for entertainment or professional purposes. You can choose from over 120 different voices, male or female.
You can also control the pitch, speed, and volume of the voice. And if you want to get really creative, you can even add effects to the voice.
Murf.ai has lots of e-learning and explainer videos on its online platform. The voiceover software also offers a free version so you can try out all the features before you commit to anything.
Murf.ai Key Features
120+ text-to-speech voices
20+ languages
Add music, video, or image
Team collaboration
Murf.ai Pricing

Free ($0/month)
10 minutes of voice generation
10 minutes of transcription
Share the audio or video output
No downloads
One user
Basic ($19/month)
2 hours of voice generation a month
Commercial usage rights
Unlimited downloads
Single User
Chat and email support
Pro ($39/month)
8 hours of voice generation a month
4 hours of transcription a month
Commercial usage rights
Recorded voice editing
Voice changer
Unlimited downloads
Up to 3 users
Priority support
Enterprise ($249/month)
Unlimited voice generation
Unlimited transcription
Custom voices
Single sign-on (SSO)
Collaboration and access control
Dedicated account representative
Centralized invoicing
Deletion recovery
Unlimited storage
5+ users
2. Play.ht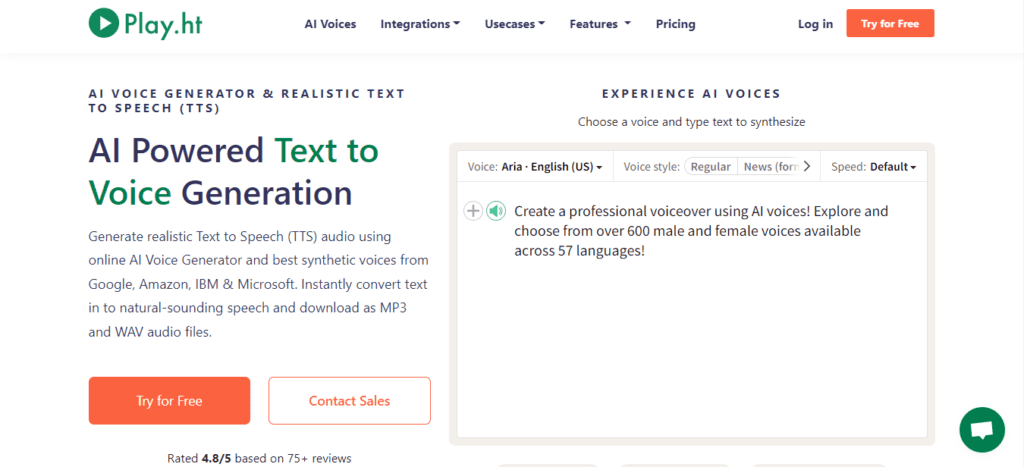 Play.ht is another great text-to-speech AI voice generator. It offers a wide range of features to help you convert text into a realistic voice that you can download in MP3 or WAV format. This tool contains a huge library of voices in various languages across the world.
The voice types include narrative, marketing, promo, and kids. Some of the languages and accents are English varieties, French and Hindi.
The text-to-audio online editor tool can work well for video content, podcasts, and e-learning materials. You can even turn a blog post into an audio file that sounds natural using Play.ht. It's a great way to repurpose your content and target audiences across different online platforms.
Play.ht Key Features
907+ voices
142 languages and accents
Custom pronunciations for brand names, acronyms, and niche-specific terminologies
Audio widgets for websites
Integration with other platforms
Play.ht Pricing
Plans for individuals:

Personal ($19/month)
20,000 words
Standard voices
Audio previews
Audio downloads
Professional ($39/month)
50,000 words
Realistic voices
Commercial rights
Audio previews
Unlimited downloads
Premium ($99/month)
Everything in Professional
Unlimited generations
Ultra-realistic voices
Unlimited audio previews
Pronunciations library
White-labelled audio players
Plans for teams and enterprises:

Team ($198/month for 2 users)
Everything in Premium
Multiple users (up to 5 users) at $99 each
Centralized billing
Priority technical support
Enterprise (custom pricing)
Everything in Premium
Voice cloning
5+ users
API Access
Corporate billing
3. Clipchamp

Clipchamp, a part of Microsoft, is another online AI voice generator that you can use to create amazing audio for your video recordings. It offers a wide range of features for digital creators, from text-to-speech voices to online webcam and screen recording. You can easily use the tool for recreational videos, training videos, presentations, and more.
The platform has 170 voices that sound lifelike in different languages and accents, including English, Spanish, Italian, Japanese, and Arabic. So you can have your voiceover sound masculine, feminine, neutral, or from someone of a specific age, whether young or old. All you need to do is provide the text, pick a suitable voice depending on your needs, and set the narration speed.
As a side note, Clipchamp in general is a video editing platform. Besides the text-to-speech feature, you can create beautiful videos for social media or marketing purposes using its filters, templates, and access to a stock library.
Clipchamp Key Features
170+ voices
70+ languages
3 voiceover speeds
Video editing capabilities
Clipchamp Pricing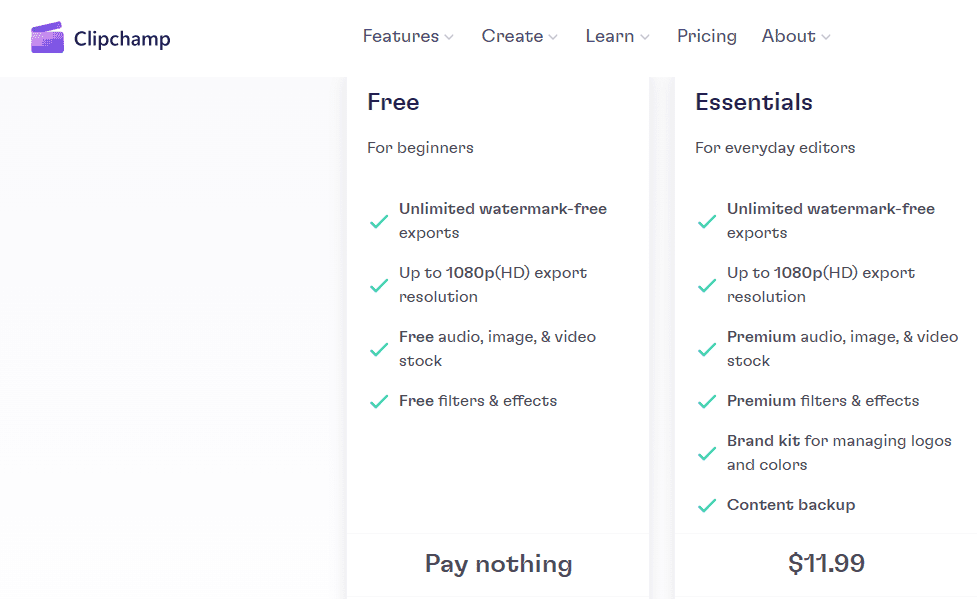 Free (Pay nothing)
Unlimited watermark-free exports of up to 1080p resolution
Free audio and image stock media
Free video filters and effects
Essential ($11.99/month)
Has Free features plus:
Premium stock media
Premium video filters and effects
Brand kit
Backups
4. Resemble.ai

If you need a voiceover generator with voice cloning features, Resemble.ai may interest you. It's a tool that lets you generate realistic and human-like voices for your audio projects in seconds. Resemble.ai can work in entertainment, advertising, and call centers.
The platform has an intuitive interface with a comprehensive library of voices that you can choose from. In fact, users of Resemble.ai generate millions of audio minutes each month.
You can also use it to convert your voice into any language you want to with its speech-to-speech feature. The platform offers multiple languages and even allows you to dub your language into another one and reach more people worldwide, e.g. Spanish to English and vice versa. As if that's not enough, you can integrate the tool with many other platforms you usually use to enjoy everything in one place.
Resemble.ai Key Features
Realistic-sounding AI voices
Speech-to-speech conversion
Language dubbing
Integrations with other platforms like Aircall, Twilio, TikTok, and more
API for developers
Resemble.ai Pricing
Resemble.ai has a free trial without credit card requirements, after which you'll need a paid membership.
Basic ($0.006 per second)
Up to 10 voices
English only
50+ marketplace voices
Pro (Custom)
Custom data upload
Cross-lingual support in over 24 languages
Speech to speech
5. LOVO AI

LOVO AI is a new-generation tool for converting text into audio that uses advanced technology. It enables its users to create natural-sounding voices for their e-learning and ad videos, podcasts, animations, and more. It has over 200,000 creators and works in more than 40 countries.
With LOVO Studio, you simply select a voice you like, enter the text, or upload a script, and you'll get a new voiceover in no time. The platform has over 180 lifelike voices and adds new ones every now and then.
You can also customize the audio to make it sound more natural or just the way you want it. You do this by employing LOVO AI's voice cloning technology that can emulate a target voice in just 15 minutes. Other than that, LOVO AI also supports multiple languages including various English accents, French, Spanish, Hindi, Turkish, and many others.
LOVO AI Key Features
180+ voice skins
33 languages
Custom voices
LOVO API
LOVO AI Pricing
LOVO offers different pricing for LOVO Studio and LOVO API.
LOVO Studio's plans:

Free ($0): 3 downloads a month
Personal ($17.49): 30 downloads a month
Freelancer ($49.99): 100 downloads a month
LOVO API's plans:

Base Subscription ($45/month/1,000 calls)
Overage ($0.04/overage call)
6. Listnr

Listnr is the last on this list of AI text-to-voice generators. It offers synthetic voices that you can include in your audio.
The platform itself is quite straightforward and easy to use; you simply pick your desired male or female voice, choose the English accent, enter or upload your text, click on the button that says to convert, and you're done. Some of the accents are US, New Zealand, Indian, Nigerian, and Kenyan.
Listnr offers both standard and premium voices. Standard voices are available to use for free on Listnr.
You can create as many versions as you like and download the best ones in MP3 or WAV format. You're free to even share your new audio with others on any platform you like. Listnr can also clone voices in under 4 minutes.
Listnr Key Features
Text-to-speech conversion with 600+ male and female voiceovers
142+ languages
Numerous English accents from various parts of the world are available
Speedy voice cloning
Text-to-speech API
Listnr Pricing
Besides Listnr free version, here are the premium plans, all with unlimited downloads and audio embeds:

Student ($4/month): 4,000 words a month and 10 GB of storage
Individual ($9/month): 10,000 words a month and 25 of GB storage
Solo ($19/month): 30,000 words a month and 50 GB of storage
7. Uberduck
If you're looking for an AI voice generator that's easy to use and free, then Uberduck is a great option. Millions of people use it to generate high-quality text-to-speech voices. You can quickly access royalty-free voices for commercial use in your projects.
You can add narrations to your videos, make song covers, or create a character that speaks the same way you do. The interface is simple and user-friendly.
Uberduck Key Features
5000+ expressive voices
Voice clone
Video editor
Uberduck Pricing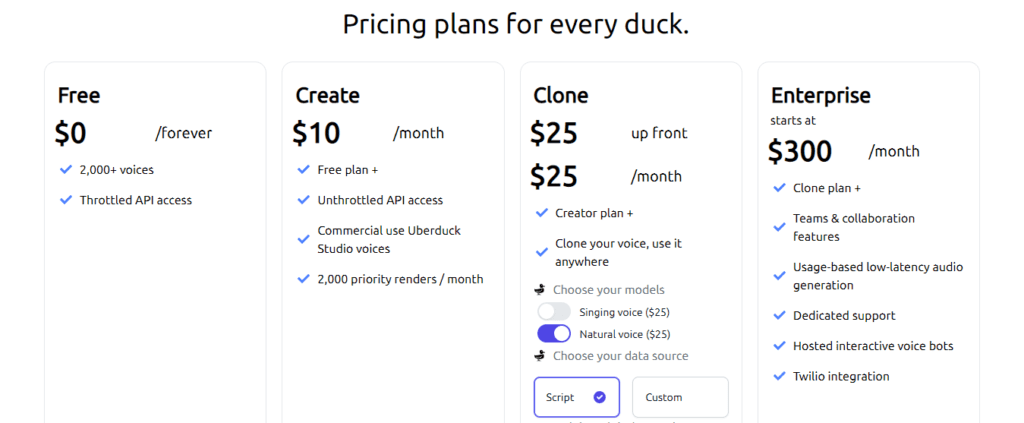 Free ($0 forever)
Create ($10/month)
Clone ($25/month)
Enterprise (Starts at $300/month)
What Is an AI Voice Generator?
An AI voice generator is a tool you can use to come up with audio either for your audio or video-based projects without having to use your own voice. You simply put in the text and the software uses machine learning technology to turn it into a speech that you can use for your desired purposes.
Why Should You Use an AI Voice Generator?
Using an AI voice generator is a great way to quickly create high-quality audio content. It can help you save time and money when producing videos, podcasts, or other audio projects. You don't have to worry about finding the right actors or hiring voiceover artists anymore; everything will be done with just a few clicks of your mouse.
Moreover, AI voice generators come with a variety of features such as the ability to clone voices, create custom audio files in different languages and accents, and provide text-to-speech API. All these features make it easier for you to quickly produce high-quality audio content that resonates with your target audience.
FAQs on AI Voice Generators
How Does AI Generate Voice?
Text-to-speech voices in AI come from machine learning models that analyze real voice recordings from various voiceover artists. The AI tool learns to speak through this approach and the result is quite a realistic tone that can be used as voiceovers in projects.
Can AI Copy Your Voice?
AI can learn to copy your voice up to some extent. Some text-to-speech tools have a voice clone feature that allows you to create voiceovers based on how you speak.
How Do I Make My Own AI Voice?
To make an AI voice that sounds like you, you just need a quality advanced voice generator. Many of them, including Uberduck, Resemble.ai, and LOVO AI, have a feature that allows you to clone your voice within minutes.
Can AI Voice Get Monetized?
If you want to use an AI voice on a YouTube channel, it's still possible to make money. You'll be surprised that many YouTubers, including well-established and successful ones, don't use their own voices for YouTube videos. Besides the YouTube Partner Program for ads, you can also earn from promoting your own or affiliate products and services, brand deals and sponsorships, fan donations, and more.
Conclusion
There are lots of great AI voice generators out there that can help you create realistic voices for your projects. Whether you're looking for a free option or one with more features but still within your business budget, there's definitely a tool out there to suit your needs.
So, why not give one of these tools a try today and see how they can help you bring your project to life?
PS: You may also be interested in these other AI generators: