5 Best Email List Cleaning Services of 2023
We live in a digital world where 2.4 billion emails crisscross the world in a single second.
In this era of connectivity, your email list is more than just a directory of names – it's your bridge to engaging with your audience and your channel to conversions. The best email list cleaning services can make sure your emails arrive where they're supposed to.
Imagine getting a service that meticulously inspects, validates, and refines your email list to its best quality. In other words, list cleaning software tools serve as the vigilant guardians of your digital communications.
This review of the best email list scrubbing services explores the top options in the market right now. You'll discover how they work and ways to select the best service for a cleaner, crisper, and more effective email campaign.
Read also: Best Email Validation Tools
What Is Email List Cleaning?
Email list cleaning, also known as email list validation or email list scrubbing, refers to the process of reviewing your email marketing or subscribers list to ensure it's accurate. This vital practice involves identifying and removing invalid, outdated, or unengaged email addresses from your list.
The goal of email list cleaning is to improve the quality of your subscriber base, boost email deliverability rates, increase engagement, and maintain a positive sender reputation.
An email list cleaning service or tool can help you to automatically clean your lists. Such services not only significantly cut time and effort but also have higher accuracy in getting the job done.
Read also: Email List Building Guide
What Is the Best Email List Cleaner or Scrubber?
Below are my picks for the top email list cleaning tools.
1. Mailfloss

Need to floss your email list? If so, Mailfloss is the email list cleaner you need. It's trusted by companies like Salesforce, ShipStation, and AmeriLife.
This email cleaning tool is designed to help businesses and organizations maintain a clean and accurate email subscriber list by automatically removing unengaged, duplicate, and invalid email addresses. The founders of Mailfloss knew how fake email addresses could hurt any business and created their service to fix the situation.
Mailfloss employs various methods, such as syntax checks, domain verification, and bounce analysis, to clean and validate email addresses on your subscriber list.
One of the things I like about Mailfloss is its ease of setup. You can quickly set up an account in a minute, try the service for free (7 days), and never worry about bad email addresses again.
It can fix typos in popular email services like Gmail, Hotmail, and Yahoo for you. For example, janedoe@gnail.com will be corrected to gmail.com.
You can even connect Mailfloss with your favorite email service provider and let it scan for inaccurate emails before they become problematic. It can remove such emails daily to ensure your list is of quality and increase your deliverability and conversion rates.
Features
Daily cleanup
Supports 35 popular email service providers
Autoremoval and auto-unsubscribing of invalid email addresses
Automatic tagging and labeling for proper segmentation
Zapier integration to connect thousands of other apps (including email marketing platforms)
Real-time API for developers
Pricing
Mailfloss has a free 7-day trial. Its plans start at $25 for Lite.
Lite: $25/month
Business: $57/month
Pro: $200/month
2. NeverBounce

NeverBounce is another option if you need a bulk email list cleaning service. It has over 125,000 users. Neverbounce focuses on preventing bounced emails and improving email deliverability.
What happens on NeverBounce is that you simply upload your list and it analyzes it. You're then able to download the segmented results and use them to guide your next email promotion.
NeverBounce, besides bulk email verification, also offers other products. For example, you can use it to verify customer email addresses at their point of entry. That could be a registration form, lead page, or any other submission method.
As if that's not enough, you can even sync the tool with your email provider for automated cleaning. This removes the manual need of occasionally uploading lists for cleaning.
Features
Bulk email list cleaner
Real-time email verification during submission
Automatic list cleaning
Pricing
With NeverBounce, you can pay as you go. The prices per email range from $0.003 to $0.008.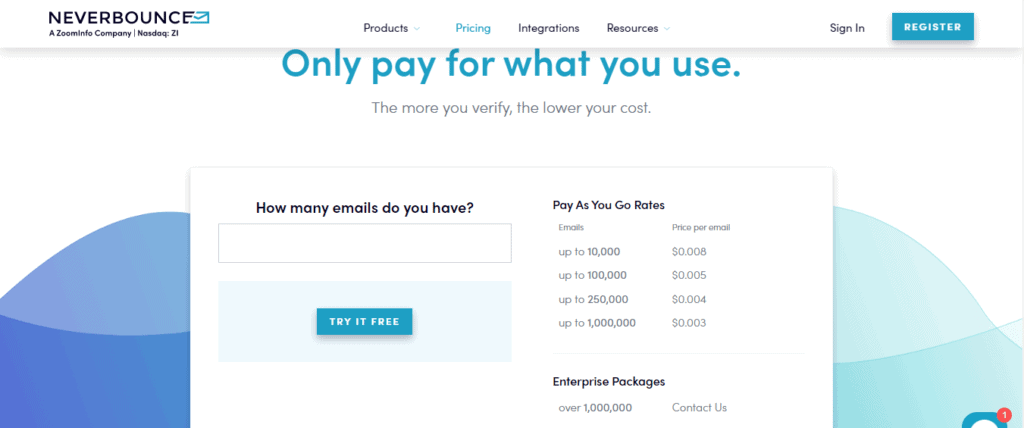 3. Mailgun

Mailgun is an email deliverability service that also offers email list cleaning. Since cleaning your email list is a tedious task, you can opt to let Mailgun do the work for you instead.
Mailgun can handle a variety of bad emails for you. These include bounced, inactive, and unsubscribed emails. What this means is that any mailbox errors, non-opening users, and those who no longer need to receive messages from you can be taken care of.
What's more, Mailgun can protect you from getting spam reports and damaging your sender's reputation. If you don't deal with complaints from users, it can easily result in blacklists that prevent your organization from emailing anyone who uses an email service provider like Gmail or Yahoo.
On top of list cleaning, Mailgun also enables businesses to send both transactional and marketing emails at scale. It specializes in delivering time-sensitive and personalized transactional emails, such as account notifications, order confirmations, password resets, and more.
Features
Mailgun's email verification API can capture bad emails during form signups
Email list management for sending transaction and marketing campaigns
IP reputation check to protect your sender score
Pricing
Mailgun has a free trial for a month and several plans that bundle various Mailgun features together.
Trial: $0/month
Foundation: $35/month
Scale: $90/month
Custom: Custom pricing
4. Kickbox

Kickbox is among the best email list cleaning tools that can verify your lists in minutes. More than 150,000 senders, including Expedia, Burberry, and Vrbo, trust Kickbox. With this service, you can either verify email addresses via a list or real-time using the API.
To get started, you just need to drag and drop your email list or import it from various marketing platforms. Kickbox can check the list and produce results in seconds.
Another thing that's interesting about Kickbox is that you get to see the problem with your email list. These include things like whether an email is deliverable, undeliverable, risky, or unknown.
Such a report can help you reduce bounces and engage with the most active users in your lists. Other than that, Kickbox is great for checking deliverability through spam testing, design testing, and inbox placement testing.
Features
IP and blocklist monitoring that alerts you of sender reputation matters
Integration with 30+ marketing tools and platforms, such as iContact, HubSpot, and MailerLite
Point-of-capture API to avoid the submission of fake and misspelled addresses
Pricing
Your email list will determine how much you need to pay on Kickbox. You can pay as little as $5 for 500 verifications.

5. Proofy
Last on our list of the top email scrubbing services is Proofy. The tool can help you identify useless and catch-all addresses in huge volumes.
Proofy can detect useless email addresses using a couple of techniques. These are syntax, domain, and SMTP checks. In other words, it can review the structure and format of an email address, find out whether a domain is configured to receive emails or check with a recipient's email server via SMTP (Simple Mail Transfer Protocol). All these checks ensure that an email address is valid and adheres to the standard rules and conventions.
Features
Hybrid verification (real-time and API)
Domain health check
High-risk detection
Pricing
Similar to other list cleaning software tools already mentioned, you also pay for checks on Proofy. The pricing starts at $16 for 5,000 emails.

How Does Email List Cleaning Services Work?
The process of email list cleaning typically involves various steps, including:
Syntax errors and formatting check: In this step, the service scrutinizes email addresses for correct syntax to make sure they're properly structured with no typos or errors.
Domain verification: This step involves confirming the existence of email domains to ensure messages can go through.
Disposable and temporary email detection: An email list clean can identify and eliminate addresses from providers often sought after for short-term purposes. These disposable emails have low engagement in most cases.
Role-based email identification: Most list cleaning tools can figure out email addresses associated with roles rather than individual recipients (e.g., "support@company.com").
Inactive and unengaged subscriber removal: The service can remove subscribers who haven't interacted with your emails over an extended period, to reduce the risk of spam complaints and boost engagement.
Bounce analysis: Email bounces, whether hard or soft bounces, can help these services to identify and remove undeliverable addresses.
Spam trap detection: Some tools can detect and get rid of email addresses associated with spam traps to protect your sender's reputation.
List segmentation: In this last step, the service organizes your email list into segments based on deliverability rates and allows for more targeted campaigns.
How to Pick the Best Email List Cleaning Service
Choosing the best email list cleaning service is a decision that can significantly affect the success of your email marketing campaigns. Below are steps to help you pick the right service for your needs:
Define your requirements: Are you looking to clean a large list in bulk or need real-time verification for sign-up web forms? Clarify your budget, desired features, and integration preferences.
Consider the validation methods: Check which validation methods the service uses, such as email address syntax checks, domain verification, role-based email detection, and bounce analysis. Most tools, however, combine several verification methods to boost overall accuracy.
Data security and privacy: Make sure that the service follows strict data protection regulations, such as GDPR compliance. You're protected only if they handle your data securely and provide information on their data management practices.
Ease of use: The platform needs to be user-friendly and offer a dashboard that allows easy uploading of your email lists.
Integration: If you use email marketing tools or CRM platforms, check if the service integrates with your existing tools to smoothen workflows and save time.
Reporting and analytics: Detailed reports on the results of the cleaning process help explain why some email addresses were flagged.
Free plans, trials, or demos: Many services can offer a free account, trial period, or demo. You can take advantage of these opportunities to test the service's features and assess its performance.
Conclusion
You deserve valid emails on your list! Now that you know the best email list cleaning and scrubbing services, it's time to pick one.
My top recommendation for email marketers looking to verify email addresses is Mailfloss. I say so because this email list cleaning software service is great for its user-friendly interface, accuracy, integrations, and frequency of monitoring (daily).
You're free to select more than one tool to find out which one you like best for improving the results of your email campaigns. The good thing is that with most of the tools, you can either pay by monthly subscription or just get enough credits according to the size of your list.