5 Best AI Paraphrasing Tools in 2023
Are you a writer, marketer, or blogger looking for the best AI paraphrasing tools to make your text stand out? We all know how creating unique content can be hard at times, especially when lots of similar ones exist on the Web.
In this blog post, I'll introduce you to the best and most reliable AI paraphrasing tools available online. I've tested each tool on various writing pieces and analyzed their results in terms of accuracy, speed, simplicity, and features.
By the end of this post, you will know which AI tool for rewriting suits you and how exactly it can help improve your text-based projects!
Read also: Best Tools for Paraphrasing and Rewording
What Is the Best AI Paraphrasing Tool?
Below is a list of the best AI paraphrasers online.
1. Quillbot

First on the list of the top AI tools for paraphrasing is Quillbot. If you need rewrites for reports, research papers, blog posts, website copy, or emails, this is the tool you need.
Quillbot is my favorite because of its wide variety of paraphrasing modes, including Standard, Fluency, Formal, Simple, and Academic.
For example, if you have a piece of writing that uses lots of jargon or complex words, the Simple paraphrasing mode is the one you would select. As another example, if you had something that uses poor English, you could use Fluency to make your text more fluent and easy to read for anyone.
But that's not all because Quillbot can even shorten or expand sentences and paragraphs for you. You can also access a variety of Quillbot's other tools (most of which are free), besides the AI paraphraser.
Read my comprehensive Quillbot review.
Quillbot AI Features
7+ paraphrasing modes for different types of writing
AI writing abilities to create new text from scratch
Grammar checker for correcting spelling and punctuation errors
Plagiarism checker that compares your text against other publicly available ones
Translator for converting text from one language to another, e.g. English to Spanish
Quillbot Chrome extension to use the tool anywhere online, including Google Docs, WordPress, and Gmail
Pricing
Quillbot is free to use if you use two of its modes: Standard and Fluency. To unlock more modes and even access the plagiarism checker, you need to get Quillbot Premium.
It's priced as shown below:

Monthly: $9.95/month
Semi-Annually: $6.66/month
Annually: $4.17/month
2. Wordtune

Next up is Wordtune, an AI paraphraser available for work, study, or personal use. If you need to write something but have difficulties expressing it using the right words, Wordtune can help.
This tool can help you rewrite text using casual or formal tones. Casual suits writing like articles while Formal is for texts like professional emails, cover letters, and white papers.
Something that I like about Wordtune is that you can also use it as an AI text generator. Simply enter your prompt and let it create fresh content for you. You can paraphrase the AI-generated text too to improve its clarity or uniqueness.
Wordtune Features
Sentence and paragraph shortener and expander
AI writer that allows you to continue writing something and add more value
Summarization tool for PDF guides, blog posts, and more
Wordtune Chrome Extension
Pricing
Wordtune has a free version and some paid plans, shown below:

Plus: $24.99/month
Unlimited: $37.50/month
Business: Custom pricing
3. Paraphrasing Tool AI

Need another AI to rephrase paragraphs, articles, and essays? If so, Paraphrasing Tool AI may interest you.
This AI paraphraser has some interesting modes to choose from. Some of them are Free Rewriter, Near Human, and Creative.
Free Rewriter can do rewording for up to 20,000 characters on a regular level. Near Human is a mode for making text, especially one that sounds robotic, more like it was written by a person.
If you select the Creative mode, you're able to make any dull piece of text appear witty and full of ideas. It would suit scenarios like storytelling.
Paraphrasing Tool AI also features a variety of tones, like casual, formal, professional, and witty. You can use these tone variations to produce text for various audiences without changing the initial concepts.
Paraphrasing Tool AI Features
6+ modes for paraphrasing
The Sentence Paraphraser mode enables individual sentence rephrasing
4 tones to choose from
Plagiarism remover
Chat BABU, a text-based assistant that uses artificial intelligence
Pricing
Paraphrasing Tool AI has the following plans: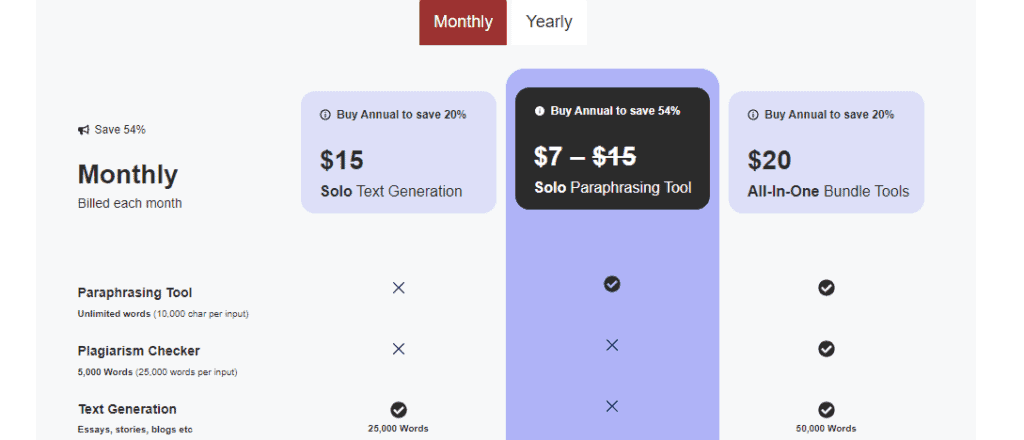 Solo Paraphrasing Tool: $7/month
Solo Text Generation: $15/month
All In One Bundle Tools: $20/month
4. Rewording.io
Another tool in this list of the best AI paraphrasing tools is Rewording.io. With this tool, you can paste sentences, paragraphs, or essays into its editor and get a rewritten version of it within seconds.
You can control how much change you need in the output in terms of a percentage. 100 percent power would mean that Rewording.io alters all the words and sentences.
The tool is interesting in that you can check for plagiarism while paraphrasing to ensure original content. If you register an account, Rewording.io will save your paraphrased work for future access.
Rewording.io Features
4 supported languages
Percentage feature or choosing how much you need the text to be changed
Built-in thesaurus for selecting the most applicable synonyms
Resizer to summarize any text
Plagiarism and grammar checker
Pricing
While there's a free version of Rewording.io, you can upgrade to a premium plan for extras. It has monthly, quarterly, and yearly subscriptions:

Monthly: $14.99/month
Quarterly: $9.99/month
Yearly: $4.99/month
5. Typeset.io

Typeset.io is an AI-powered platform for academic research that also features a paraphrasing tool. The tool helps scholars elaborate research papers in simple words.
Its AI paraphrasing tool is also designed for academics. The tool offers a wide variety of tones and languages to accommodate a global audience.
Some of Typeset.io's modes for paraphrasing are Academic, Formal, Boldy, Diplomatic, and Professional. You're able to control the length and variation of the resulting text before you begin paraphrasing using a scale available on the tool's editor.
Typeset.ai Features
Scholarly paraphraser using AI
Read with AI feature for breaking down documents into simple explanations
APA citation generator for web pages, books, and journal articles
Turnitin plagiarism checks
Academic AI detector to catch GPT-4, ChatGPT, and other AI writers' text in scholarly content
Pricing
You can use Typeset.io for free or subscribe to one of its plans, as follows:

Free: $0/month
Researcher: $20/month
Team: $12/user/month
Typeset.io also offers Publisher and University subscriptions starting from $199/month.
What Is an AI Paraphraser?
An AI paraphrasing tool is a type of software that can take an existing text or set of words and automatically rephrase it into new and unique content. The goal of the tool is to create a new version of the text that's similar in meaning to the original but sounds different.
AI paraphrasing tools can be helpful to people who want to rewrite something quickly so they don't have to manually redo all the work themselves. Most of them would take seconds to create a variation, unlike human writing which could even go into hours.
Best AI Paraphrasing Tools: Conclusion
Now that you've read about some of the best AI paraphrasing tools, it's time to make your decision. My top recommendation, a tool I've used myself, is the Quillbot AI paraphrasing tool.
You're free to check out the other options depending on the features of pricing structures you're looking for. No one will stop you if you go with multiple tools for various occasions!