10 Best AI Marketing Tools to Help You Boost Traffic & Sales
If you're looking to take your marketing game up a notch, you need to start using AI marketing tools. These tools use artificial intelligence to help you improve your digital marketing strategies to boost brand awareness, traffic, and sales.
This blog post covers some of the best AI-powered marketing tools out there. They fall under several different categories, such as writing, SEO, and content creation, but all contribute to your business reaching a wider audience online. I'll include the key features as well as the pricing of each tool.
Best AI Marketing Tools for Writing
1. Jasper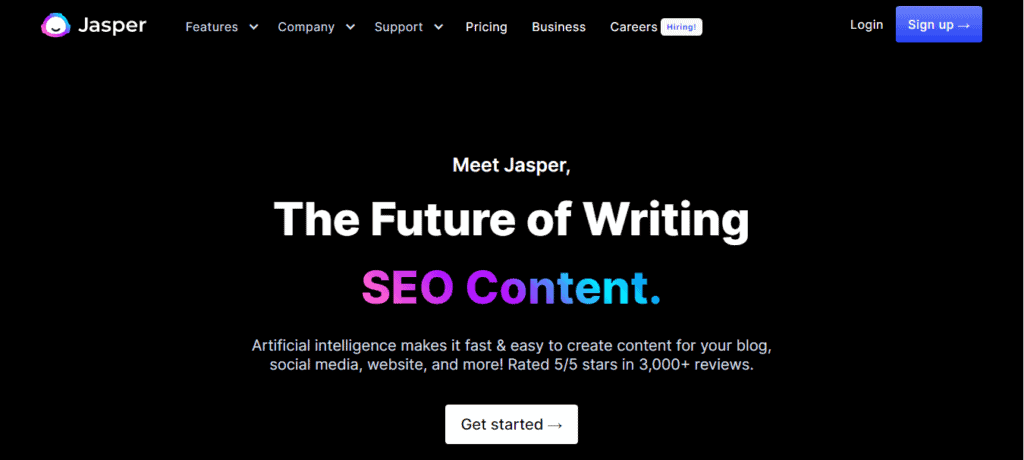 Jasper is among the best AI writing tools designed to help you create content faster, better, and more efficiently. It uses natural language processing (NLP) technology to provide you with suggested topics, headlines, ideas, and even copy that can be used in your marketing campaigns.
It's also capable of generating longer blog content. You simply provide a topic and keywords and let it write the draft for you.
The good thing is that Jasper's writing is free of grammatical errors and plagiarism. Even so, the platform integrates with Grammarly, a grammar-checking tool, and also has its own built-in plagiarism checker to ensure originality.
Besides, there's Jasper Art, which uses AI-based technology to design stunning art and visuals that you could use in your online marketing campaigns. All the generated images are free to use for commercial purposes.
Best Features
AI copywriting tool: Write marketing copy such as ads, product descriptions, and emails.
Long-form writing assistant: Use Jasper's Boss Mode to write blog post drafts faster with minimal edits.
Rewriter: Make your existing text clearer and easy to understand.
SEO: Generate SEO-friendly content including meta descriptions and titles.
Plagiarism checker: Find out whether any piece of text is copied from somewhere else.
AI-powered art generator: Create visuals for your marketing campaigns on social media or your website using Jasper Art.
Pricing
Jasper has 3 plans for users.

Creator: $49 a month
Teams: $125 a month
Business: Offers custom pricing
Both Jasper AI Writer and Jasper Art have free trials. With Jasper AI Writer, you can enjoy a 7-day trial before deciding to upgrade.
2. Copy.ai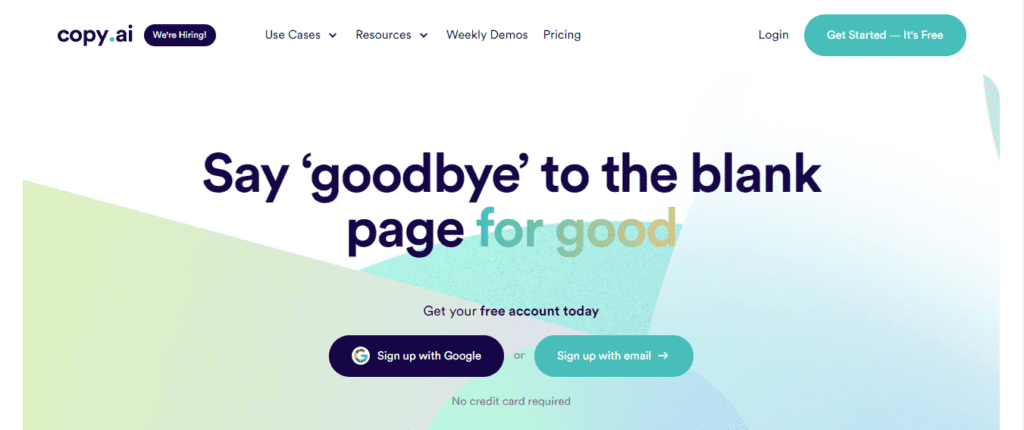 Copy.ai is a copy generator that can help you create high-quality, SEO-optimized copy for your marketing campaigns in no time. It uses AI to generate social media posts, emails, and product descriptions based on your input. In other words, you get high-quality texts that can convert your readers into customers.
This AI copywriting tool can also curate content for blog posts within seconds, and create custom and unique articles that don't appear elsewhere on the Internet. So, whatever industry you're in, whether marketing, real estate, or HR, you'll be able to create content in no time.
Best Features
90+ copywriting tools: Generate copy for social media posts, emails, and product descriptions with ease.
Unique articles: Write original blog posts using Copy.ai's blog wizard tool.
SEO-optimized texts: Get SEO-optimized text to help you get higher rankings on search engines.
Caption generator: Find suitable captions for Instagram and TikTok.
Pricing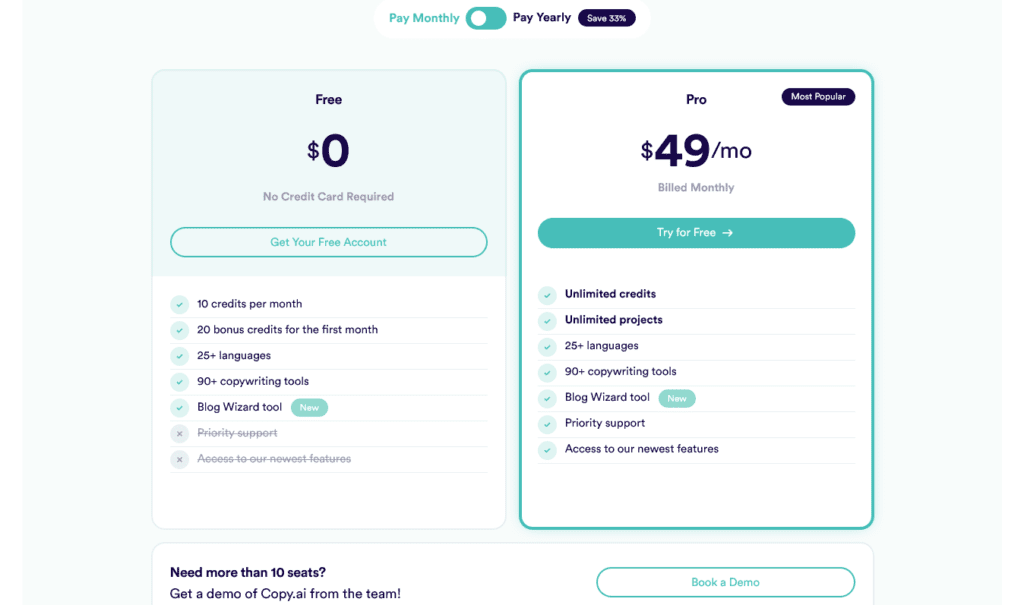 Copy.ai has two plans, a free and a paid one. Free goes for $0 a month and Pro starts from $49 a month.
3. Quillbot

If you need an AI-powered paraphrasing tool to create original content, Quillbot is for you. This powerful AI-powered writing assistant helps you write better content with fewer errors. It uses natural language processing to understand the structure of your sentences and suggest better alternatives.
With Quillbot, you can rephrase any text and make it unique. It can be helpful for changing how your marketing copy or blog paragraphs sound by providing you with the right alternative words and sentence structure. You get to improve readability and content delivery and get rid of plagiarism as well as redundancy.
There are two free modes and more paid ones on Quillbot. This platform also has its own grammar checker to detect typos and make sure your text is free of errors before publishing it online.
Best Features
Paraphrasing tool: Rewrite existing texts to make them sound more natural.
Plagiarism detector: Check for plagiarized content and get original and unique text.
Grammar checker: Detect typos and make your copy error-free.
7 modes: Use a variety of modes such as Standard, Formal, and Creative.
Sentence expander and shortener: Increase or decrease the amount of text to suit your word limits.
Pricing
Quillbot has free and paid options. Free costs nothing while Premium is as follows:

Annual: $4.17 a month paid yearly
Semi-Annual: $6.66 a month paid twice a year
Monthly: $9.95 a month paid monthly
4. Paraphrasingtool.ai
Paraphrasingtool.ai is a sophisticated tool, backed by AI, that aids in creating unique, optimized content by rephrasing existing texts. It is specifically designed to improve the quality and readability of content while eliminating redundant phrases and plagiarism.
With Paraphrasingtool.ai, you can paraphrase your content, making it more engaging and original. It is highly beneficial for rewriting marketing copy, blog posts, or any textual content, as it offers alternative words and sentence structures to enhance your content's readability and delivery.
Paraphrasingtool.ai provides both free and premium modes, each with its unique set of features. Furthermore, the platform comes with an inbuilt synonym changer that allows you to modify individual words to make the content even more distinctive.
Best Features
AI paraphraser: Leverage AI to rewrite your text, making it more engaging, original, and suitable for your target audience.
Exceptional AI paraphrasing modes: Choose from eight different modes, including Free Rewriter, Text Improver, Near Human, Plagiarism Remover, Creative, Academic, Quill Text, and Sentence Rephraser, to suit your specific needs.
Four different writing tones: Depending on your content context, you can select between casual, formal, professional, and witty tones.
Synonym changer: This feature allows you to change individual words for their synonyms, making your content unique.
Web browsing: Paraphrasingtool.ai enables you to surf the web within its interface, making the process of copying, pasting, and rephrasing content more efficient.
Audio, image, and speech-to-text paraphrasing: This tool is capable of paraphrasing content from different formats, including audio and image files, providing a comprehensive solution for all your content needs.
Sentence level paraphraser: It not only provides alternative sentences for the text but also presents five different sentence options for each paraphrased sentence, enabling you to choose the one that fits best.
Pricing
Paraphrasingtool.ai offers both free and premium plans. The free version comes with limited features, while the premium version offers full access to all features and functionalities.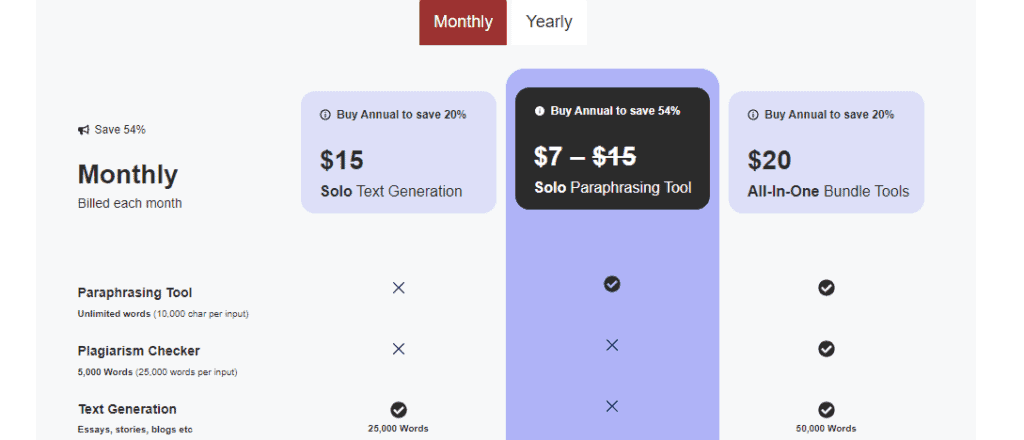 Solo Text Generation: $15 a month or $144 a year
Solo Paraphrasing Tool: $7 a month or $60 a year
All-in-One Bundle Tools: $20 a month or $192 a year
Best AI Marketing Tools for SEO
5. Surfer SEO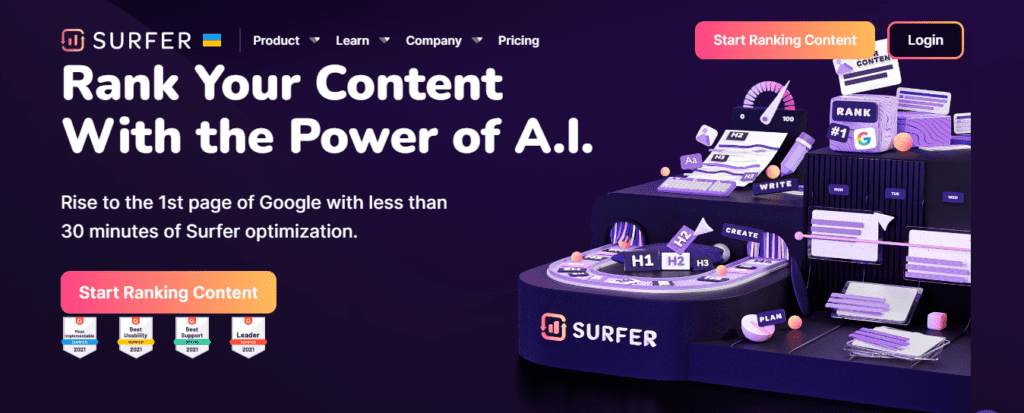 Surfer SEO is a powerful AI-driven marketing tool for SEO that helps you boost your website's visibility and traffic. This AI SEO tool uses advanced algorithms to analyze the top-ranking pages across popular search engines and suggests changes that you can make to your site's pages to improve their ranking. This way, you get more organic traffic and leads for conversions.
Its AI outline generator allows you to come up with headlines and paragraphs to use in your content. You no longer have to spend a lot of time brainstorming, researching, and organizing your blog post ideas.
Plus, Surfer SEO comes with a content editor where you can easily structure an article, add keywords, and get overall feedback on how well-optimized it is.
Best Features
Advanced search engine optimization: It analyzes top pages from search engines and suggests changes to improve your page's ranking.
Content editor: Write or make SEO changes to your copy or blog content with ease.
Research-driven insights: Get data-backed insights or suggestions to boost your website rankings.
Keyword research: Find the most relevant keywords for your brand and include them in your content for good rankings on search engines.
Content score: Get feedback on the on-page optimization of any piece of content and know which areas of the text need improvement.
Jasper integration: Integrate Surfer SEO with Jasper and get features from both tools in one place.
Pricing
Surfer SEO has several plans for users, starting from $29 a month.

Essential: $89 a month
Advanced: $179 a month
Max: $299/month
Enterprise: Custom pricing
6. MarketMuse

Wondering which other AI marketing tool you need? MarketMuse is an AI-powered content optimization platform. It helps you create more insightful and impactful content by analyzing your existing content and recommending topics, keywords, and phrases to include in your next article.
It also offers a suite of tools that make it easy to research popular topics related to your industry, find the right keywords for SEO, and curate content from other sources. Plus, you don't have to be an expert writer or SEO specialist to use MarketMuse; the platform offers step-by-step guidance so you can create content that drives more traffic and engagement.
Best Features
Content optimization engine: Analyze existing content for insights into what topics, keywords, and phrases to include for maximum impact.
Topic research tool: Quickly find popular topics related to your industry.
SEO keyword research tool: Find the best keywords to rank higher in search engine results pages (SERPs).
Content briefing: Create detailed briefs to guide your content creation process.
Pricing

Free: $0 a month
Standard: $149 a month
Team: $399 a month
Premium: Custom pricing
Best AI Marketing Tools for Content Creation
7. Synthesia
Need an AI-powered video platform that helps you create high-quality videos quickly and efficiently? If so, Synthesia may interest you. It's known for its ability to create videos from plain text.
What happens is that you provide a text, and the AI will automatically generate a real voice and video of the speaker. There are lots of AI avatars to choose from on Synthesia, depending on the type of voice actor you need. You can find all the major languages and accents to accurately reach the audience you're targeting.
The platform also offers a wide range of customization options so you can create something truly unique. There are lots of video templates depending on the type of video you need, such as training, sales, business, or voice only, as well as a built-in screen recorder and media library.
Best Features
85+ AI avatars: Access diverse AI avatars of either gender and various ages and races, depending on what you need for your video.
120+ languages and accents: Reach different countries and target audiences with the right voice actors, whether it's English, Spanish, German, or any other.
55+ customizable video templates: Choose the best templates for how-to videos. presentations, and more.
Real voices: Use real voices instead of computer-generated ones to make your videos more engaging.
Media library: Access a rich library of images, music, and videos to create high-quality content quickly.
Screen recorder: Easily capture your screen to make tutorials or explainer videos.
Pricing
Synthesia has 2 pricing options, Personal and Corporate. Personal costs $30 a month while Corporate is a custom plan.
8. Play.ht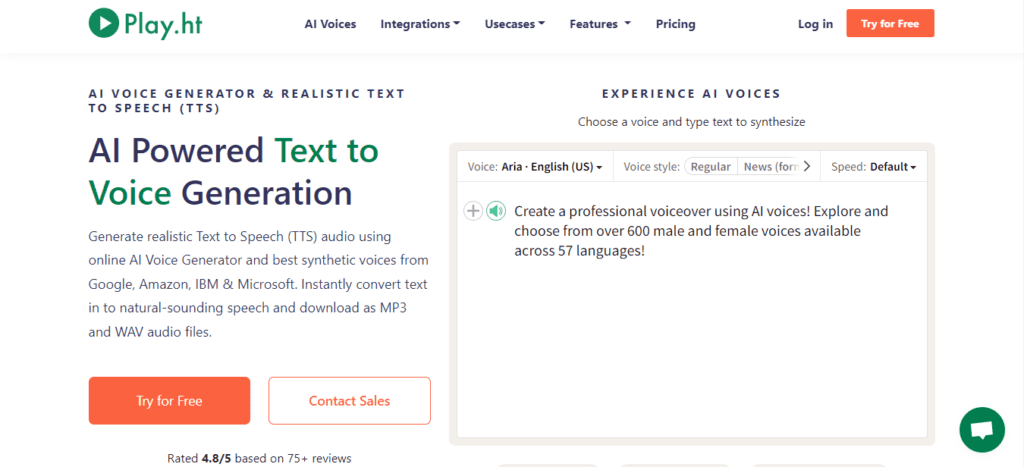 If you need an AI marketing software tool for easy text-to-audio creation, this tool suits you. Play.ht helps you create engaging audio ads and voice products in no time.
Play.ht can convert text into natural-sounding speech with the help of AI, giving you the confidence that your ads don't sound mechanical or robotic. It's also great for podcasts and educational content, as well as any other type of content that needs to be heard rather than read. You could even use the audio in blog posts (audio articles) or create a marketing video out of it using a video editor.
The platform also offers a wide range of customization options so you can make your audio products unique. You can change the speed and even clone a specific voice depending on your needs.
Best Features
900+ voices: Get natural-sounding voices from males, females, adults, young people, old people, and more.
Ultra-realistic voices: Generate voiceovers that sound as real as actual humans.
140+ languages: Create audio ads in any language you need.
Speed and tone control: Adjust the speed and tone of your audio products to make them sound more dynamic.
Clone voices: Clone a voice that you like to get the same effect in your audio product.
Pricing
Plans for individuals:

Personal: $19 a month
Professional: $39 a month
Growth: $99 a month
Plans for teams and enterprises:

Team costs $198 a month for 2 users or $99 a month per user for up to 5 users. Enterprise has custom pricing.
9. Lumen5

Lumen5 is an AI-powered video creation tool. It allows you to create eye-catching videos in minutes using its library of visual assets, music, and templates.
It uses natural language processing (NLP) to analyze your text or blog post and extract key phrases to use as the basis for your videos. You can then customize the images, videos, and music to bring your video to life.
Finally, Lumen5 offers a wide range of features for editing your videos, such as cropping and resizing clips, adding text and transitions, customizing the background, and more. Heck, you can even turn a recorded Zoom meeting into stunning video clips for marketing!
Best Features
Drag-and-drop video creation: Quickly create videos by dragging and dropping video clips, images, and text onto the timeline.
Stock library: Access a massive library of free stock photos and videos to add visuals to your videos.
Music library: Add music from Lumen5's music library or upload your own audio files.
Customizable video templates: Choose from a variety of templates, including promotional videos.
Pricing

Community: $0 a month
Basic: $29 a month
Starter: $79 a month
Professional: $199 a month
Enterprise: Custom pricing
10. Designs.ai

Maybe you need an AI-powered design platform that helps you create stunning visuals quickly and easily. In that case, you may need Designs.ai. You can use the platform to generate logos, mockups, banners, social media graphics, and more with automated design templates.
The platform also offers a range of creative tools that make it easy to customize your designs and bring your ideas to life. From editing images to adding text and brand colors, Designs.ai makes it easy to create gorgeous visuals without design experience.
As if that's not enough, you can even create audio or videos from text using Designs.ai for use in tutorials, explainers, and sales videos. It's a great place to turn your articles or scripts into speech or clips that you can edit right away by adding effects, animations, and more.
Best Features
Template library: Create stunning visuals with automated design templates.
Media library: Access over 10 million clips, 170 million images, and 500,000 audio files.
Graphic editor: Edit images with a range of tools such as crop, resize, rotate, and more.
Text Editor: Add text to your images with a range of fonts, colors, and more.
Video maker: Turn text into well-edited videos in a variety of languages.
Speech maker: Over 50 voices are available to convert your text to speech.
Pricing

Basic: $29 a month
Pro: $69 a month
Enterprise: Customized
Why Do You Need AI Marketing Tools?
AI marketing tools are an invaluable resource for any business.
Write content faster: By using AI tools to analyze text and generate ideas, you can write content faster for your website or social media pages than ever before.
Effortless search engine optimization: AI tools can help you optimize your content for search engines and make sure it's getting seen by the right people.
Create visual content quickly and easily: Quickly create eye-catching visuals with automated design templates or by turning your text into videos or audio clips for use in social media.
Save time on mundane tasks: AI tools can take care of time-consuming tasks such as content planning and keyword research, leaving you more time to focus on your core business activities.
Save money: AI tools can often be cheaper than hiring an agency or freelancer, so you can get professional-looking visuals without breaking the bank.
Conclusion
AI marketing tools are an essential investment for any business that wants to save time and money on tasks such as content creation, graphic design, and search engine optimization. You just need to pick one or two that best suit your business when starting out and you'll be able to make progress faster.
Some of the listed tools have a variety of use cases. This means that you can get more done using just one platform and not a couple of separate ones. So go ahead and automate your tasks and enhance business productivity!