QuillBot Review 2023 (My Actual Experience)
If you're looking for a QuillBot review from an actual user, you've come to the right place. While searching for the best paraphrasing tools available online, I stumbled upon QuillBot and saw it wise to review it for my readers.
As an article writer or website owner, you may sometimes feel stuck when trying to come up with unique content that people will love. I mean, with so many blogs on the Web, it seems like everyone has written about everything!
It becomes hard to reach the target audience if your content lacks originality and quality. The reason for this is that your posts won't rank well on search engines like Google.
With QuillBot AI by your side, you can create quality content without having to spend hours or days or even hiring an expensive team. Read my comprehensive QuillBot paraphrasing tool review for more details.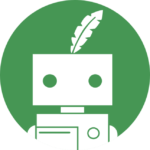 QuillBot Review 2023: Summary
Ease of use:
4.8 out of 5.0 stars4.8

Customer support:
4.6 out of 5.0 stars4.6

AI paraphrasing and writing features:
4.6 out of 5.0 stars4.6

Integrations:
4.0 out of 5.0 stars4.0

Security:
4.8 out of 5.0 stars4.8

Pricing:
4.8 out of 5.0 stars4.8

Overall rating:
4.6 out of 5.0 stars4.6


QuillBot Review: Overview
First, let's look at a quick summary of QuillBot and what it does.
What Is QuillBot?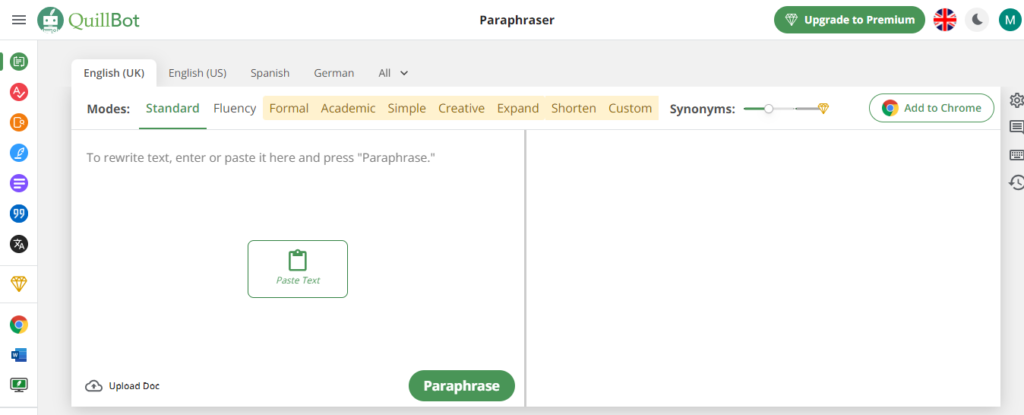 QuillBot (often misspelled as Quilbot and Quiilbot) is an artificial intelligence writing tool that can assist you in paraphrasing and generating written content. The paraphraser tool was founded in 2017 by three entrepreneurs looking to make writing a smooth process. While it's mostly known for article rewriting, there are more things that the AI tool offers.
QuillBot works by utilizing natural language processing (NLP) algorithms to analyze and understand text. This allows the tool to provide alternative suggestions, synonyms, and rewordings for sentences and paragraphs.
What QuillBot aims at is to help users improve their writing by offering different ways to express ideas. Using QuillBot is a great way to enhance clarity and facilitate the creation of more coherent and polished written content.
Other than article rewriting, it can be used for various purposes, including academic writing, content creation, and language improvement in general. Also, it supports multiple languages with all the widely used ones included.
Check out this quick video explanation of Quillbot:
Who Should Use QuillBot?
QuillBot can be useful to a wide range of individuals and professionals who engage in all sorts of writing activities. Below, I'll list some groups of people who may find value in using QuillBot:
Students: QuillBot can assist students in rephrasing and expanding academic writing tasks like essays, research papers, reports, and presentations.
Writers and content creators: Authors, bloggers, journalists, and other professionals involved in content creation can benefit from QuillBot's paraphrasing capabilities. It provides fresh perspectives, suggests alternative words, and helps overcome writer's block.
Non-native English speakers: Non-native English speakers who want to enhance their writing skills and fluency can find QuillBot to be a useful tool too. Since it offers corrections for grammar mistakes, vocabulary enhancements, and sentence structure improvement, such users can express their thoughts with more confidence.
Editors and proofreaders: QuillBot can serve as a helpful resource for editors and proofreaders by offering alternative word choices. It can assist them in refining the clarity and readability of written content such as articles, manuscripts, or other written materials.
Business professionals: Professionals who need to draft business communications, reports, or presentations could also use the assistance of QuillBot. The tool enhances the effectiveness of written messages and ensures professionalism is upheld at all times.
QuillBot Features
QuillBot offers a suite of tools that focus on helping you write better. Let's explore what these features of QuillBot are and how you can use them to the fullest.
1. QuillBot Paraphrasing Tool
QuillBot's paraphraser is one of its key features that sets it apart as a writing tool. In other words, it's one of the top paraphrasing tools online that you can use for free (up to 125 words).
The paraphraser tool uses advanced algorithms and natural language processing techniques to rephrase and rewrite sentences while preserving the original meaning. You won't have to worry about losing the main ideas or concepts in a piece of writing.
Here's what this paraphraser can do:
Paragraph rewriting: Unlike some other tools that can only help you improve one sentence at a time, QuillBot can paraphrase entire paragraphs and articles at once.
Improving sentence structure: A good sentence structure is what you need so that people can easily understand what you've written. QuillBot helps you achieve the same.
Providing synonyms: QuillBot offers alternative word choices from its library so that your writing doesn't look repetitive or unoriginal.
Options for different writing styles: QuillBot's paraphraser can adapt to different writing styles and tones depending on your needs.
Plagiarism prevention: The paraphraser offers alternative phrasing and thus can be a valuable tool for students, researchers, and writers who need to avoid plagiarism.
Now, QuillBot has 9 modes when it comes to paraphrasing your work. These paraphrasing modes are:
Standard
Fluency
Formal
Simple
Academic
Creative
Expand
Shorten
Custom
It's simple how to use the QuillBot paraphrasing tool:
Go to QuillBot.com
Pick a paraphrasing mode
Paste your text into the editor
Click on "Paraphrase"
Copy the output for use
Standard Mode
This is the first of QuillBot's paraphrasing modes that you can use for free. It's the one that appears by default when you go to the QuillBot editor. I tested it to learn what it can do.
I'll provide the original text and the generated output below: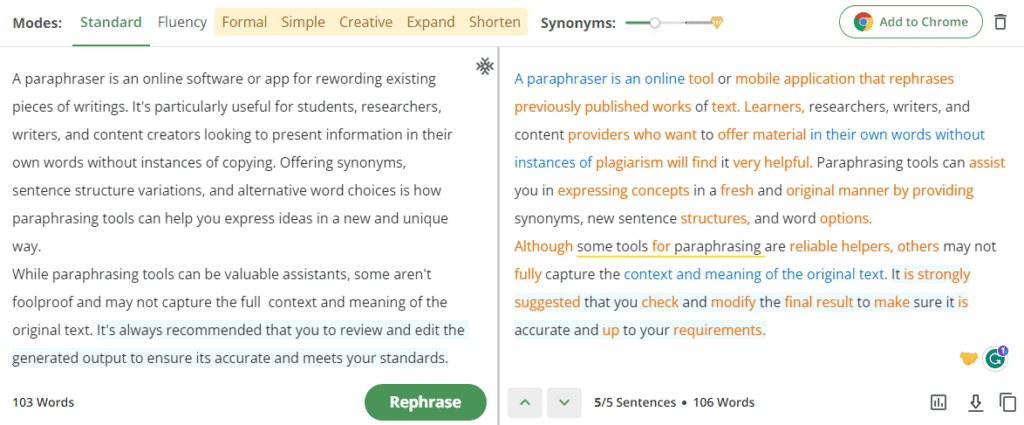 The Rephrasing Twist and Synonyms
Now, you have to know that the result you get isn't the final one. You can still click on the "Rephrase" button to get an alternative variation. Simply put, QuillBot allows you to paraphrase the paraphrased text again!
Other than that, you're allowed to go to the generated output box, click on specific terms in the text, and you'll see options to use synonyms. There's also a synonyms bar at the top.
You can slide it back or forward to make the generated output contain fewer or more synonyms. Keep in mind that setting it to show more synonyms may reduce the overall accuracy of the generated text.
Fluency Mode
This is the mode to make your text more fluent. Fluent text is one that a native language speaker can read because it sounds natural to them. In other words, you need fluency to ensure that your writing is easy to read and comprehend.
And so, this paraphrasing mode is one of the best ones for non-native users. Even if you don't know English or another popular language well, you can use this mode to polish your language and make your text appear as though it was written by a natural speaker of the language.
In the example that follows, I made tweaks to the original text to make it look less fluent.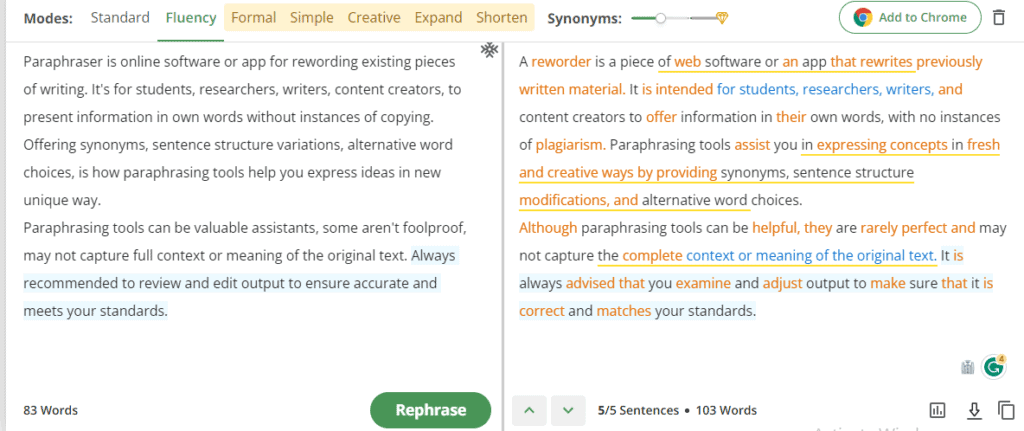 QuillBot was able to make it more fluent again. As you can see, the generated text sounds much better than the input.
Formal Mode
QuillBot's Formal Mode is one of the writing modes offered by the tool that focuses on helping you create content with a more formal and professional tone. This mode is particularly useful for individuals who need to write academic papers, business documents, professional emails, or any other type of formal communication.
The Formal Mode suggests a range of formal vocabulary options to elevate the tone and style of your writing. It can replace casual or informal words with more appropriate and we could say, "sophisticated" alternatives.
Simple Mode
If you need to generate content with a straightforward and concise style, the Simple Mode is what you need. You get a chance to convey your message in an easily understandable manner.
What happens is that in the Simple writing mode, QuillBot suggests simpler and more commonly used words. You avoid technical terms and jargon and can thus cater to a wide range of readers. In fact, this mode can help you reword a complex paragraph into something that even a school kid or someone with limited language abilities can get.
Academic Mode
In the Academic mode, QuillBot is optimized to provide specific assistance for academic and research writing. If you want to write reports, essays, and other academic papers, this mode can help.
Creative Mode
Do you need a mode that inspires creativity and assists you in generating more imaginative and expressive content? Well, this is it.
You get to use playful phrasing, idioms, metaphors, and other forms of figurative language. With this mode, it becomes easier to make your text more evocative. You can easily evoke the emotions or imagery you want to by using it.
Expand
This mode does exactly what it says too, that is, expanding sentences. Expanding a sentence involves adding more information, details, or context to give a comprehensive and thorough expression of an idea. It helps to develop the sentence further, making it richer, more engaging, and better able to convey the intended message.
Sentence expanding applies in cases such as academic writing, descriptive passages, storytelling, or whenever a deeper level of explanation is needed. It could involve vivid imagery, sensory language, or specific adjectives. It also is about providing further explanations or clarifications in separate sentences to ensure the reader fully grasps the intended concept or idea.
Shorten
Shorten is the opposite of the Expand writing mode. This QuillBot mode is simply for shortening sentences and paragraphs. Even though QuillBot can condense or reduce text length, it retains the essential meaning and passes the original message effectively.
What happens is that it removes any aspects of repetitiveness. It also combines related sentences while focusing only on the key information. The tool also does things like converting passive to active voice (which is usually more direct).
2. QuillBot Grammar Checker
QuillBot's grammar checker is a valuable feature that helps you improve the grammatical accuracy of your writing. It's available on QuillBot's free version and allows any number of words. It can spot a wide variety of grammar errors.
When you input text into the grammar checker, the tool scans it for common grammatical mistakes, including issues with verb agreement, sentence structure, punctuation, capitalization, and spelling. QuillBot's Grammar Checker also offers real-time feedback as you type. It identifies and highlights the mistakes with an underline in red for you to review and correct right away.
You can even see the number of errors the tool has counted. There's a "Fix All Errors" button at the bottom that fixes grammatical errors in your text all at once.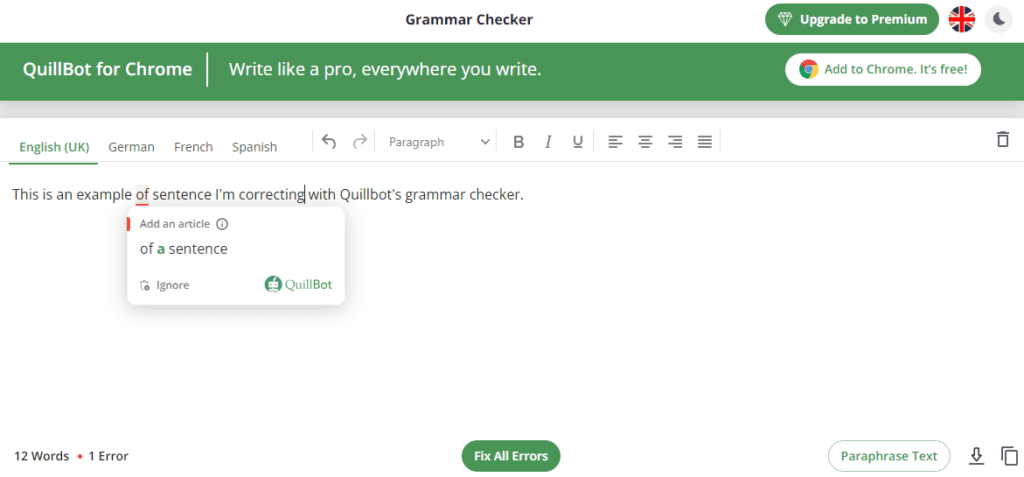 Now, I found that QuillBot isn't as good as Grammarly, a grammar checker that offers more advanced insights like better sentence clarity. Still, QuillBot can catch common grammatical errors and ensure your content is published mistake-free.
3. QuillBot Plagiarism Checker

Maybe you're looking to ensure the originality and integrity of your written work. Quillbot's plagiarism checker tool can detect instances of potential plagiarism by comparing your text against a vast database of online sources, academic papers, articles, and other published materials.
The tool checks for similarities in sentence structure and wording. Upon completion of the plagiarism check, QuillBot provides you with a percentage match that indicates the level of similarity found in the text. It also shows specific sections or sentences that may require attention along with potential sources where similarities were found.
To use the tool, you just need to add your document in the file types of txt, pdf, docx, or HTML. You'll have an originality report in just minutes!
4. Quillbot Summarizer
QuillBot's summarizer is what you need to distill lengthy texts into concise summaries that capture the main ideas, key points, and essential information. You can use it for free (up to 1,200 words).
It saves your time by providing an efficient way to grasp the core content without reading an entire document. The QuillBot summarizer tool works in two ways.
First, you can select the "Key Sentences" option. This is where you let the tool help you extract the most important sentences and create a bulleted list for you.
You can even choose the summary length. "Short" means that you need it as short as possible while "Long" enables you to have most of the information intact but now packaged as a list.
Here's an example of a shortened version with key points:

Next, we have the "Paragraph" option. You can choose this to simply reduce the number of words in a paragraph. Below is an example where the summarizer tool helped me cut the amount of text by half: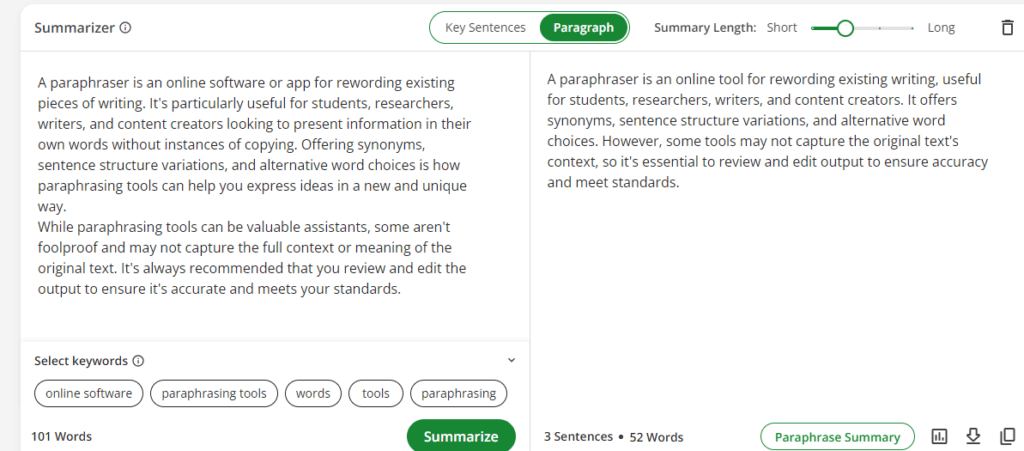 5. QuillBot Citation Generator
Do you need assistance in generating accurate citations for your written work? If that's so, this citation generator can help. It's designed to save time and ensure proper citation formatting by automating the process of creating citations in various citation styles.
The tool can cite sources like webpages, journal articles, reports, videos, online dictionary entries, and more. The following example is a webpage on Scribbr about how to paraphrase: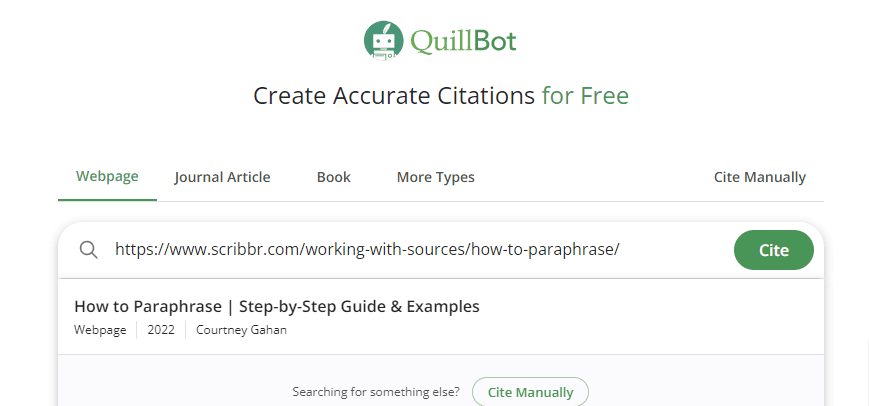 6. QuillBot Translator
If you didn't know, you can translate text in over 30 languages using QuillBot. You can translate on the free version up to 5,000 characters (the character limit).
QuillBot will automatically detect the language of your input. You just have to select the language to which you want the text to be translated. Below, I translated some text from English to Spanish: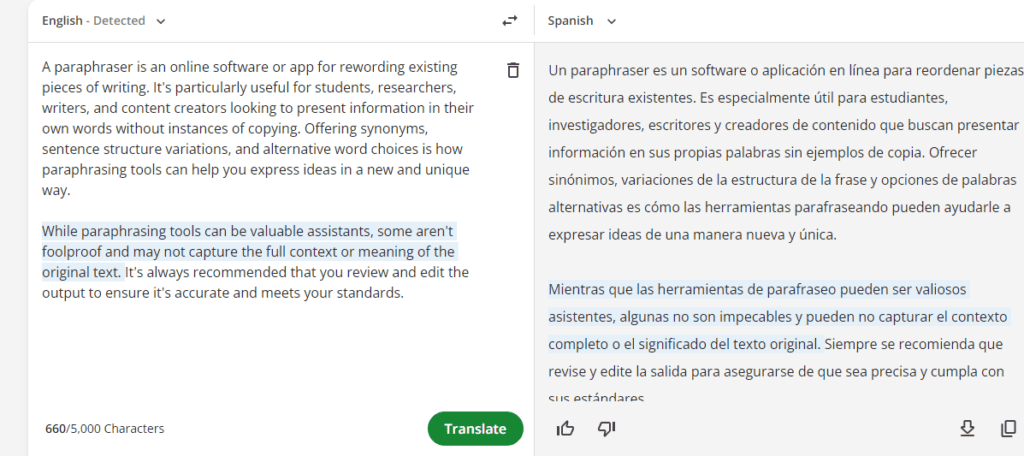 7. QuillBot Co-Writer
Co-Writer serves as an editor like Google Docs or MS Word, and you can use the QuillBot suite of tools (paraphraser, grammar checker, summarizer tool, etc.) in one place.
You can either paste text in the editor or upload a file and use QuillBot for editing. It allows you to add images, and structure your writing with headings and paragraphs, among other things.
What's more interesting is that this is where you also access the AI writing assistant from QuillBot. You can use it to generate text from scratch.
For it to do so, you need to provide some context. This happens by you writing a few words or sentences first and then clicking on the button that says "Suggest Text." It's an awesome tool to steer clear of writer's block and never again feel stuck when writing.
Co-Writer even has templates to help you begin writing. These are blog post, essay, and research paper templates (MLA and APA). Once you're done, there's the option to listen to the text and export it.
8. Quillbot Chrome Extension
QuillBot's Chrome Extension is a powerful AI tool that brings the functionalities of QuillBot directly to your web browser. The Google Chrome Extension allows you to access QuillBot's writing features without leaving your current web page.
With just a few clicks, you can access the extension's menu and utilize QuillBot's capabilities. No more switching tabs when working on Google Docs or any other online editor!
9. QuillBot for Microsoft Word
QuillBot's magic continues! You can get the QuillBot Microsoft Word plugin that works with Windows on the Microsoft Store.
Upon inserting this add-in, you'll be able to use one of the best AI writing tools right on one of the most likable document editors.
QuillBot Pros and Cons
Next in this QuillBot review, here's what I like and what I don't about QuillBot.
Pros: What I Like about QuillBot
✔ Offers various free tools, including the paraphraser (Standard and Fluency modes), grammar checker, summarizer, citation generator, and translator
✔ Chrome extension to use the tool anywhere online
✔ Light and dark web app versions depending on user preferences
Cons: What I Don't Like about QuillBot
❌ Not all of its paraphrasing modes are free
❌ QuillBot's plagiarism checker has no free (limited) access like its other tools
QuillBot Plans and Pricing
Moving on to how much QuillBot costs to use.
Is QuillBot Free?
QuillBot AI offers a set of tools, many of which are free to use. You can use the following with the free plan on QuillBot:
Paraphraser (two modes and up to 125 words)
Grammar checker
Summarizer (up to 1,200 words)
Citation generator
Translator
QuillBot Premium: How Much Does It Cost?
Besides the free plan, there's QuillBot Premium, the paid plan on QuillBot. The QuillBot premium version is priced as follows:
Annual ($4.17 a month)
Semi-Annual ($6.66 a month)
Monthly ($9.95 a month)
Now, you've already read my QuillBot Premium review and what it does is unlock extra features. These are the 5 other paraphrasing modes (Formal, Simple, Creative, Shorten, Expand) with unlimited words, plus the plagiarism checker.
It also offers advanced rewrites and tone detection. Moreover, you'll find that QuillBot Premium is faster than the QuillBot free version.
Besides the premium paid plan, there's a recently introduced Team plan in QuillBot pricing for groups of writers.
The good thing is that you can use a QuillBot discount code that the company provides time and again to save more money. Feel free to use the discount code "GOPREMIUM" when checking out for 20% off the premium plan (annual).
QuillBot Review 2023: FAQs
Below are some frequently asked questions about QuillBot.
Is QuillBot plagiarism-free?
Yes, the QuillBot rephrasing tool produces original texts. In fact, that's the whole point of any high-quality online rewording tool.
If you need one of the best plagiarism checkers, QuillBot offers the same to its users. You can add your text to it and get a report that shows whether the work is original or plagiarized.
Does QuillBot detect AI?
At the moment, QuillBot doesn't work as an AI detector. Still, the tool can help you generate new content out of preexisting text or even from scratch using its AI writer.
QuillBot is among the best AI writing tools that focus on providing original blog posts, essays, and research papers that sound human-written. It won't be something that sounds robotic and out of place.
How Many Words Can QuillBot Paraphrase for Free?
QuillBot can paraphrase a total of 125 words for free. Anything beyond this requires you to have a paid subscription to QuillBot Premium.
And it's quite affordable at $9.95 per month (you save more with the annual option which translates to $4.17 per month).
QuillBot Paraphrasing Tool, Grammar Checker, and Plagiarism Checker Review: Conclusion
I would recommend the QuillBot AI tool to anyone who needs to improve their writing. You can use it regardless of your proficiency in English or any other language.
The tool can help you generate new ideas, correct any spelling mistakes you may have missed, and check how unique your content is. You can use QuillBot for free and access a good number of the features it has.
The QuillBot premium version takes things to the next level for you. It's how you get to enjoy the full functionalities of the app and never look for any other tool like it again.
Hope you enjoyed this QuillBot AI review!