5 Best Virtual Business Address & Mailbox Services
The emergence of virtual business addresses has changed how businesses approach mail management. It's now possible for your small business to thrive without the confines of traditional brick-and-mortar setups.
Gone are the days when physical office spaces were the sole credibility markers. Getting a virtual business address is a much-needed solution for businesses seeking to project a prestigious image without the burden of physical infrastructure.
In this article, you'll discover the best virtual mailbox services, along with the top features and pricing. It doesn't matter whether you're a burgeoning startup, a remote-based enterprise, or an LLC. Read on to discover the top tools you can use to elevate your professional standing.
More resources for going digital:
What Is the Best Virtual Mailbox Service?
Below are my picks for the top virtual addresses for businesses, including LLCs.
1. iPosta1
(Best Virtual Mailbox of All)

First on the list of the best virtual mailing addresses is iPosta1. It suits both personal and business mail for US and international users.
With iPosta1, you get a real, secure, and professionally-staffed street address. You can pick from 2,700+ shipping stores or office buildings from its international network.
iPosta1 provides International forwarding addresses to 15+ countries, including the UK, Canada, Spain, Switzerland, China, and more. Addresses for registering businesses are available.
After selecting a plan, the next thing is to file Form 1583 (USPS), which authorizes the chosen address to receive mail for you. When a mail arrives, iPosta1 takes a picture of it for your viewing. This digital mailbox provider allows you to view and manage your mail on the site or through its mobile app.
You can decide whether to let them open and scan it for you, store it, or discard it. iPosta1 can also forward letters or packages from USPS, FedEx, UPS, and DHL to any other address you provide.
The platform also has solutions for local and toll-free phone and fax. If you add a phone line, you can forward calls and listen to voicemail messages.
There are options to organize your mailbox by creating folders. What's more, iPosta1 can securely upload documents to the cloud for you. There's unlimited cloud storage at your disposal.
iPosta1 Pricing
iPosta1 offers plans according to the mailbox solution you need.

Virtual Mailing Address: Starts at $9.99/month
Virtual Business Address: Starts at $9.99/month
Virtual Office: Starts at $39.99/month
The costs vary based on whether you need Standard, Select, Premium, or Prestige mailbox locations.
2. Anytime Mailbox
(Best Virtual Mailbox for Travel)

Anytime Mailbox is another virtual mailbox service that can offer you a modern and convenient way to manage postal mail and packages. Just like iPosta1, its selection of 1,900+ well-staffed locations is spread across the US and internationally.
What happens is that you can use the service from anywhere in the world, 24/7. If you just need a temporary mailbox for travel, the good news is that you can use the service for as little as one month.
For every package or letter, Anytime Mailbox's staff will scan the label and send you an alert. You can get notifications on any device, whether that's through its app, text messaging, or email.
You'll then have to decide how you want them to handle it. The options include scanning, forwarding the package to you, holding it for pickup, or shredding it.
One thing I liked about Anytime Mailbox is its friendly and helpful customer service representatives. The platform is easy-to-use and also features tutorial videos and a FAQ section for you to get all the answers to your queries.
Anytime Mailbox Pricing
The pricing of Anytime Mailbox varies depending on the location you pick. Still, the rates start at $5.99/month.
3. Virtual Post Mail
(Best Virtual Mailbox for Remote Businesses)

Virtual Post Mail is a remote business platform that offers various digital address solutions. It has over 26,000 customers in more than 160 countries worldwide.
The thing about this platform is that it offers secure and monitored mailboxes that meet the requirements for banking. And so, if you want to open a bank account, Virtual Post Mail is among the top choices for ensuring you're in full compliance.
Its virtual address services enable you to manage your mail remotely, deposit checks, and handle shipments. I liked the checking feature because you can deposit payments to US banks wherever you are.
Requests undergo processing within a business day and then you can wait for your bank to process the funds. The charges occur per deposit with no initial or monthly fee commitments.
Another great feature of Virtual Post Mail is that you get a free registered agent. This agent handles all your legal documents, annual reports, and taxes, and ensures you're compliant with everything. All documents are accessible on the cloud in PDF format.
Virtual Post Mail Pricing
Virtual Post Mail has 4 plans.
Starter: $20/month
Plus: $35/month
Business: $60/month
Premium: $90/month
It's $10/deposit for the check deposit.
4. PostScan Mail
(Best US Virtual Mailbox)

Also among the best companies that offer virtual business address and mailbox services is PostScan Mail. It has 600+ local mailing addresses that you can use to receive your mail and packages.
Similar to the other mentioned service providers, PostScan Mail scans the front of your mail items and uploads the images to your account for you to take the next action. Its convenient addresses are even available for local pickup whenever you need an item.
PostScan Mail, unlike iPosta1 and the like, only offers US locations. The good thing is that you can select from prestigious options like California, New York, Florida, Washington, and Nevada.
The company can still forward packages to any location in the globe. So, you don't have to worry if you have deliveries coming from Amazon and other popular delivery companies. PostScan Mail offers free storage and affordable shipping rates.
PostScan Mail Pricing
PostScan Mail offers a free trial and a 30-day money-back guarantee.

Starter: $10/month
Standard: $20/month
Premium: $30/month
5. Physical Address
(Best Virtual Mailbox with Private Suites)

Last on this list of the top virtual business mailboxes is Physical Address. Since 2013, the company has attracted over 100,000 customers in more than 50 countries.
Physical Address prides itself on offering real street addresses and private suites. You're the one to pick a suite number.
You're able to view images and PDF versions of your mail securely online. Shredding services are available at zero additional cost. You also get free and unlimited digital storage.
You can integrate your account with Evernote for easy organizing of your documents. This virtual PO box service provider's exceptional customer service available throughout the week is worth mentioning.
Physical Address Pricing
Physical Address has 4 plans, listed below.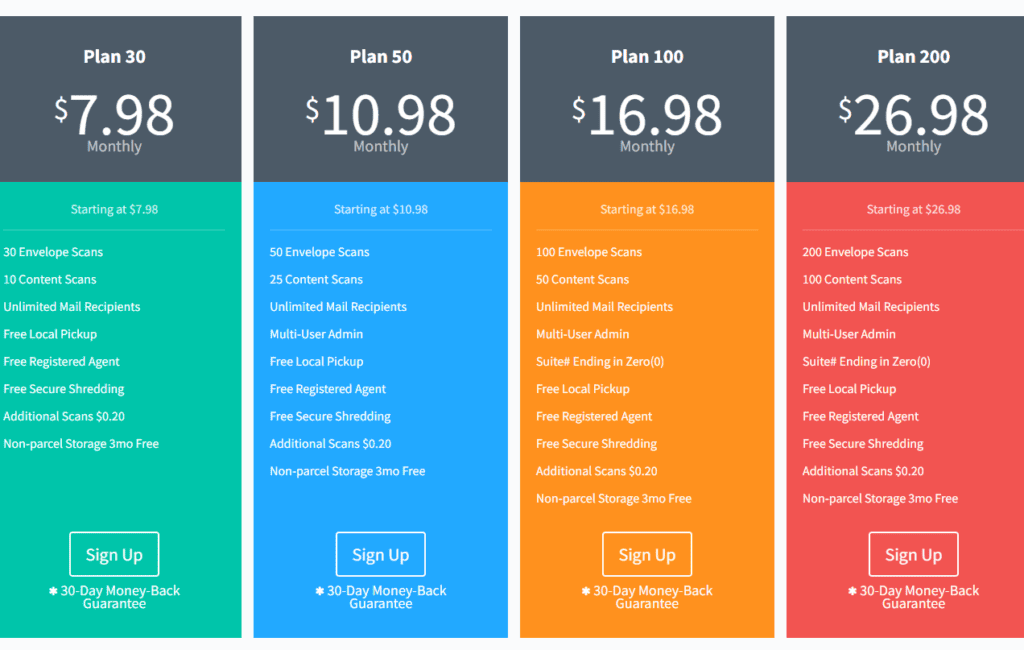 Plan 30: $7.98/month
Plan 50: $10.98/month
Plan 100: $16.98/month
Plan 200: $26.98
What Is a Virtual Mailbox?
A virtual mailbox is a modern solution that allows individuals and businesses to manage their postal mail and packages remotely. These virtual addresses eliminate the need for a physical mailbox or a traditional brick-and-mortar address. In other words, virtual mailboxes serve as digital alternatives to traditional counterparts.
How Do Virtual Mailboxes Work?
Here's how a virtual mailbox works:
Digital mailbox setup: When you subscribe to a virtual mailbox, the service assigns you a unique virtual mailing address. You're able to choose your address from a variety of reputable business locations depending on your needs.
Mail reception: The virtual mail service provider receives any physical mail sent to your virtual mailing address.
Mail scanning: Once your mail arrives, the service provider scans the envelopes. These scans are then uploaded to your online account which you can access through a web-based platform or a mobile app.
Online access: You can log in to your virtual mailbox account from anywhere with an Internet connection. Inside your account, you'll see images of the scanned mail items and packages along with details such as sender information and tracking numbers.
Mail management: From your online account, you can decide how to handle each mail item. Options include having the mail opened and its contents scanned for a closer look, forwarding the physical mail to another address, shredding and disposing of unwanted mail securely, or archiving important documents.
Package handling: In addition to mail, virtual business address services often handle packages. You receive notifications when packages arrive, view their images, and even request forwarding to your preferred address.
How Do I Set Up a Virtual Mailbox?
It's quite simple to create a virtual address for personal or business use. The steps are below:
Choose a virtual mailbox service such as iPosta1, Anytime Mailbox, or Virtual Post Mail
Sign up and select a plan that aligns with your business or professional needs
Choose a location from the available options
Provide the required identification and documentation to confirm your identity and ensure you comply with mail-handling regulations
Update your mailing address with relevant parties, including vendors, clients, and institutions, to start receiving mail and packages
Log in to your virtual mailbox account through your service's online dashboard or mobile app to manage any received mail and packages
What is the Importance of Virtual Mailboxes?
A virtual mailbox assists in multiple areas of your personal and professional life. The benefits are listed below:
Professional image: A virtual business address gives you a prestigious business address in notable locations to boost your credibility.
Remote operations: For businesses with no physical or office space, a virtual mailbox makes remote operations easier by providing a central point for receiving and managing mail.
Global presence: A virtual mailbox allows businesses to establish a presence in different regions without the cost and logistical challenges of physical spaces.
Mail management on the go: During travel, travelers and digital nomads can benefit from a consistent mail management solution.
Cost-effective: Virtual mailbox services are generally more affordable than traditional office rentals.
What Is the Difference Between a PO Box and a Virtual mailbox?
Both a PO Box and a virtual mailbox are mail management solutions. However, they differ in terms of how they operate and the benefits they offer.
A PO box is a physical mailbox. It's located at a post office or other designated mail-receiving facility and you have to visit the post office in person to access your mail. PO boxes also offer limited hours for pickup and have privacy concerns, although your personal address may be hidden.
A virtual mailbox, on the other hand, is an online platform that allows for remote management of your mail and packages. You can access your virtual mailbox anytime through the Web or via an app.
You're the one to choose whether the service provider can open, scan, and forward items. There's no physical handling of the paper mail on your side. Virtual mailboxes keep your personal address confidential and also provide secure digital access to your mail.
Conclusion
As you can see, a virtual mailbox can solve your problem of having a professional business address without maintaining a physical location. The best digital business address services allow you to conveniently manage your mail and packages wherever you're located.
For example, you can get a US business address if you run a remote company that services clients from the country. The same applies to other locations and regions where your business operates remotely.
My top recommendation remains to be iPosta1. Feel free to select from any of the listed solutions since they've been thoroughly assessed.
You can even go with multiple options if you own more than one business. It doesn't matter whether you do freelancing, blogging, digital marketing, online consultation, digital product selling, or something else.