WordAi Review: Is This Article Rewriter Really What It Claims?
Content spinning and paraphrasing are some things that happen a lot on the Internet. There are a lot of different rewriting solutions out there. Some people swear by one method, while others think that another method is better.
WordAI is one online tool that promises to produce rephrased versions of your writing fast and intuitively. But is WordAi any good?
In this WordAi review based on research and my actual experiences, we'll take a look at this article spinner and paraphrasing tool and see if it really is the best option out there. You'll find out what it is, what it does, and how it works.
Disclaimer: Because the site is reader supported, we may earn a commission if you use our affiliate links.
WordAi Overview
Let's see what WordAi does in general.
What is WordAi?
WordAi is a rewriting tool for articles and other longer pieces of content, that's available for use online. The founder of WordAi is Alex Cardinell. The company came to be in 2011 and has been operating ever since.
WordAi can serve businesses that involve writing as well as people in academic settings, like students. So, besides blog content, someone can use the tool to tweak their essays and other materials.
What Does WordAi Do?
This tool simply paraphrases content to give you a different text but with the same meaning. It promises to make writing more efficient and effective, by allowing you to focus on the content itself instead of spending time searching for synonyms to replace words.
How Does WordAi Work?
How WordAi works is easy. It's as follows:
Create your WordAi account
Type in your text or paste it from another source
Select the number of rewrites you need
Choose the way you want the result to be, whether regular, more conservative or more adventurous
Click on the "Rewrite" button at the bottom of the editor.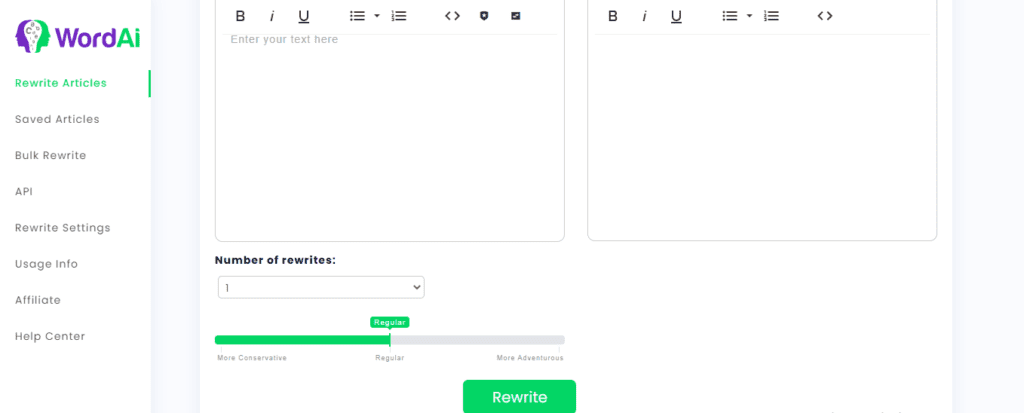 It's that simple. You can generate as many variations as you need.
WordAi Features
Moving on to the interesting part, here are the features of WordAi in depth.
1. Article Rewriter
The main thing about WordAi is that it's an article rewriting tool. You just enter your content in its editor to get the output and keep going on until you get satisfied with a particular generation.
You can create up to 3 million rewritten words on WordAi in a month. In case you need more, you need to pay for more. The rate is $2 for every additional 10K words.
Under its usage settings, you can select it to allow you to go or not to go beyond the set limit on a monthly basis.
2. Editing tool
WordAi is also an editing tool. You can structure your text as needed and get it ready for publishing right on the editor of WordAi. It has options like bolding, adding lists, underlining, and italicizing texts.
3. Generates Multiple Rewrites
Most tools only produce one paraphrased piece of text at a time. WordAi doesn't just give you one rewrite. You get several outputs and select the best one.
You can instruct it to create 1 to 4 or more than 4 rewrites at one go. It's possible to still click on the Rewrite button to produce even more examples of your chosen count.
4. Several Styles of Text for the Output
WordAi has a few styles you can choose from for the output you need. These are as follows:
More conservative: The text retains most of its concept and the output is quite close to the original.
Regular: This is how you would paraphrase something as usual.
More adventurous: You get an article rewrite that has some original concepts but also brings in a few new ideas.
5. Bulk Rewrite
This feature is great if you have a lot of content to rewrite and can't enter each individually. You can bulk rephrase several articles.
You simply need to upload a CSV or ZIP file. All the articles have to be in their TXT format for a bulk rewrite to work. So, you simply need to package all your TXT articles as ZIP and add the file on WordAi.
6. Protected Words and Synonyms
You can decide whether to protect certain words such that WordAi doesn't replace them. The feature, however, reduces the uniqueness of your writing a bit as well as the readability.
If you need, you can custom add synonyms for such words. All you need to do is go to "Rewrite Settings," in your account, enable the option, and list your words in the box.
WordAi Examples
I wrote a short sample article on why you need to start a business and copied and pasted it on WordAi to see what rephrased version it would come up with. It was an article about why you need to start a business.
Check the original text below:
"Starting a business is a great way to build long-term wealth and create financial independence. It can also provide the freedom and flexibility to pursue other passions, such as travel or hobbies. You get a chance to be your own boss, follow your dreams, and have more control over your destiny.
Owning a business also gives you an opportunity to make a positive impact on your community and the world. It can provide employment opportunities, generate tax revenue, and help create new products or services that benefit society. Finally, starting a business is an excellent way to gain more knowledge and expertise in the industry of your choice. With the right planning and hard work, owning a business can be very rewarding."
I selected the number of rewrites as 3. I left the tone at regular. Here was the result:
"A business is a great way for financial independence and long-term wealth creation. You may be able to travel or pursue other hobbies. You are able to make your own decisions, be your own boss and follow your dreams.
Being a part of a business gives you the chance to make a difference in your community as well as the world. The business can generate tax revenue and create new products or services that are beneficial to society. A business can be a great way for you to get more expertise and knowledge in the field that interests you. It is possible to be successful in owning your business if you do the right planning and put in the work."
I didn't like the first two rewrites and used the third one. As you can see, the concept remained even in the output. But most of the original text also appears there.
In other words, the tool only did basic rewriting and couldn't find good synonyms for some of the words I used. Had my article been more complicated, I doubt the tool could give me the result I needed.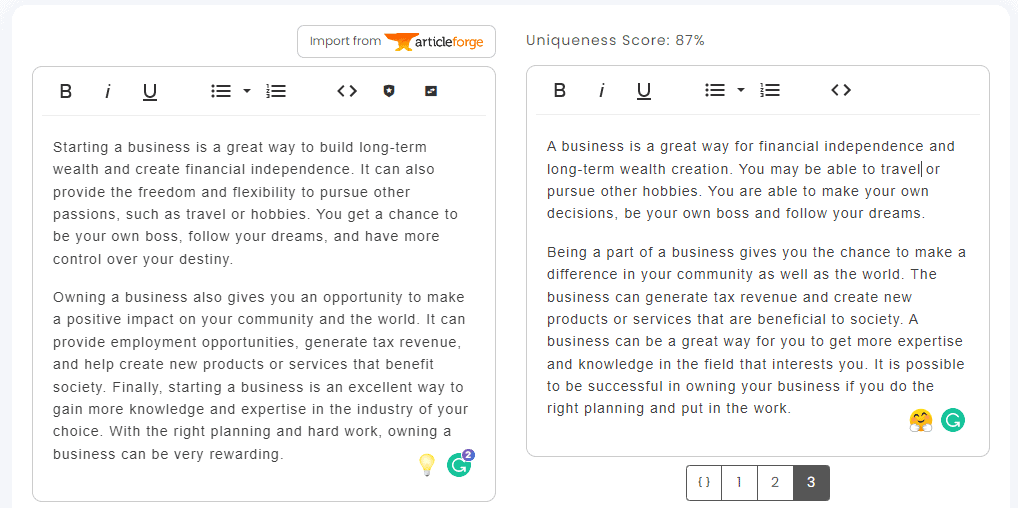 WordAi Pros and Cons
My opinion of WordAi is as follows:
What I Like about WordAi
Free trial for 3 days
Retains the concept of your article
Offers bulk rewrites
What I Don't Like about WordAi
Not the best tool for rewriting as there are some better WordAi alternatives
I saw some grammar issues here and there
No in-built grammar checker, although you can use the Grammarly extension on its editor
WordAi Pricing
WordAi has a free trial that lasts 3 days and then the paid subscription begins. You need to submit your payment details prior to accessing any features. The paid options are as follows:

Monthly: $57/month
Yearly: $27/month
Enterprise: Custom
WordAi Alternatives
Numerous alternatives to WordAi exist.
Spinbot: A free tool for spinning and paraphrasing texts.
Quillbot: Quillbot is like Spinbot, but better. You can access various paraphrasing modes and check for plagiarism.
Grammarly: Although you can rewrite entire pieces of writing with it, Grammarly gives you "clarity suggestions" to improve individual sentences.
WordAi Verdict: Is It Any Good?
WordAi can work for you if you have simple texts you need to rewrite. The quality will be good if it's an article with a few paragraphs that have little to no jargon. The tool offers basic paraphrasing only whereby it changes sentence structure but doesn't use synonyms as much as you may need.
If you want to paraphrase an in-depth article, you may want to use alternatives like Quillbot and Grammarly. The reason is that grammar-checking is something WordAi doesn't have yet and your content may at times have some grammatical and punctuation issues.
Other than that, you can automatically generate blog content from scratch using a creative content creation tool like Jasper.