Originality.AI Review: More Than Just a Plagiarism Checker?
If you're a writer or business professional, then you know the importance of original content. Copying someone else's work is not only unethical, but it can also get you in legal trouble. That's why online plagiarism checkers are so popular these days.
But given that there are so many, which one should you use? In this blog post, I'll be reviewing Originality.AI — a new plagiarism checker I tested that promises to do more than just detect copied text.
Is it worth your time and money? Read on to find out!
Related: Best Plagiarism Checkers Online
Disclaimer: Because the site is reader-supported, we may earn a commission if you use our affiliate links.
Originality.AI Overview
Let's explore more details on what Originality.AI is and what it can do for you.
What Is Originality.AI?
Originality.AI is an online tool that scans your content for plagiarism and other forms of intellectual property theft. It goes beyond the typical "copy-and-paste" detection methods to also detect paraphrasing, misspellings, and even synonyms used in the text.
It's a comprehensive plagiarism checker that can be used for a variety of purposes, including web pages and blog posts. It also has an integrated learning algorithm that improves its accuracy over time.
Now, what makes Originality.AI stand out and more interesting than other plagiarism checkers is the ability to also filter out AI-written content.
The tool is also very user-friendly; it takes just a few minutes to get set up and running. You don't need any technical knowledge or skills to use it. All you need to do is copy and paste your content into the text box, and Originality.AI will take care of the rest.
How Does Originality.AI work?
Originality.AI works by scanning your content for similarities to other texts online. It cross-references the text with a database of billions of web pages and publicly accessible documents.
When it detects any plagiarism, Originality.AI will generate a report with a score. You can then see the actual source of the stolen text.
The tool also has an integrated AI-learning algorithm that helps it detect even the most subtle types of plagiarism. This makes it much more accurate than some other comparable tools on the market.
Who Is Originality.AI Good for?
Originality.AI has been designed to better help online business owners know how original their content is. It focuses lesser on academics and so may not be the best tool for educators and instructors.
Here's who Originality.AI best suits:
Blogger: If you're someone who writes blog posts for money or for fun, then this tool can be a great help. It will ensure that your content is original and meets your audience's needs.
Web publisher: In case you're a person that creates, uploads, or edits content on web pages, chances are that you have a team of writers. This tool will help you know if any written document is plagiarism free and also written by a human.
Content agency: Owning a content agency means that you have to deal with thousands of words every month. Originality.AI is a great tool to have in your arsenal. It will help you verify the originality of your clients' content and ensure that it is up to their standards.
Website buyer: Maybe you want to purchase a website from someone. The tool is helpful in discovering whether any of the published blog posts has originality issues before you proceed with the deal.
Originality.AI Features
What features does Originality.AI have? Check below.
1. Plagiarism checking
This feature is the highlight of this tool. Originality.AI scans the content you upload and checks it against its database to identify any similarities or copied text from other sources indexed by Google.
I tested out the plagiarism detection capabilities of Originality.AI by copying one of my own articles. The report, expressed as a percentage, was as follows:
As you can see, it detected the exact page where the text I pasted comes from. It also listed the URL source. So, I'm pretty confident that the tool can find any copied content as long as Google has indexed it.
2. AI-written content detection
It's not just about plagiarism but also about AI-written text. The tool helps you detect if any content was generated by a machine. This is especially useful if you want to know whether the content was written by a human or not.
Originality.AI can detect the following types of AI-written content:
GPT-2: Generative Pre-Trained Transformer 2 models by OpenAI are used to translate text, answer queries, give summaries, and generate text to some level.
GPT-J: An alternative to OpenAI's GPT 3 released by EleutherAI.
GPT-Neo: A transformer model that's an EleutherAI replication of OpenAI's GPT-3.
GPT-3: GPT-3 (Generative Pre-trained Transformer 3) is a natural language processing tool also developed by OpenAI that can generate human-like text.
GPT-3.5: GPT-3.5 is the newest version of GPT-3 and has been improved to generate more natural-sounding texts.
ChatGPT: This is a modified version of GPT-3 that's tailor-made for generating chatbot conversations.
Below's a screenshot of what the AI detection report looks like on Originality.AI: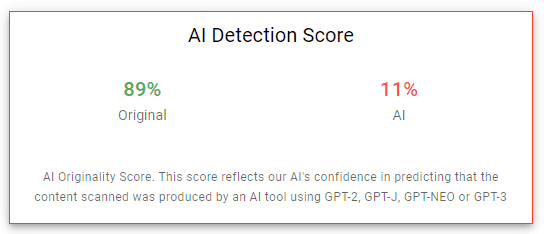 Now, the debate on whether AI content generation is helpful or not remains subjective. I personally like that you can use an AI text generator to get ideas, titles, outlines, meta descriptions, rephrase text, and more. These tools can help you write high-converting copy within a fraction of the time.
At the moment, Google considers autogenerated content spam. In this other article, I go through the pros and cons of AI content generation.
3. URL Scanning
This is an upcoming feature on Originality.AI that will enable you to quickly scan a URL or an entire site to detect plagiarism. It's being developed to help website buyers that need to check a site's originality history.
Once this feature is available, you won't have to manually check each piece of content for copied text. Neither will you have to only be limited to just checking a selection of or only the top articles because you lack time to analyze the rest.
4. Chrome Extension
If you want to use Originality.AI wherever you land online, you simply need to install its extension for Chrome. You'll be able to get a score right on the web page you're viewing, whether that's Google Docs or any other platform.
5. Easy-to-Use API
You can integrate Originality.AI into your own tool or platform to enhance workflow and achieve more in one place. It's a great way to check for plagiarism on the go and save time.
6. Team collaboration
Originality.AI allows for unlimited users. If you have a team of writers or editors, you can use Originality.AI together and easily keep track of the originality of all written and submitted work. This will help you ensure that all content meets your quality standards in terms of uniqueness.
Originality.AI Plans and Pricing
Originality.AI boasts of being among the most affordable plagiarism checker online that give you more for less.
Is Originality.AI Free?
No, Originality.AI isn't free. Also, there's no free trial at the moment. To use the tool, you need to purchase credits.
How Much Does Originality.AI Cost?
Originality.AI's pricing is that you buy credits to use it. It costs at least $20. One credit goes for $0.01.
Below are the details:
$20: 2,000 credits
$50: 5,000 credits
$100: 10,000 credits
$250: 25,000 credits
$500: 50,000 credits
1 credit equals 100 words scanned, meaning that Originality.AI is less costly than various other plagiarism checkers online.
Originality.AI Pros and Cons
Here's my opinion on Originality.AI.
What I like about Originality.AI
Accurate plagiarism detection with a score
AI content checker
Affordable compared to some other similar tools on the market
What I don't like about Originality.AI
The tool, at the moment, lacks detailed reports such that you won't know which particular section of a piece of writing is copied or AI-written. It also only supports English now for AI detection.
Originality.AI FAQs
Is Originality.AI good?
Originallity.AI is a good tool for quickly identifying plagiarism in your content. Its AI detection capabilities are also noteworthy, as it can detect whether any given content was written by a real person or AI.
Does Originality.AI have a free version? How can I use Originality.AI for free?
No, there's no free version of Originality.AI at the moment but rather a free trial with 50 credits (upon installation of the browser extension). Also, with prices starting at just $20, you can use the tool for a fraction of your individual or business budget.
Is there a free trial for Originality.AI?
Currently, you can enjoy a free trial with 50 credits when you install Originality.AI's Chrome extension. You need to buy more credits at an affordable rate to continue using Originality.AI.
Can Originality.AI detect GPT-3?
Yes. the tool can detect writings that come from AI tools using GPT-3. It can also detect GPT-2, GPT-Neo, and ChatGPT, among others.
How accurate is Originality.AI?
Originality.AI is highly accurate in plagiarism detection with up to 94 percent accuracy when it comes to AI content generation. The tool has also been tested with different types of text, including copy-pasted texts, rephrased texts, and machine-generated content.
Originality Review: Verdict
Originality.AI is a powerful plagiarism checker that uses AI to detect copied content and autogenerated text. It's also relatively affordable, making it suitable for website owners who need to quickly analyze larger volumes of content. Whether you're a marketer, writer, or website owner, Originality.AI is definitely worth considering.