7 Best Spinbot Alternatives to Create Unique Content
If you are looking for a Spinbot alternative, the good news is that there are several options to choose from.
Spinbot is a great tool to use for paraphrasing at no cost, but it has some limitations, just like many other tools. These alternatives will help you overcome those limitations and create content that is both unique and engaging. Let's get started!
Disclaimer: Because the site is reader supported, we may earn a commission if you use our affiliate links.
What Are the Best Spinbot Alternatives?
Below is a list of the best paraphrasing tools similar to Spinbot but some of which have even more features.
1. Quillbot

Quillbot is a paraphrasing tool that uses AI to generate rewrites for its users. What you do is simply enter the text you need to rephrase into Quillbot's editor and click on the button that says to paraphrase.
This Spinbot alternative has several modes to ensure that the generated rewrite is of a particular voice and style. You can select Standard, Fluency, Formal, Simple, or Creative. Expand and Shorten are the other modes that allow you to increase or reduce the amount of text generated.
Two modes, Standard and Fluency, are free while the rest require paid membership. While the voice may be different, Quillbot doesn't alter the meaning of your writing.
Quillbot lets you decide how much vocabulary you need to change, either more or less, using its Synonym Slider. can also check the originality of the text you generate with its plagiarism-checking feature.
Quillbot Features
Online paraphraser to improve fluency and vocabulary
7 modes to choose from
Integrates with other platforms like Docs and Word
Supports various English dialects (US, UK, CA, AU)
Grammar and plagiarism checking
Summarizer
Quillbot Pricing

Free: $0 for 125 words
Premium: Annual at $4.17 a month, Semi-Annual at $6.66 a month, and Monthly at $9.95 a month
2. Jasper

If you need to write content from scratch fast, you may be interested in Jasper. This is an AI text generator that also serves as an online paraphrasing tool. You can use it to generate a document from beginning to end, whether an article or something shorter like a product description.
The Jasper paraphraser works by you entering the text into its interface and clicking on the "Re-phrase" button in the editor. Jasper uses advanced AI algorithms to generate rewrites of your text, ensuring an accurate result with minimal effort.
Jasper also allows you to select the tone of your writing. It can be as witty as you like, formal, or something else depending on your preferences. There's a plagiarism checker too.
Jasper Features
AI article writer and copywriting tool
Text simplifying abilities with its "Explain it to a 5th grader" feature
Integrates with Grammarly, a grammar checker, and other tools
Wide variety of tones
Jasper Pricing
Boss Mode: Starts from $59 a month
Business: Custom pricing
3. Grammarly
Grammarly is known to be among the most accurate grammar-checking tools with rephrasing abilities. But it isn't quite like Spinbot where you can copy and paste text for the sole purpose of rephrasing.
This is a tool that can help you ensure that your written content is error-free. So, it's something you need for correcting spelling, punctuation, and other mistakes.
Grammarly also has a feature that can help you make your sentences clearer. You get suggestions to restructure a sentence or even suggest an entirely new one that is more concise and accurate.
As if that's not enough, Grammarly can check for plagiarism by comparing your content with lots of others on the Internet. You'll be able to know which sections of your writing to change and make it more original.
Grammarly Features
Advanced grammar checker
Plagiarism detection and rewrite suggestions
Integration with Chrome, Google Docs, and other platforms that allow you to edit text
Grammarly Pricing
Free: $0 a month with limits
Individual plans: $12 per month billed annually, $30 per month billed quarterly, $30 per month billed monthly and all come with premium features
Business: $15 per month per user with a minimum of 3 users
4. Writesonic

Writesonic is an AI-powered content creator and paraphrasing tool. This modern writing assistant can help you research topics more quickly and generate new content for your blogs, emails, or social media pages.
It also comes with a unique feature for content optimization, that helps you identify SEO keywords to include in your text.
Writesonic's paraphrasing tool can crate rewrites for you that are as good and even better than the original. It can work for sentences and paragraphs or entire articles and essays.
It's a great tool to use when updating content with new information or making it more SEO-focused by adding up-to-date keywords. The resulting text is 100 percent unique because Writesonic focuses on zero plagiarism.
Writesonic Features
AI-powered writing tool with a paraphraser
Formal and informal tones
Unique content with no plagiarism
Search engine optimization
Writesonic Pricing

Free Trial: $0 a month
Long-form: Starts from $19 a month
Custom Plan: Custom pricing depending on one's needs
5. Rytr

If you need another AI-based writing assistant that is a good Spinbot alternative, that would be Rytr. This tool can help you create content in just seconds and cost less than hiring a team of writers.
Ryter can help you write emails, blogs, landing pages, story plots, and more from scratch. In case you need to reword text using AI, Rytr can give you as many variations as you need.
What you do is pick the language, choose the tone you like, and enter the text in the editing area. You then need to select the part you need to be paraphrased. When you click on the Rephrase button in the toolbar, you'll get the output in no time.
Rytr also allows you to shorten your content using its summarizer and shortener tool. It's perfect for enhancing your content's readability.
Rtyr Features
AI writing assistant for various types of writing
Text rewording
Text summarizer and shortener
Rytr Pricing

Free plan: $0 a month
Saver plan: $9 a month
Unlimited plan: $29 a month
6. Paraphraser.io

Paraphraser.io is an online paraphrasing tool that's suitable for rephrasing articles, essays, and other types of texts. This Spinbot alternative will help you rewrite text quickly while keeping the original meaning intact.
The advantage of Paraphraser.io is that it can work on larger chunks of text such as full-length essays and articles. All you need to do is paste in the text, click on the Paraphrase button and let the AI engine work its magic.
The result will be a unique text that has not been plagiarized and can pass even the most stringent of anti-plagiarism checks. Paraphraser also allows you to check the originality of your content before you publish. Two modes, Fluency and Standard, are free and you can subscribe to access more of them, Creative, and Smarter.
Paraphraser.io Features
Word changer and sentence rephraser
Duplicate content remover
Retains quality of content
Paraphraser.io Pricing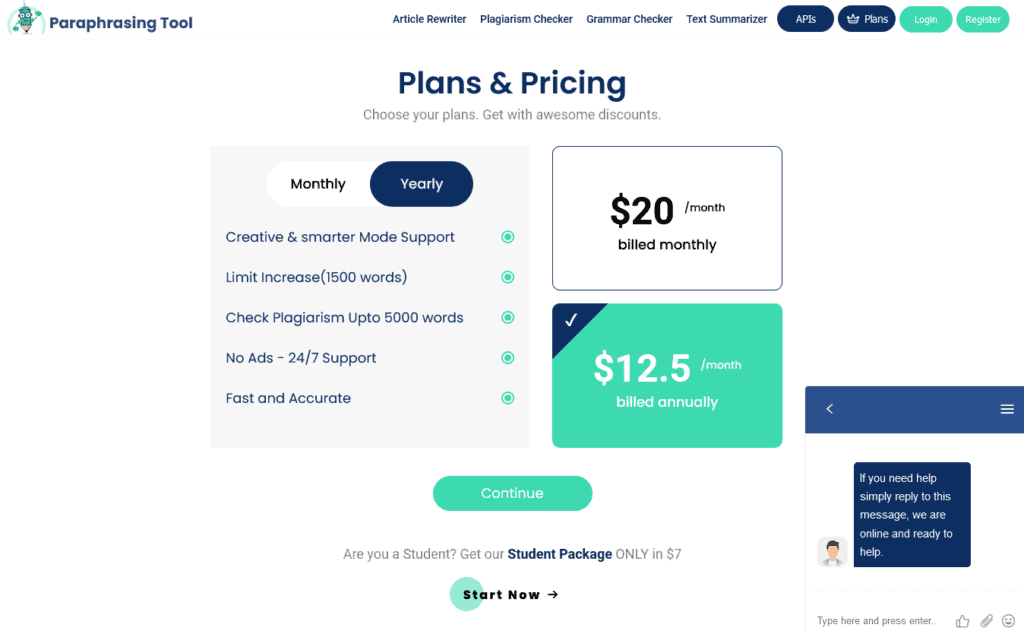 Free: $0 a month for 600 words
Pro: $20 a month billed monthly and $12.50 a month billed annually for 1,500 words and just costs $7 for students
7. WordAi

WordAi is another tool similar to Spinbot that can help users rewrite text realistically. It comes with an intuitive interface where you can easily paste your text and instruct it to reword.
You can choose the number of rewrites you need to ensure you get enough of them and go with the best one. Also, there's the option to create variations that are more conservative, regular, or more adventurous.
If you need to paraphrase lots of documents, there's a bulk rewriting feature where you just need to upload your files in a ZIP format.
WordAi Features
Article rewriting
Bulk paraphrasing
API access
WordAi Pricing

Monthly: $57 a month
Yearly: $27 a month
Enterprise: Custom
Conclusion
These are the top Spinbot alternatives that can help you get started with content creation or reword existing text for clarity, originality, and SEO purposes. Each of these tools offers different features and pricing plans so you can choose the one that best fits your needs. You'll surely save time using a tool that's similar to Spinbot rather than paraphrasing yourself, especially if a lot of text is involved.