Spin Rewriter Review 2023 (Honest & Detailed)
Have you been wondering where you can find an honest Spin Rewriter review? Look no further. I'm about to provide you with details about this article spinning and rewriting tool to help you decide whether it's a fit for your needs.
Whether you're a writer, marketer, or web publisher, the challenge of generating original and engaging pieces of text can sometimes be overwhelming. All you want is a good paraphraser that can help you improve your writing and ensure it's original. But is Spin Rewriter worth it?
This review of Spin Rewriter goes into detail about the tool's features, pricing, and more. We'll also explore its potential applications in various domains, including blog management and search engine optimization.
Disclaimer: Because the site is reader-supported, we may earn a commission if you use our affiliate links.
Read also: Best Article Rewriter Tools Online
Spin Rewriter Overview
First, a quick summary of Spin Rewriter, what it does, and how it can help you.
What Is Spin Rewriter?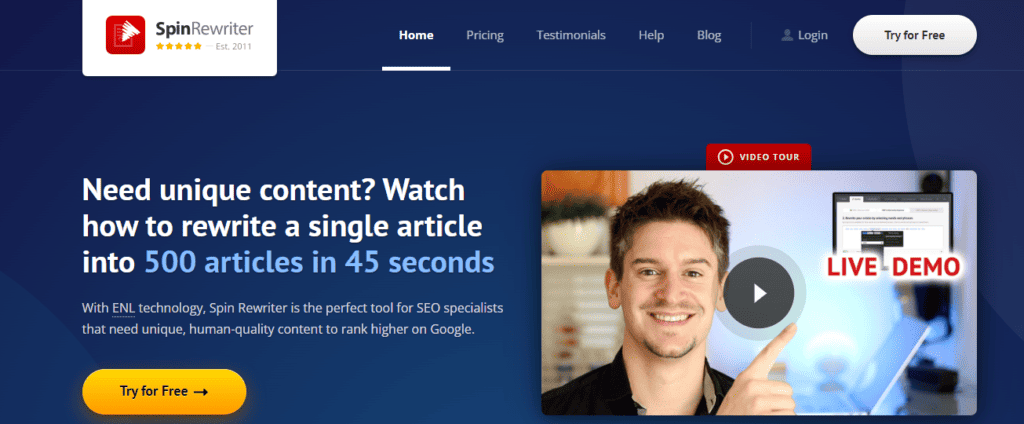 Spin Rewriter is a content-spinning and article-rewriting tool that aims to help you better create and modify written content. The tool is designed to generate unique variations of existing text while retaining the original meaning and context.
Spin Rewriter came into existence in 2011 and has had over 150k users since then. It uses what's called ENL Semantic Spinning technology to help users rewrite articles and have numerous variations in as little as 45 seconds.
In fact, you can get up to 1,000 different versions of one piece of writing. It's a chance to save lots of hours that would have gone into doing this task manually.
How Does Spin Rewriter Work?
Spin Rewriter is quite easy to use. Here are the steps to use it:
Go to SpinRewriter.com: You'll need to set up an account if you're a new user.
Choose the article rewriting method: The options on Spin Rewriter are to "Rewrite a Single Article" or "Rewrite Multiple Articles."
Enter your text: You can either copy and paste the text or upload it in either TXT or ZIP format.
Click to rewrite: Select the button that says "Rewrite Article" to get a new version of your previously written content.
From there, you just need to choose a variation to go with or keep regenerating more of them as per your needs.
Below is a screenshot of Spin Rewriter's homepage upon account creation: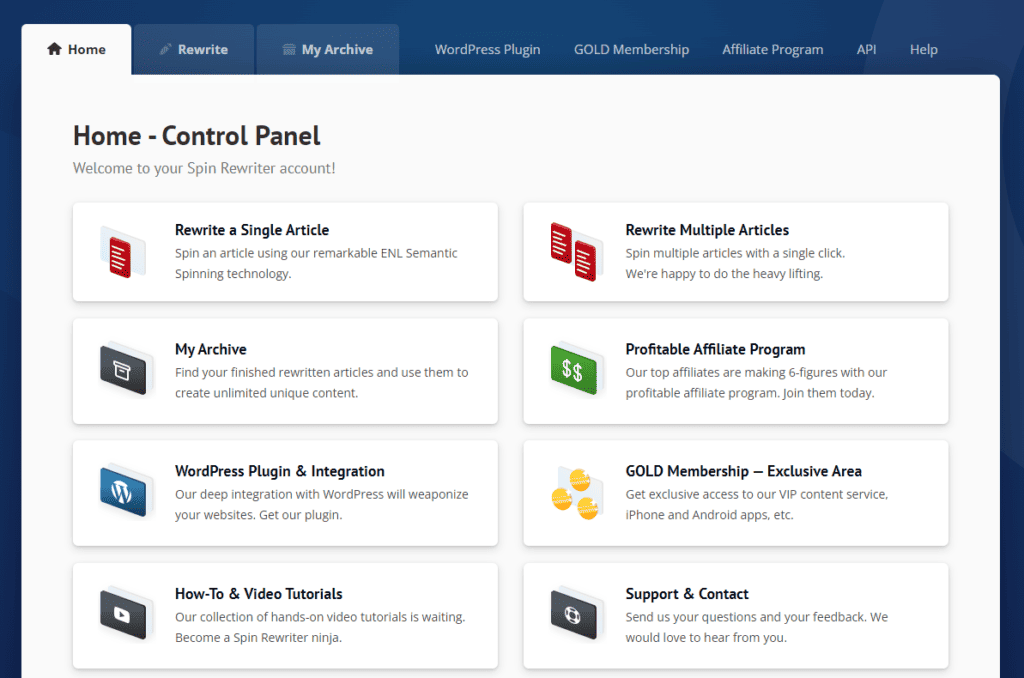 Who Should Use Spin Rewriter?
Spin Rewriter can be beneficial for a variety of individuals and professionals involved in content creation, digital marketing, and SEO optimization. Here are some examples of who can benefit from using Spin Rewriter:
Content writers and bloggers: Spin Rewriter can assist content writers and bloggers in producing fresh and unique articles efficiently. It helps overcome writer's block and saves time by generating multiple versions of an existing piece of content. This is particularly useful when writing for multiple platforms or when needing to create content in bulk.
SEO Specialists: Search engine optimization (SEO) professionals can take advantage of Spin Rewriter to enhance their content strategy. Generating unique versions of articles, blog posts, or website content, allows you to avoid duplicate content issues that may negatively impact search engine rankings. Spin Rewriter's synonym database also allows for targeted keyword optimization and contributes to improved SEO performance.
Digital marketers: Marketers aiming to reach a wider audience can benefit from Spin Rewriter's ability to create unique versions of promotional materials, advertisements, and email campaigns. The spun content enables marketers to cater to different customer segments while maintaining a consistent message and brand voice.
Website owners and managers: Maintaining a website with fresh, engaging content can be quite a task. Spin Rewriter enables website owners and managers to update existing content regularly without investing excessive time and effort. It can assist in repurposing older articles or blog posts to keep a site relevant and interesting to visitors.
Spin Rewriter Features
We move on to what Spin Rewriter has to offer.
1. Rewriting a Single Article
I went ahead and wrote a quick passage to test the capabilities of Spin Rewriter. The text was about "what is an article spinner."
The first thing is to enter the article into the editor. I just pasted it into the box as shown below: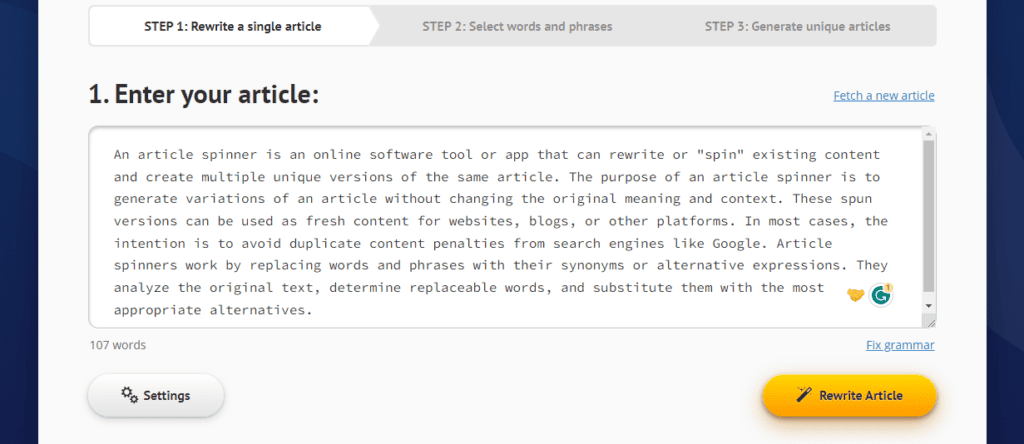 Upon clicking on the "Rewrite Article" button, you're taken to the second step, which is to select words and phrases. Check the result:
You'll find that when you click on a specific word, there are more synonym options to choose from. Do this for any blue or underlined words to insert better alternative words and phrases.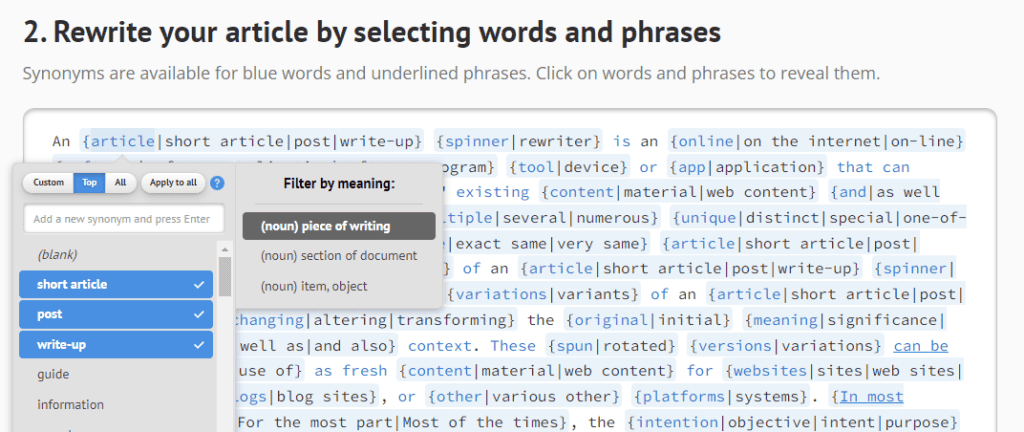 Also, you may notice some incorrect usage of articles "a," "an," and "the" in this text. The reason for this is that the tool hasn't yet finished rewriting your text. So, when you click to finalize, the text will be saved and available to be turned into unique articles.
Now, this is the third step:

Clicking on the option in the third step to "Generate a Unique Article" provides the result below: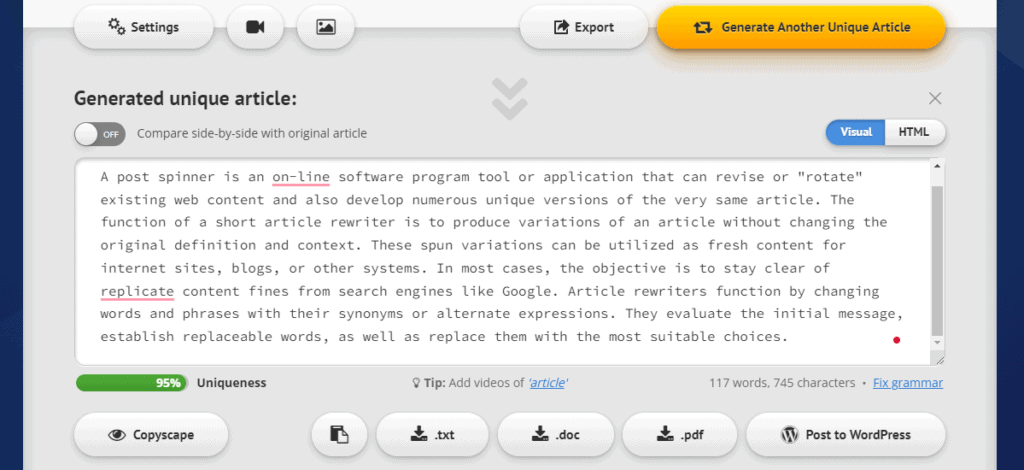 Now, as you can see, the output may contain a few grammar errors here and there. But it's nothing that can't be fixed using Grammarly's browser extension, available for free.
From the image of my output above, you'll see the possible errors spotted by Grammarly underlined in red. Also, Spin Rewriter integrates with another tool (Perfect Tense) that you can use to correct any mistakes. More about that particular and the integration will be shared later.
2. Rewriting Multiple Articles (Bulk Article Spinning)
Spin Rewriter also features a bulk content rewriting option that allows you to select multiple articles at once.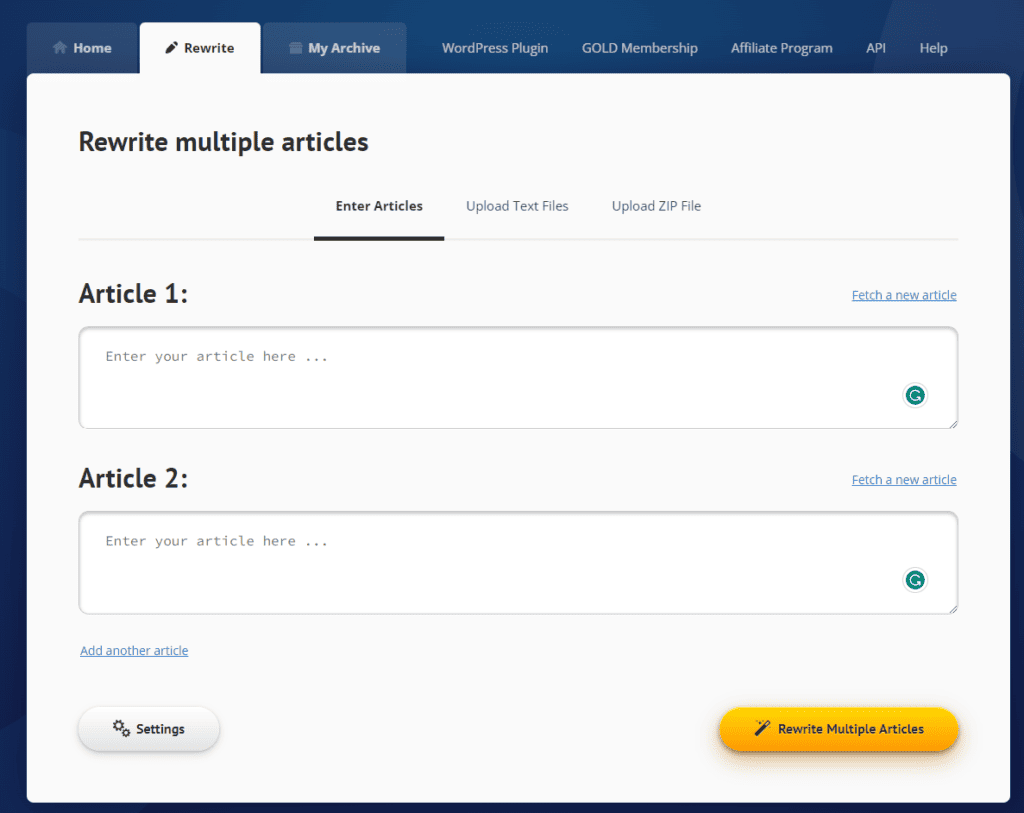 What you need to do is copy and paste or upload your texts into the first, second, third, or more editors, depending on the number of articles you need to be rewritten.
Once you click on the "Rewrite Multiple Articles" button, Spin Rewriter shows you a success message. It saves each of the articles you added.
You can access your added texts in the "My Archive" section.
Now, you'll still need to go to each of the articles you've added to generate other versions of it. Just click from your archives to start rewriting each of them.
3. Spin Rewriter's Settings
Now, I used the default settings while testing the tool above. But you can adjust the tool's settings to suit your preferences.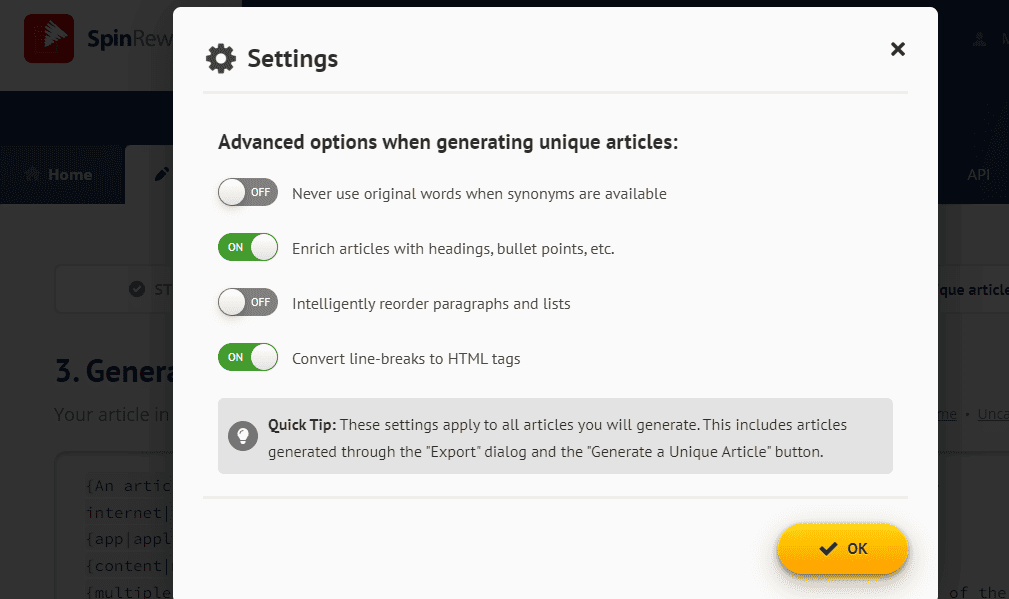 With Spin Rewriter, you're able to choose whether or not to:
Never use original words when synonyms are available: Enabling this feature prevents Spin Rewriter from using any of the original words and phrases if alternative words or phrases are available.
Enrich articles with headings, bullet points, etc.: What happens here is that Spin Rewriter will identify headings or lists in our text. Simply put, you won't need to go through the editing process again.
Intelligently reorder paragraphs and lists: When creating new versions for you, Spin Rewriter is able to reorganize the paragraphs and unordered lists in the article. It, however, won't change the order of numbered lists (1,2,3, etc.)
Convert line breaks to HTML tags: The tool can also generate publish-ready outputs so you don't have to structure them when using WordPress and other publishing platforms.
The verdict here is that Spin Rewriter works as much as possible to provide you with ready-to-publish articles. It knows what to change and restructure and what not so that you can do minimal editing if any.
4. Media Insertion
This is yet another interesting feature of Spin Rewriter that you can benefit from if you want to publish directly on content management platforms like WordPress. You can access media insertion features in the third step of generating your articles.
What's interesting is that you can fetch videos right away. You simply need to click on the video icon and enter a search term (like cat running), and it will show you some great options to choose from.
You can do the same for images too. All you have to do is select the image icon, type in any term (such as men's fashion), and choose the photos you like.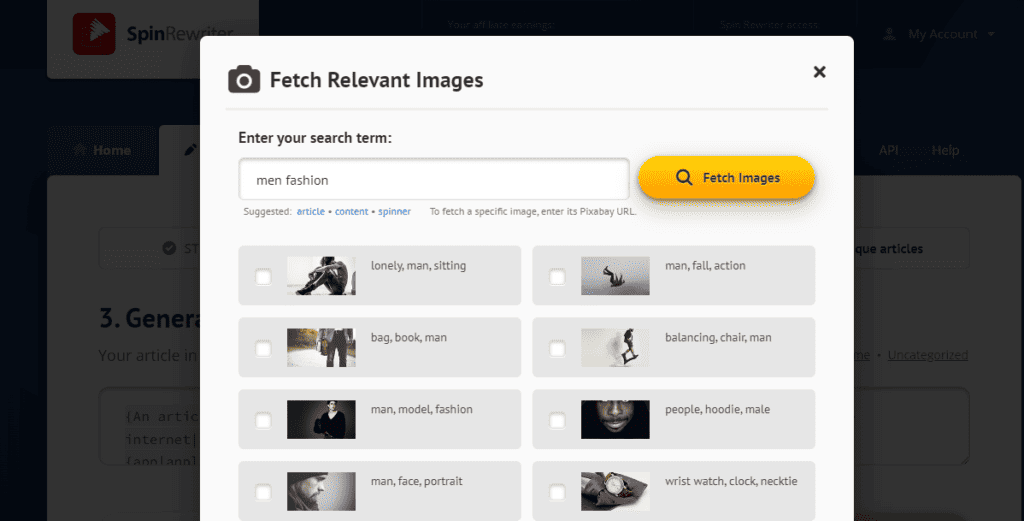 At the moment, the tool can find for you videos from YouTube to embed them into your content. As for images, they're from Pixabay, a leading platform for free stock photos.
5. Spin Rewriter Integrations
First of all, I've already talked about how you can use Grammarly with Spin Rewriter. The thing about the Grammarly Chrome extension is that it's usable on any platform online with an editor (i.e. a box for editing text).
The free version is good enough to get your text ready to publish. However, advanced insights are available to paid Grammarly users.
Another Spin Rewriter integration is Copyscape. Copyscape is a tool for checking plagiarism. It can detect any instances of copied content by comparing your text with millions of publications online.
You'll need to enter your Copyscape credentials to link the two platforms.
Next, you can integrate Spin Rewriter with Perfect Tense. This tool works as a grammar corrector and spell checker that uses artificial intelligence algorithms.
When you select the option to "fix grammar" of any Spin Rewriter output, the Perfect Tense tool will show you the applicable corrections. You'll need a Perfect Sense API key for this integration too.
6. Multiple Formats of Text
Spin Rewriter allows you to download your text in a variety of formats. These include TXT, DOC, and PDF. You can also simply copy the text and paste it wherever you want.

There's also an option to post to WordPress. Yes, Spin Rewriter can publish your uniquely generated article to your WordPress website with a simple click!
You can even schedule a post for a future publication date as per your content calendar. Simply fill out your WordPress username and password to use this function.
7. Uniqueness Score

Spin Rewriter's Uniqueness Score is a feature that sets it apart from other article-spinner tools. The Uniqueness Score provides you with a metric that quantifies the uniqueness of the content the tool has generated.
This score is based on a comparison between the spun content and the original content. It measures how much the spun version differs from the original one in terms of wording, sentence structure, and overall composition.
Spin Rewriter's uniqueness score is presented as a percentage. Higher percentages indicate a higher level of uniqueness. It becomes easier for you to determine whether an article meets the desired standards.
8. Spin Rewriter WordPress Plugin
The Spin Rewriter WordPress Plugin is a powerful tool that integrates Spin Rewriter directly into WordPress to give you smooth access to its content-spinning capabilities within your WordPress websites. The plugin streamlines the content rewriting process and offers a convenient way to generate unique versions of articles, blog posts, or any written content directly from the WordPress dashboard.
In fact, you can set the tool to automatically recreate versions of your old WordPress posts when they reach a specified age. The plugin also republishes these versions for you. You'll have control over whether you need the tool to rephrase titles and even select posts it shouldn't rewrite.
Now, if you also need help writing new content, the Spin Rewriter plugin as you covered. The tool can find articles already on the Web, spin them, and publish them as new content on your blog. You can even set the time intervals for the same.
Now, this may not be a feature that most people focusing on original content creation want to use. Your articles need a human perspective so your target audience feels connected. But if you don't mind Spin Rewriter running all aspects of publication on your site, the tool is available for you to use.
Spin Rewriter Plans and Pricing
Here's how much Spin Rewriter costs.
Is Spin Rewriter Free?
No, Spin Rewriter isn't free to use. You need to subscribe to one of its 3 paid plans to get access to the tool's paraphrasing capabilities. However, there's currently a free 5-day trial on one of Spin Rewriter's plans, the Yearly plan.
How Much Does Spin Rewriter Cost?
Spin Rewriter is priced as follows:
Monthly: $47/month
Yearly: $197/year
Lifetime: $497 single payment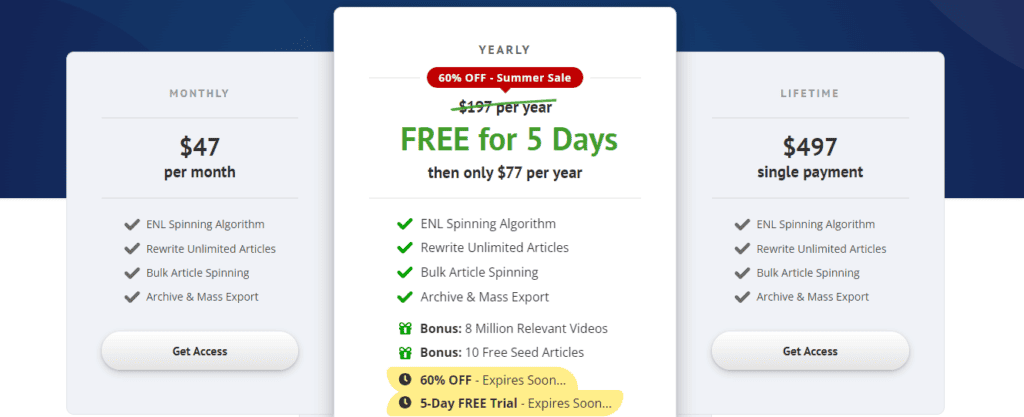 The monthly plan has all the required features, including the ENL spinning algorithm, rewriting unlimited articles, bulk rewriting, and mass export. The yearly plan offers bonuses like 8 million videos and 10 free seed articles. The lifetime plan is simply a version of the monthly plan but with a one-time payment.
Spin Rewriter GOLD Membership: What Is It?
The GOLD Membership of Spin Rewriter is an option that gives subscribed customers VIP benefits. As of now, it costs an additional $47, a payment you make one time only.
GOLD Membership has these perks:
Access to Spin Rewriter's SEO team: You're able to get a professional spin and send articles to you. You just need to give them a keyword and they can spin up to 50 articles a month for you.
Team collaboration: You can set up limited accounts for your team members so they don't have to access Spinn Rewriter through your own account.
Spin Rewriter apps: GOLD Members can generate unique content on the go using either the Android or iPhone Spin Rewriter apps.
Faster spinning speed: You get priority servers that enhance the user experience of Spin Rewriter for you.
VIP support: Prioritized support will be at your disposal anytime you encounter an issue. You even can consult with the team about SEO matters.
Spin Rewriter Pros and Cons
Now, we go to what I like and what I don't like about Spin Rewriter
What I Like about Spin Rewriter
Spin Rewriter uses ENL Semantic Spinning technology to understand the meaning of each word when rewriting
It works on all devices, including desktops, tablets and phones
The tool can rewrite in bulk
There's a free trial of 5 days
A 30-day money-back guarantee is also available
A GOLD Membership option for users who want more
What I Don't Like About Spin Rewriter
Spin Rewriter has no free plan
There isn't an in-built plagiarism or grammar checker
No Chrome extension of the tool
Spin Rewriter Review: FAQs
Should I Use Spin Rewriter?
While Spin Rewriter offers great convenience in content creation, using it responsibly is essential. Original, high-quality content should always be your primary focus. Spun content should serve as a supplementary tool.
Responsible usage involves ensuring the readability and coherence of spun content, avoiding excessive reliance on automated spinning, and balancing it with original writing to maintain authenticity and value for readers and search engines alike.
Is Spin Rewriter Good for SEO?
The thing about article rewriters and paraphrasers is that they provide alternative words and synonyms. This can affect the keywords and key phrases in any text.
You'll likely need to go through the text and optimize it with more relevant keywords. Spin Rewriter, however, doesn't take SEO matters lightly.
The tool focuses on providing you with spun articles that can rank. There's even a team of SEO specialists to help you with the process if you use the tool's GOLD Membership.
Read also: Best AI Tools for SEO Writing
Is Spin Rewriter better than Best Spinner?
Spin Rewriter has the edge over Best Spinner in several ways. Spin Rewriter offers bulk rewriting, a WordPress plugin, and allows for media insertion through Pixabay and YouTube. These are some features where Best Spinner falls short.
Spin Rewriter Review: Verdict
Hope you liked this Spin Rewriter review. I have to say that the tool offers some impressive article-rewriting capabilities.
While such a tool may seem appealing for generating content quickly, there are also some drawbacks and considerations. For instance, using a spinning tool would mean that your content will lack your personal touch and you may miss a chance to connect with your audience.
However, it all depends on your needs, preferences, and goals. Alternatively, you could use AI-based text generators to come up with new content for your blog. But whatever tool you use, my recommendation is to edit your text to ensure it's SEO-focused, contains accurate data, and has your personal input.