Spin Rewriter Free Trial 2023 (Is It There?)
Wondering if Spin Rewriter offers a free trial and how you can take advantage of it? This article has answers for you!
When it comes to online content creation, the demand for high-quality, original content is ever-growing. However, producing unique and engaging content consistently can be a daunting task for many content creators.
This is where Spin Rewriter comes in. Spin Rewriter is a powerful tool designed to assist content creators in generating fresh and unique content effortlessly.
The Spin Rewriter free trial is something that can give you a glimpse of what the tool offers. In this article, we will explore the significance of Spin Rewriter in content creation, its key features, and the details about its free trial.
You'll discover the benefits of using Spin Rewriter and gather insights on how to make the most of it. Whether you're a seasoned content creator or just starting out, understanding the potential of Spin Rewriter and its free trial can significantly enhance your content creation process.
Read the full Spin Rewriter Review here
Disclaimer: Because the site is reader-supported, we may earn a commission if you use our affiliate links.
What Is Spin Rewriter and How Does It Work?
Let's first look at a few key details regarding Spin Rewriter.
Spin Rewriter is an innovative article rewriter and content-spinning software designed to aid content creators, bloggers, and digital marketers in generating unique, high-quality content. This tool utilizes advanced algorithms to rewrite existing articles, blog posts, or any textual content.
With Spin Rewriter, you can avoid duplicate content issues, improve SEO (search engine optimization) rankings, and save time and effort in content creation. The software employs cutting-edge technology to rephrase and restructure sentences, paragraphs, and entire articles, ensuring that the resulting content is both unique and engaging.
Something I like about the tool is that it's able to produce fresh, original versions while retaining the core meaning and message. Besides rewriting, Spin Rewriter offers other features that you'll learn about in the upcoming section of this article.
Does Spin Rewriter Offer a Free Trial?
Yes, Spin Rewriter does offer a free trial period that allows you to experience the software's capabilities for a duration of 5 days. During this trial period, you can explore the features and functionality of Spin Rewriter, create and spin content, and evaluate its effectiveness in content creation.
The free trial provides an opportunity for you to assess the tool's value and determine if it aligns with your content generation needs before making a commitment to the full version.
How to Get Spin Rewriter Free Trial
There's nothing complicated about getting to try Spin Rewriter for free. I'll share the exact steps below:
Step 1. Go to the Spin Rewriter Website
Visit www.spinrewriter.com, the official website where you can begin the sign-up process.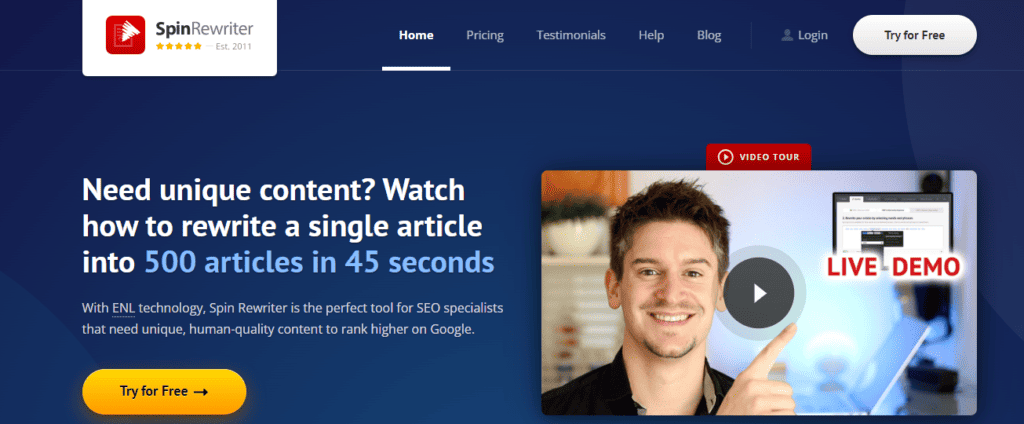 Once on the site, click on "Try for Free."
Step 2. Provide Your Details
You need to enter your personal or work email address. Also, you're required to set a password.
After you've finished, simply click on "Create Free Account."
Step 3. Start Your 5-Day Free Trial
Spin Rewriter offers 3 pricing plans. These are Monthly, Yearly, and Lifetime.
Monthly: $47/month
Yearly: $77/year
Lifetime: $497 for life
Only the Yearly pricing option has a free trial. You'll find that it has been automatically selected for you to get started for free.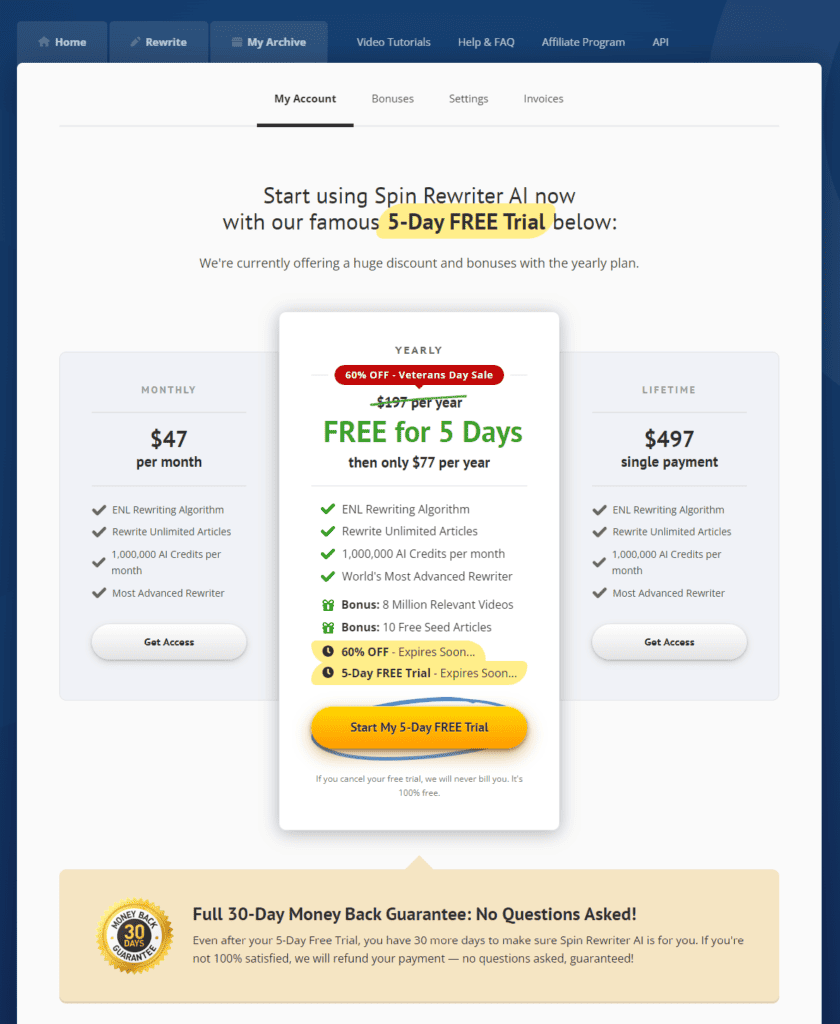 You only need to select the button that says "Start My 5-Day FREE Trial."
Step 4. Set up Your Payment Details
You'll be automatically taken to the payment info page where you need to provide the same. Note that your account will only get charged once the trial period is over.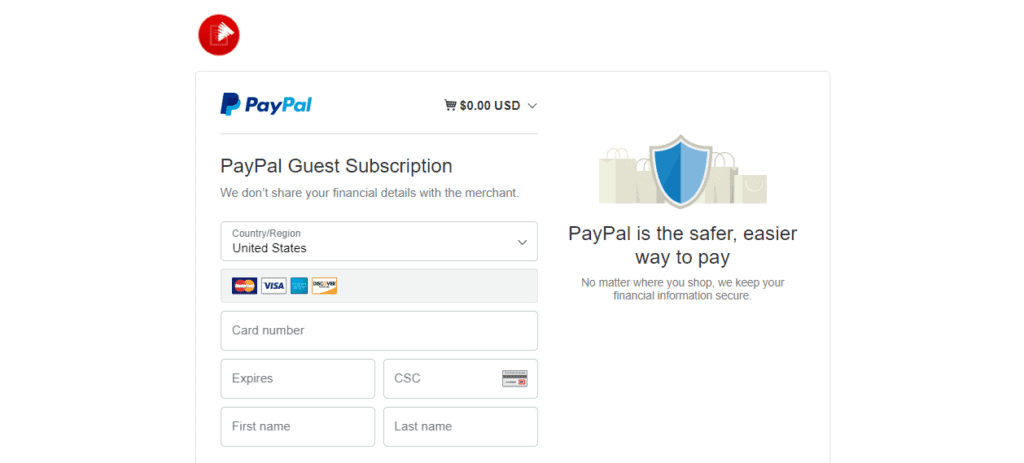 You can either select PayPal or enter your card details. Once you've filled that out, click on "Agree & Subscribe."
You'll get details about the terms, which is a free trial for 5 days and then $77 a year starting on a specified date. At this point, you can return back to Spin Rewriter.
You'll get a welcome video where the founder talks about the tool and GOLD Membership, a special subscription package that's optional.
If you want this membership, simply click on the button that says to upgrade (a single payment of $37 for new members).

In case you don't need it or may need it later only ($47 if you close the deal page and decide to pay afterward), simply choose the option that says you aren't interested.
Does Spin Rewriter Have a Money-Back Guarantee?
Yes, Spin Rewriter offers a 30-day money-back guarantee, even after the 5-day trial period. This means that if you're not satisfied with the software's performance or features, you can request a refund within 30 days of purchasing the full version.
The money-back guarantee provides you with the assurance that your investment in Spin Rewriter is protected and gives you the freedom to try the software risk-free. The company's commitment to customer satisfaction is reflected in its money-back guarantee, which is a testament to the quality and effectiveness of its product.
Note that this guarantee also applies to the special GOLD Membership plan. So, each of your payments to Spin Rewriter is refundable should you have second thoughts within 30 days!
Get started with Spin Rewriter
How to Cancel Your Spin Rewriter Free Trial or Subscription
If you signed up for Spin Rewriter through PayPal, you can cancel your subscription directly through your PayPal account. Here's how:
Log in to your PayPal account.
Click on the settings icon in the top right corner of the page and then "Account Settings."
From the next menu that appears, select "Website payments".
Under "My automatic payments", click on "Update."
Find your Spin Rewriter subscription in the list and click on it.
Click on the "Cancel" button and follow the prompts to confirm your cancellation.
Once your subscription is canceled, you will no longer be charged for Spin Rewriter and your access to the software will be terminated at the end of your current billing cycle.
What Are the Features of Spin Rewriter?
1. Single Article Rewrite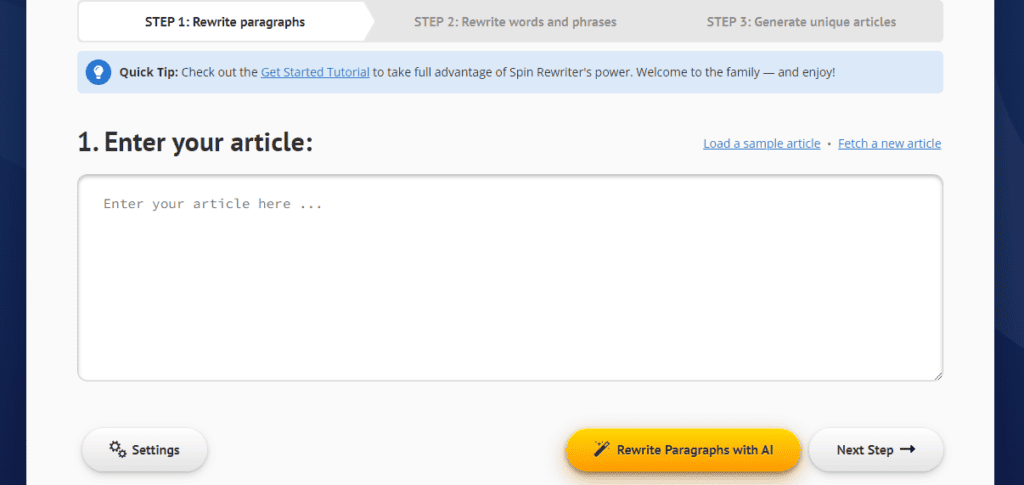 Spin Rewriter allows you to effortlessly rewrite a single article while maintaining its original meaning and intent. The software's advanced algorithms ensure that the resulting content is unique and engaging, making it suitable for various applications, including blog posts, website content, and more.
2. Bulk Rewriting
With Spin Rewriter, you have the ability to perform bulk rewriting. You can efficiently generate multiple unique versions of an article or content piece.
This feature is particularly valuable for content marketers, bloggers, and website owners who require a diverse range of content for their online platforms.
3. AI Writing
Your Spin Rewriter free trial includes AI credits that can do various things for you. Here are Spin Rewriter's AI writing capabilities:
Fully automated paragraph rewrites using advanced AI algorithms
Auto-generated optimized article titles for improved search engine visibility
Auto-generated optimized article descriptions and summaries for increased readability and relevance
Auto-generated SEO keywords strategically integrated into the content for improved search engine optimization (SEO) performance
4. Translation
While Spin Rewriter rewrites in English, it can translate your generated content into over 30 languages. This feature makes it a highly versatile tool for content creators who want to reach a global audience.
You can easily convert your English language text into different languages without having to manually rewrite each paragraph. These other languages include French, Spanish, and German.
4. Access to Media
Spin Rewriter provides users with access to stock media, including YouTube videos and Pixabay images, directly within the platform. This integration allows you as a content creator to easily incorporate relevant multimedia elements into your articles and enhance their visual appeal and engagement.
5. Integration with Grammarly and Copyscape
Spin Rewriter seamlessly integrates with popular writing and plagiarism detection tools. These are Grammarly and Copyscape.
This integration ensures that you can refine your content for grammatical accuracy and originality. You get a chance to enhance the overall quality and authenticity of your written material.
6. WordPress Plugin
The Spin Rewriter WordPress Plugin (priced separately) offers a powerful solution for website owners and content creators. It has the ability to automatically generate fresh, unique content for multiple websites with ease.
With the WordPress License, you can harness the full potential of Spin Rewriter to boost your content creation process and ensure that your websites are consistently updated with engaging and original posts. This automation feature eliminates the need for manual content generation, saving users time and effort.
Here are some automated tasks you can achieve with this plugin:
Spinning and republishing old posts at specified intervals, such as 7 days, 3 weeks, or 2 months
Create new original posts in seconds
Spin posts right on WordPress
7. GOLD Membership
Also priced separately, the Spin Rewriter GOLD Membership program offers a comprehensive solution for content creators to ensure they always have access to an endless supply of unique and high-quality content. This membership program provides a range of benefits that cater to the diverse needs of content creators and digital marketers.
Here are the standout benefits of the membership:
Content-on-Demand SEO Service: Enables you to request custom content creation tailored to their specific requirements. This service ensures that you have access to professionally written, original content whenever you need it and allows for greater flexibility and customization in your content strategy.
Extra Account for Your Assistants: This allows you to extend the benefits of Spin Rewriter to your team members or assistants. This feature promotes collaboration and efficiency in content creation by enabling multiple individuals to utilize the software's capabilities.
Access to iPhone and Android apps: What a convenience of creating and managing content on the go! This mobile accessibility ensures that content creation remains seamless and efficient, regardless of your location or device.
Priority servers for faster rewrites: Ensure that content is spun and generated with optimal speed and efficiency. This feature can be precious for users who prioritize time-sensitive content creation and require quick turnarounds.
Priority VIP customer support: You can receive dedicated assistance and priority handling for any inquiries or technical support needs. This personalized customer support provides peace of mind and reliable assistance when using Spin Rewriter and enhances your user experience.
8. Bonuses
Spin Rewriter has several bonuses for you to enjoy. Most of them are in the form of downloadable resources while others are added to your account upon signing up.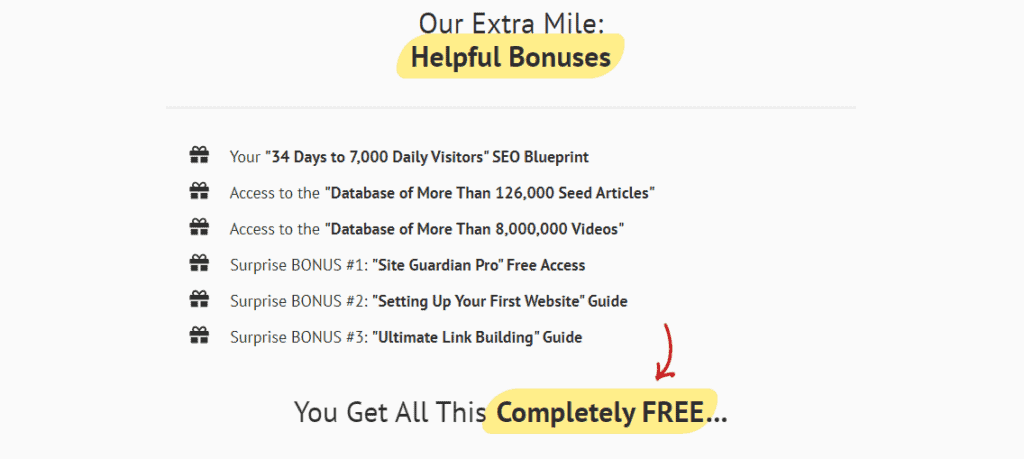 Spin Rewriter Free Trial: Conclusion
Spin Rewriter's free trial provides an opportunity for content creators, marketers, and website owners to assess how Spin Rewriter can streamline their content creation process. If you're in any of these professions, you can utilize the tool to enhance the quality and originality of your written material and improve your overall content marketing efforts.
By taking advantage of the trial period, you can evaluate Spin Rewriter's user-friendly interface, customizable AI writer, and automated SEO features. Before the trial is over, you'll have gained insight into how the platform can address your specific content creation needs.
From there, you can decide whether to continue using the tool. Now, go ahead and get started with your free trial as soon as possible and take your content generation efforts to the next level!